Third year in a row, Pax Earth Nepal celebrated colour festival "Holi" among its members, friends (from Japan and Nepal) and well-wishers on March 7, 2012. The celebration was aimed at fostering friendship, brotherhood/sisterhood, mutual understanding, solidarity and harmony among the participants. Each year, PEN members were very happy to have friends from Japan. This year, PEN members were joined by two friends from Japan: Masanobu Ebisawa and Masaki Nagashima. Masanobu had celebrated Holi with PEN in 2011 as well.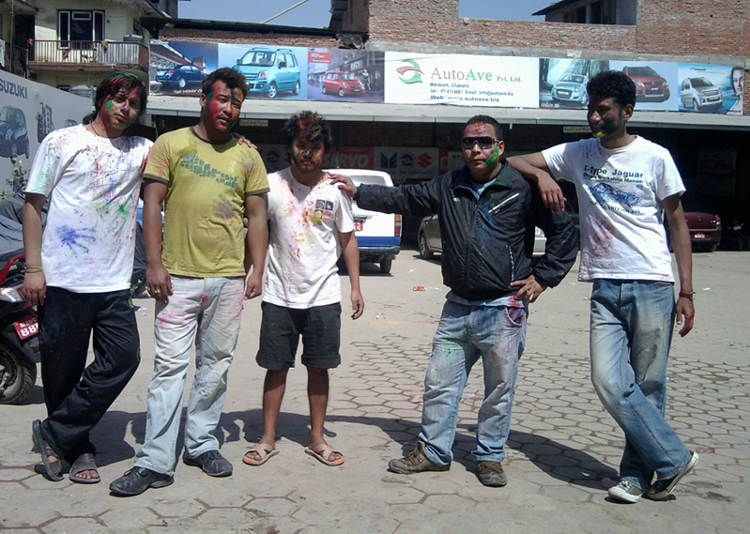 PEN members Sujan Koirala, Bal Gopal Shrestha, Shreebatsa Basnyat, Laxman B. Pahari, Dipendra Dangol and Sachin Koirala gathered at the premises of Auto Ave Pvt. Ltd. at 11.15am to celebrate the action-packed festival. Then, each other put colours and water to one other and exchanged greetings. Surprisingly, it was bit hard for them to experience eggs being broken on their heads. While they were enjoying the celebration, Masanobu and Masaki were brought to Auto Ave by few scout friends. Right after their arrival, they exchanged water, colours and greetings. They continued to fire buckets of water and colours to each other. The neighbours threw waters and colours to them from their roofs and windows. Dipendra arranged music and all the participants had great fun singing and dancing in many hit Hindi, English and Nepali numbers. They sang some Holi songs including "Jo geera sa ra ra ra….". The face and clothes were worth-watching as they were not only colourful but wet from top to bottom. Snacks and drinks were served in a regular interval.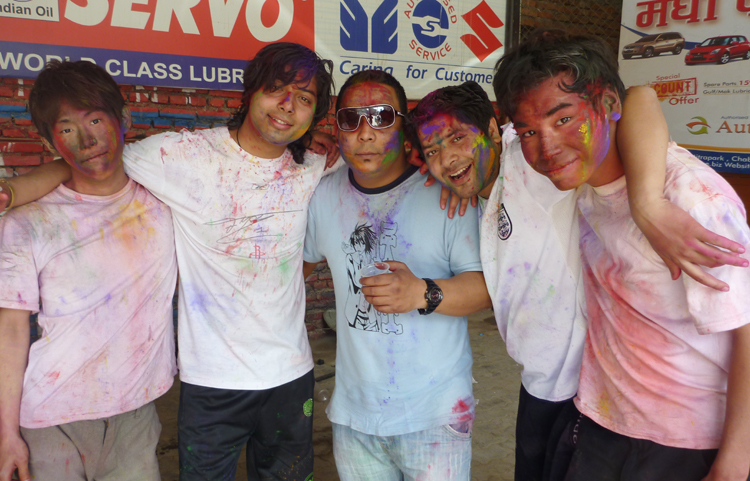 The fun, thrill and excitements came to an end at Mitrapark Café where they could have some cups of teas. Altogether 24-persons attended this unique celebration.
This year, PEN members were quite responsive to environments. They avoided using plastics throughout the celebration which have huge impact on environment.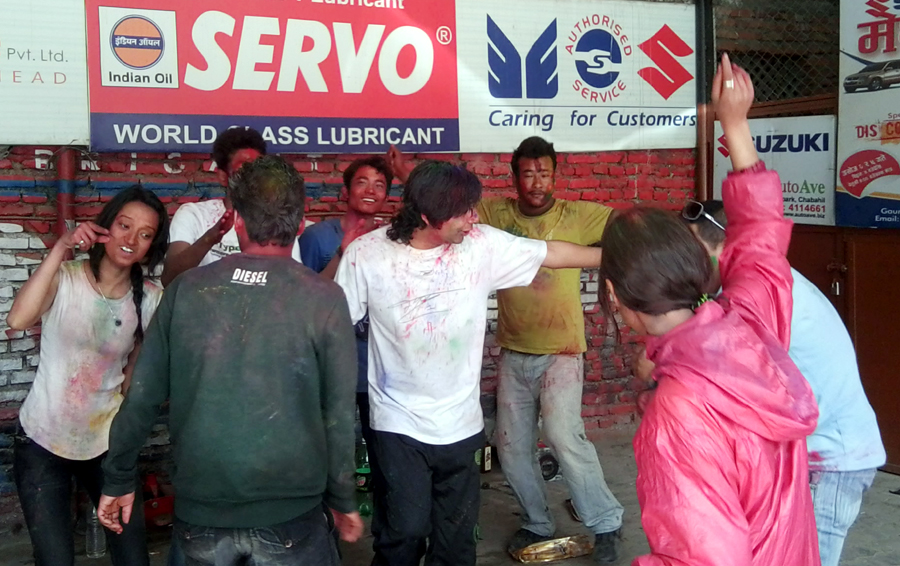 PEN thanks all the participants including Masanobu and Masaki for making it a memorable event. PEN believes participation of foreign friends adds huge value to these festivals. Such festivals not only offer the fun and excitements to foreign friends but also offer a very good platform for exchanging Nepali culture.
Reported by PEN Secretariat!!!