Masaki Nagashima and Masanobu Ebisawa visited Nepal to attack "Baden Powell Peak" formerly known as "Urkema Peak", 5,890m, situated in Rasuwa District of Nepal in February/March 2012.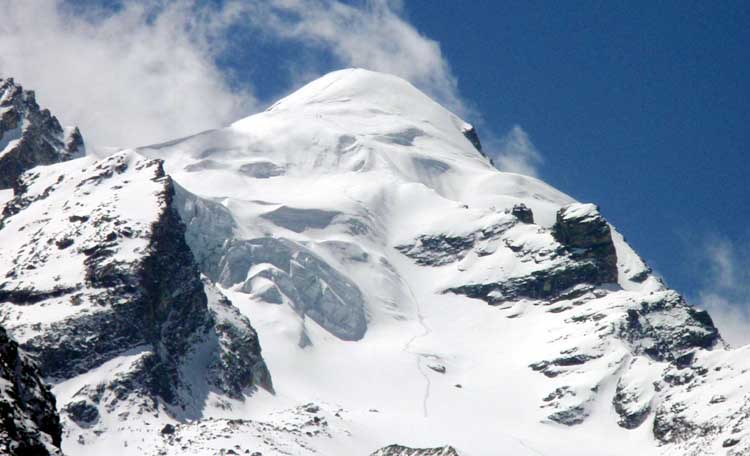 Masaki and Masanobu arrived in Kathmandu on February 20th night. The next day, they were warmly welcomed by PEN President Sujan Koirala and Board Member Laxman B. Pahari at Fuji Hotel, Kathmandu. In the meeting, Sujan and Laxman enquired about their expedition plan to Baden Powell Peak and wished them best wishes for this ultimate aim.
Though Masaki and Masanobu had originally scheduled to leave for the expedition on February 22nd, they had to wait one more day in getting the peak permit and other formalities. It was very hard for them to spend the whole day. Masaki stayed at the Hotel while Masanobu managed to come at Mitrapark Café where PEN members usually spend their evenings sipping some cups of teas. He was very happy to see few PEN members: Sujan, Bal Gopal Shrestha, Laxman, Harihar Sapkota, Laxman P. Neupane and few others.
On February 23rd morning, Masaki and Masanobu left for Syabrubesi in a car. They were accompanied by Naresh Awale (from Nepal Scouts), Pasang, Tashi, Vinay and Dandi. They arrived at Syabrubesi in the evening.
On February 24th, Masaki and Masanobu along with 5 expedition team members began the trek. On that day, they trekked from Syabrubesi (1400m) to Lama Hotel (2750m). In next two days, they passed through Lama Hotel to Langtang Village (3500m) and Langtang Village to Kyanjin Gompa (3800m). The actual climbing of the Baden Powell Peak had begun on February 27th. On that day, the expedition team reached at the altitude of 4600m. The team arrived at High Camp (5000m) on February 28th. On February 29th, they passed through 4600m to 4800m to 4700m. On March 1st, they again revolved around High Camp (5000m).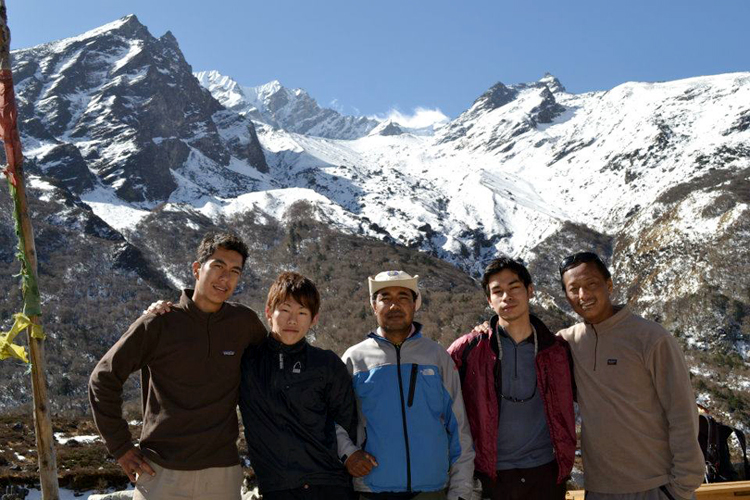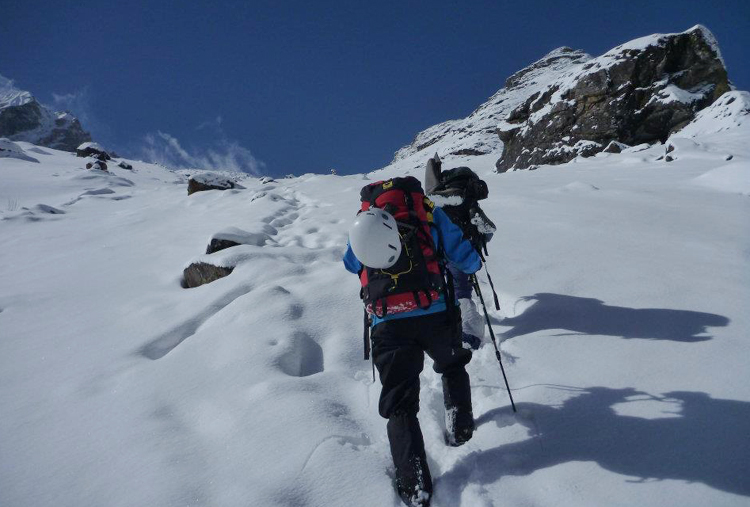 On March 2nd, the summiting day, they had to pass through the snowy way slowly and steadily with a rapid slope of 45 degree in order to achieve their ultimate mission. Unfortunately, Masanobu had to turn back at the point of 5100m with a high altitude sickness. Though bit worried to leave Masanobu at 5100m point, Masaki didn't give up, kept focus on his mission and could attack the Peak and became the first Japanese scout to step at the peak. It was exactly 2.30pm Nepali Standard Time when Masaki wrote this history. All his pain, thirst and tiredness disappeared and overwhelmingly installed the respective flags of Pax IV Hyper and Keio University at the peak. After the summit, the team returned to High Camp. Their faces were heavily burnt by sun.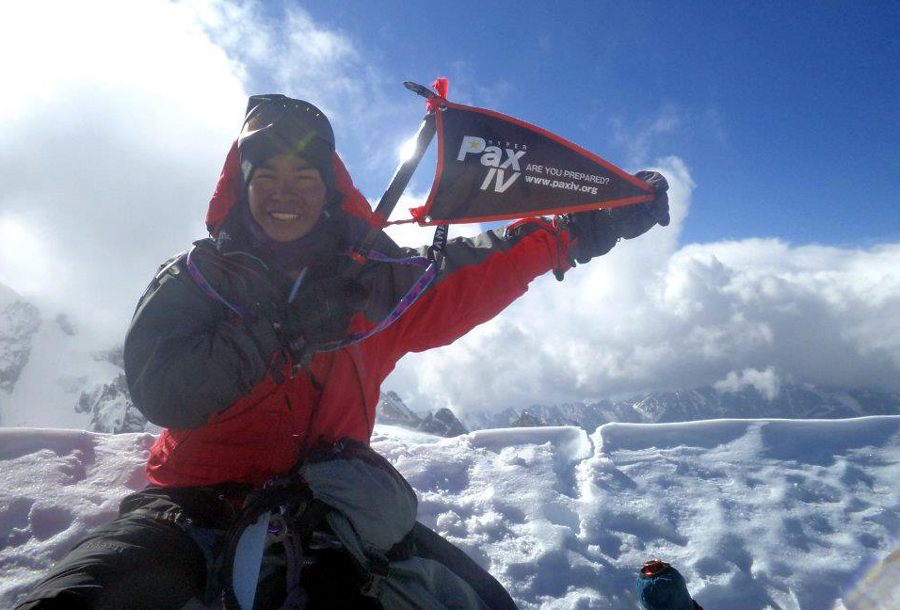 On March 3rd, they returned from High Camp to Langtang Village. On the next day, they trekked through Langtang Village to Bamboo. On March 5th, they arrived at Syabrubesi and on the same day, they travelled back to Kathmandu via local bus. The bus traveling was too hard which added further tiredness to Masaki and Masanobu.
On March 6th, Sujan went to meet Masaki and Masanobu at the Fuji Hotel. He congratulated and felicitated both for this historic achievement and insisted them to make a brief presentation on their expedition and share it among PEN members on March 8th.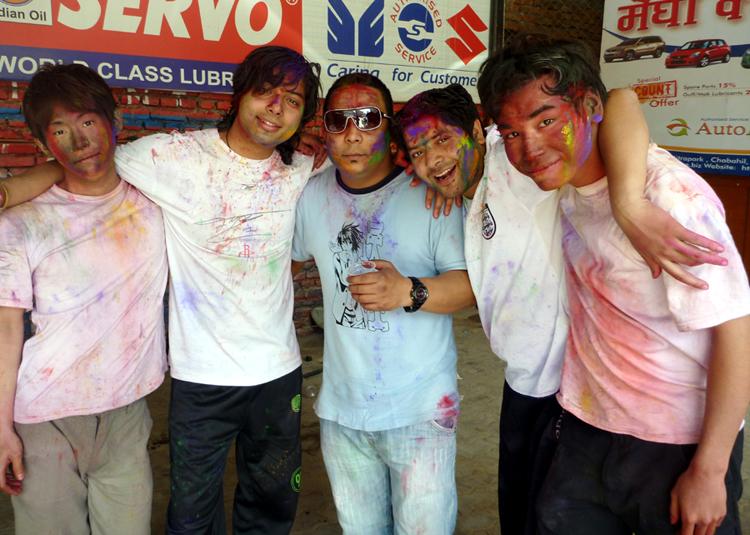 On March 7th, Masaki and Masanobu joined in celebrating colour festival Holi with friends from Kantipur Open Rover Crew at Kirtipur in the morning and with PEN members and some other friends at Auto Ave Pvt. Ltd. in the day time. This is third year in a row that PEN could welcome friends from Japan to play Holi. Altogether 24-persons celebrated Holi playing with colours and water, singing, dancing, eating and drinking with an own unique style.
On March 8th evening, Masaki and Masanobu shared their Baden Powell Peak expedition at PEN Secretariat, Pashupati, Kathmandu. They had prepared a PowerPoint slide using some important photographs. PEN members Sujan Koirala, Bal Gopal Shrestha, Shreebatsa Basnyat, Binod P. Mainali, Harihar Sapkota, Laxman B. Pahari and Sachin Koirala heartily congratulated Masaki and Masanobu for their life-time achievements. PEN members could draw a framework of the expedition with an interaction with both Masaki and Masanobu.
On March 9th evening, Masaki left for Japan. Sujan and Masanobu bid farewell to him.
Masanobu spent the days from March 9th to March 28th studying at the Hotel. He had to prepare some important reports for his professors. He was given company by PEN members when he was free. He had already visited most of the places in Kathmandu Valley, therefore, concentrated more on his study and reports. Still, he could attend the PEN Toastmasters Vol. 3, No. 1 organised at PEN Secretariat on March 14, 2012. The theme of the Toastmasters was "How secured are you?" and altogether 14-persons were attending the program.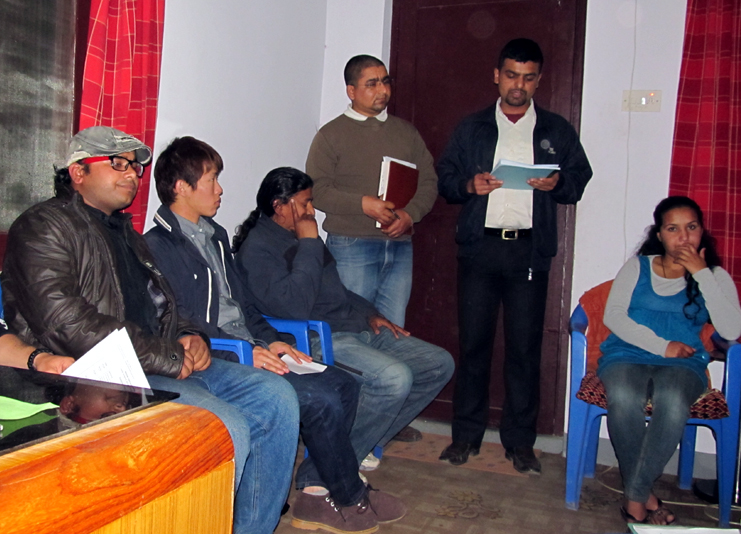 On March 28th evening, Masanobu left for Japan. Bal Gopal could see him off en-route to the airport while Sujan, Manohar, Shreebatsa and Dipendra bid him farewell at the Tribhuvan International Airport, Kathmandu.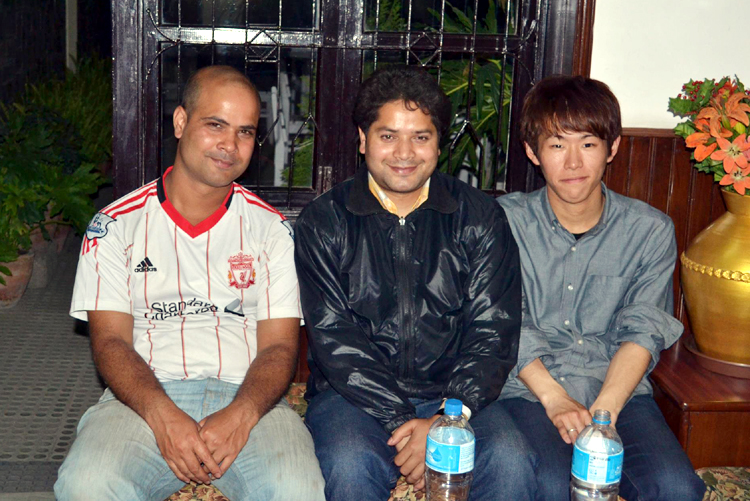 What Masaki and Masanobu had achieved in this visit was historic. They not only made their motherland proud but PEN members were equally happy to have such talismanic friends.
PEN is always happy and prepared to welcome and extend full supports to the friends coming from Japan.
Reported by PEN Secretariat!!