2nd Annual General Meeting
(December 11, 2010)
The 2nd Annual General Meeting of Pax Earth Nepal successfully held at Fuji Hotel, Thamel, Kathmandu on Saturday December 11, 2010. The meeting was chaired by President Sujan Koirala. The meeting was divided into two sessions: inauguration session and closed session. Hon. Member Nilambar Badal was the special guest of the meeting.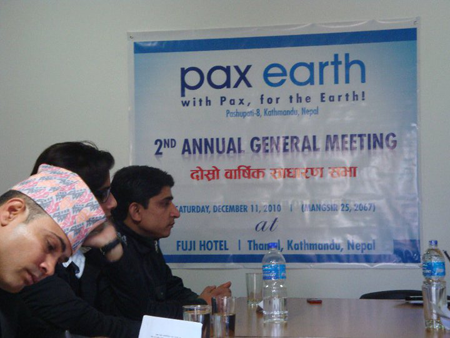 • Inauguration ceremony
Without any formality, the meeting formally began with a big round of applause by all present members and guests.
• In a short welcoming speech, Vice President Shreebatsa Basnyat cordially welcomed special guest Nilambar Badal, guest Laxman Kunwar representing Fuji Hotel, other guests, well-wishers and members of Pax Earth. He explained the meaning of Pax Earth and highlighted the reasons behind establishing the organization. He further expected an active and meaningful participation from all present on the occasion and wished for the successful outcome of the 2nd Annual General Meeting.
• Treasurer Bal Gopal Shrestha presented the Income/Expenditure Statement of FY 2009/10 including the audit report. The statement revealed that the total income and total expenditure of PEN during fiscal year were Rs. 276,211.09 and Rs. 175,864.08 respectively. After deducting total expenditure from total income, there was a net cash balance of Rs. 100,347.01. There was an opening cash balance of Rs. 22827.69 in FY 2009/10 (i.e. carry forwarded from FY 2008/09). Adding both the amounts, PEN has a closing cash balance of Rs. 123,174.70 at the end of FY 2009/10.
Treasurer Bal Gopal also proposed a budget of Rs. 807,000.00 for the FY 2010/11.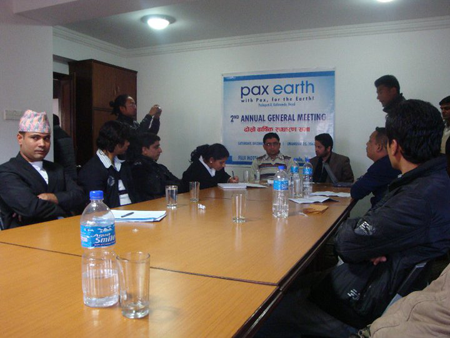 • On behalf of Pax Earth Executive Board, Secretary Mr. Manohar Sapkota presented the Pax Earth Annual Report 2009/10. Manohar outlined the background of Pax Earth. He was very happy to share the formal beginning of Kavrepalanchok's educational project in this fiscal year. He highlighted the major activities including important meetings of Pax Earth held during FY 2009/10. They were:
First Anniversary of PEN (July 2009)

Fifth Board Meeting of PEN (August 2009)

Sixth Toastmasters (August 2009)

Keio Students in Nepal (September 2009)

PEJ meets PEN (September 2009)

Greeting Exchange Ceremony on the occasion of Dashain and Tihar (September 2009)

Participated in Blood Donation Programme organized by Prisma Advertising (October 2009)

PEN observed World AIDS Day (December 2009)

Sixth Board Meeting (December 2009)

First Annual General Meeting held at Fuji Hotel (December 2009)

PEN Picnic in Changu Narayan (January 2010)

Kadinche Tour to Nepal (February 2010)

Soichiro Yamanaka and his two friends' Nepal visit (March 2010)

PEN Holi 2010 (March 2010)

Seventh Board Meeting (March 2010)

Eight Board Meeting (April 2010)

Meeting with Principal and Vice Principal of Shree Bal Byabasayee School (April 2010)

Youth Outdoor Exposure held at Dhulikhel (May 2010)

Ninth Board Meeting (June 2010)

Certificate Distribution Ceremony of Youth Outdoor Exposure (June 2010)

Educational Materials and Sports Materials Distribution at Shree Raktakali Primary School of Kavreplanchok (June 2010)
• Speaking on the occasion, General Member Debraj Ghimire appreciated the role played by Pax Earth in bringing smile in the face of many rural children by supporting in their education. He further added that the organization is equally responsible towards youths. He gave an example of youth outdoor exposure in which he was one of the participants. The exposure had contributed significantly in developing leadership, team building skills and personality of the participants. He could see many positive changes in his leadership, personality and speaking skills after joining Pax Earth. He further thanked Pax Earth for providing several opportunities to serve and to self-develop and wished that the organization will be more successful in its endeavours in the days ahead.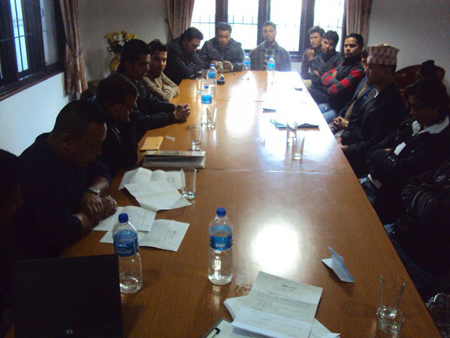 • Special guest and Hon. Member Nilambar Badal appreciated the activities carried out by Pax Earth during the FY 2009/10. "Pax Earth believes in action rather than words", he claimed and added, "That's why I'm always motivated to involve in its activities." He said, "Pax Earth's key to success is UNITY." The enthusiasm, commitment and cooperation among the Pax Earth members are praiseworthy which make it different than other organizations. He is involved in few other NGOs but the happiness he finds in Pax Earth is simply awesome.
He praised the educational materials distribution project in Kavrepalanchok. He regretted that he tried to join the distribution programme in June 2010 but could not due to personal circumstances.
He advised Pax Earth to extend its educational activities from Kavrepalanchok. He raised an issue of low number of female participations and wished that Pax Earth will work on it. If needed, he is ready to support to increase female participations.
He promised to avail himself in all activities and also to extend all possible supports to Pax Earth in the days ahead. He further wished for the progress and prosperity of Pax Earth in the days ahead.
He wished for the successful completion as well as meaningful outcome of this meeting.
• President Sujan Koirala extended vote of thanks in the meeting. In his vote of thanks, he sincerely thanked special guest Nilambar Badal, representative of Fuji Hotel, Laxman Kunwar, well-wishers, board members, chartered member and general members for their valuable presence and active participation in the meeting.
Sujan Koirala recalled how the Pax Earth was born. He also highlighted the major activities held in FY 2009/10. He was very happy to start the educational materials distribution in Kavrepalanchok formally. He thanked the principal and teachers of Shree Kalika Primary School, Kavrepalanchok for their cooperation. He also praised the youth outdoor exposure where 35 youths had participated. He thanked all the participants specially Mitrapark guys for their support in successfully holding the grand event of Pax Earth.
Sujan claimed, "It's because of the support, cooperation and active efforts of Pax Earth members, the Pax Earth is now at a very respectful state." He appreciated the outstanding role played by Secretary Manohar Sapkota and Treasurer Bal Gopal Shrestha. He thanked Vice President Shreebatsa Basnyat, Board Members Laxman B. Pahari and Harihar Sapkota for their active support. Similarly, he thanked board members Binod P. Mainali, Guna Raj Pyakurel and Dipendra Dangol as well as members Prem Shah, Laxman P. Neupane, Bijaya Thapa, Debraj Ghimire and others. He praised the role played by PEN Advisors Prof. Dr. Hari Prasad Shrestha and Dr. Ganesh Gurung and hoped for the continuous support and guidance in the days ahead. He praised the active and supportive role of Nilambar Badal. He was very happy with the presence and support of Nilambar Badal in most of the activities of Pax Earth. He was also grateful to all friends and well-wishers for their continued support, cooperation and suggestions.
Sujan whole-heartedly thanked Soko-Aoki, Secretary General of Pax Earth Japan for his outstanding support, cooperation and generosity. He also appreciated the support and cooperation of PEJ members. He owed a debt of gratitude to PEJ Advisor Masaya Arao. He highly appreciated Shoyu Club for providing financial support to Pax Earth.
Sujan thanked all Japanese friends who visited Nepal during FY 2009/10. He was very happy to continue the exchanges between PEN and PEJ (and Pax IV).
Sujan thanked member Saroj Ghimire and his three friends from Australia for raising funds for Pax Earth. He expected similar support and cooperation in the days to come.
Sujan thanked owners of Fuji Hotel Pradeep Pakhrin and Durga Pakhrin and the staffs for their wonderful support and cooperation. He appreciated Fuji Hotel for outstanding service provided to our friends from Japan for last eight years. The relationship between Fuji Hotel and Pax Earth is enhancing day by day.
Last but not the least, he thanked Binod P. Mainali for attractively handling the job of Master of Ceremony.
With the concluding remarks, "United we stand, divided we fail. Let's join hands and contribute the level best in bringing peace on earth with the theme: 'With pax, for the earth'", President declared the ending of the first session.
• Closed session
After a break of five minute, the closed session of the Pax Earth began. The second session was focused on main agendas. The following decisions were taken in the session.
1, The floor unanimously passed the audit report as well as income/expenditure statement of the FY 2009/10 presented in the inauguration session by Treasurer Bal Gopal Shrestha. The floor also passed the proposed budget for the FY 2010/11.
2, The floor unanimously passed the Pax Earth Annual Report 2009/10 presented by Secretary Manohar Sapkota in the inauguration session.
3, The third agenda of the meeting was to elect the executive board of Pax Earth for the next term i.e. 2010-2012. A three members' election committee was formed under the chairmanship Hon. Member Nilambar Badal. The next two committee members were Laxman Kunwar and Bhagwati Pandey. They explained electoral procedure and as per the Pax Earth constitution asked for the candidacy for the following positions:
i) President, ii) Secretary, iii) Treasurer and iv) Three executive members
As per the constitution, the remaining three positions: Vice President, Joint Secretary and Joint Treasurer need to be appointed by the President in consultation with the elected board members.
Following the electoral procedure, the below-mentioned names have been proposed and seconded for the candidacy.
Bal Gopal Shrestha proposed Sujan Koirala in the position of President and the proposal was seconded by Laxman P. Neupane. Sujan Koirala proposed Manohar Sapkota in the position of Secretary and the proposal was seconded by Bal Gopal Shrestha. Similarly, Bal Gopal Shrestha was proposed for the position of Treasurer by Manohar Sapkota and was seconded by Shreebatsa Basnyat.
Harihar Sapkota, Binod P. Mainali and Laxman B. Pahari were proposed for the executive members. They were proposed by Bijaya Thapa, Harihar Sapkota and Binod P. Mainali and were seconded by Sudan Bhandari, Debraj Ghimire and Bijaya Thapa respectively.
Since there was only candidate each for President, Secretary and Treasurer and only three candidates for executive members, all candidates were unanimously elected for the proposed positions. The election committee declared unanimous election of Sujan Koirala, Manohar Sapkota and Bal Gopal Shrestha as President, Secretary and Treasurer respectively for the term 2010-2012. The election committee also declared unanimous election of Harihar Sapkota, Binod P. Mainali and Laxman B. Pahari in the executive members.
Since the newly elected members required enough time for discussion on the appointment of Vice President, Joint Secretary and Joint Treasurer, they agreed to make appointment in their first formal meeting
The chairman of election committee Nilambar Badal congratulated all six members for being elected as board members for the term 2010-2012. He further believed that the elected board members will soon appoint the members in remaining three positions. He wished for the successful tenure of the newly elected board of Pax Earth. He thanked for the cooperation of all present members for successfully holding electoral process.
4, The floor made an unanimous decision to give a mandate of making decision on the appointment of auditor and finalizing his remuneration to the Executive Board.
5, The floor made a decision to appoint general members Laxman P. Neupane and Bijaya Thapa for endorsing the decisions made in the second annual general meeting.
6, Miscellaneous:
President Mr. Koirala thanked all the guests, well-wishers, board members, chartered member and general members for their active and valuable participation in the second session. He also thanked MC Binod P. Mainali for fabulously coordinating the meeting. He congratulated AGM Organising Committee for successfully holding the meeting and declared the closure of the closed-session and the 2nd AGM.
Including fourteen PEN members, twenty-five persons attended the meeting. Teas and snacks were served after the second session.