Pax Earth Nepal celebrates 2nd Anniversary
(July 17, 2010)
Survival is always a critical issue for young organizations in Nepal. Despite this fact, PEN could set another milestone after celebrating 2nd Anniversary on July 17, 2010. Though the journey was quite challenging, PEN completed it quite brilliantly with its members' hard work and strong team effort. PEN could begin the long awaited educational project in Kavrepalanchok and also continue the members exchange programmes in 2nd year consecutively. PEN could enhance its strength by giving membership to eleven new members. Specifically, PEN could complete its plan and programmes set for the 2nd year effectively and exemplarily.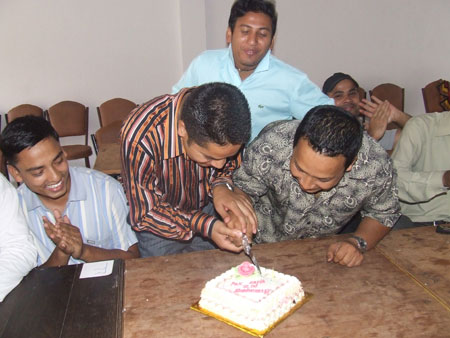 On the auspicious occasion of 2nd Anniversary, PEN organized a small reception for its members at Terminal Café, Airport, Kathmandu. Thirteen members were present on the occasion. The celebration began with a Toast and jointly cutting 2nd Anniversary Cake by President Sujan Koirala and Treasurer Bal Gopal Shrestha. The members also exchanged greetings among each other. Each member was asked to express their feeling on the 2nd year journey. Their expressions have been highlighted below: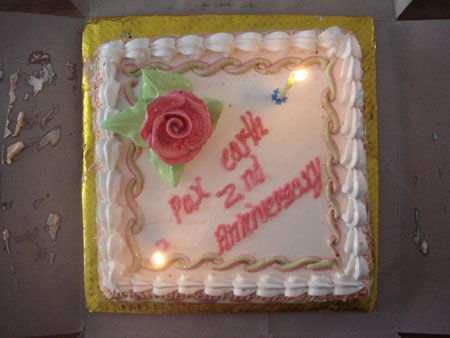 Harihar Sapkota shared his joys with the team members. He congratulated all members for successfully completing second anniversary. In last two years, PEN could successfully create its own unique identity. He is hopeful that PEN will conduct more activities in the coming year and also attracts more students and youths in its activities.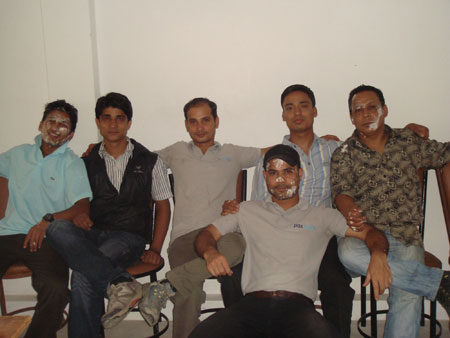 Shreebatsa Basnyat congratulated President and other members for successfully completing two-year journey. Though the journey was not that easy but with our team effort we could make it. He was quite happy with the progress made by PEN in these two years. He is confident that PEN will do more activities in the days ahead.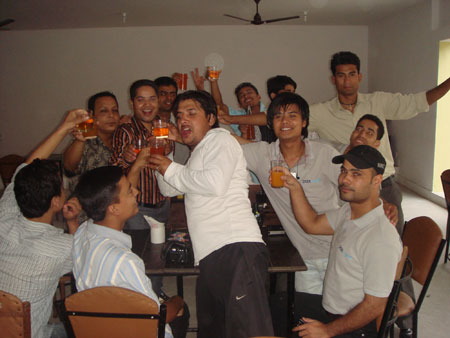 Laxman P. Neupane congratulated all PEN members. He strongly advocated for the fund raising projects so that the profit can be used to run project independently. He insisted to open an office in Kathmandu as early as possible. He opined that the room not only gives formal identity to PEN but also offers a platform for discussion and collaboration. He said, "A secretariat is inevitable for the progress and growth of PEN." He is confident that PEN will succeed in raising more funds for its projects in the days ahead.
Guna Raj Pyakurel congratulated everyone for successfully marking 2nd anniversary. He was bit disappointed with the low presence of the members in the vital programme. "Is there any lacking in communication system?" he voiced. If the timing was not suitable for all members, we could have organized in the morning or day time so that even friends from Banepa could join. He further wished PEN to continue the Toastmasters programme and also to spread its leadership development programmes to the school students.
Bijaya Thapa congratulated PEN for completing 2nd year. He highly appreciated active role played President Koirala, Secretary Sapkota and Treasurer Shrestha and claimed that without their sincere effort PEN could not acclaim such a respectful state. He also raised the importance of a room of PEN in Kathmandu.
Manohar Sapkota is very happy for successfully marking 2nd anniversary. He congratulated each and every members of PEN for their efforts in bringing Pax Earth to this state. He highlighted that the educational project at Kavrepalanchok and youth outdoor exposure were two important events besides cultural exchanges between Nepal and Japan. We will continue these activities in the days ahead. Every long journey begins with a single step. We have succeeded in adding one brick in our endeavour. Answering the query of Joint Secretary Pyakurel, he told that he informed all members in Kathmandu but did not inform the friends from Banepa considering the timing of the programme. Some friends from Kathmandu were quite busy in their personal activities, hence, they could not come on the occasion. He highly appreciated role played by PEJ Secretary General Soko Aoki. He is confident that PEJ and PEN have a very bright future.
Dhiraj Sharma thanked PEN for inviting in this important occasion. He told that he always feels as a member of PEN and gives much interest to its activities and endeavours. He was quite happy to attend educational project at Kavrepalanchok. He congratulated PEN for writing history of 2nd year. He wished for the continued progress and prosperity of PEN. He insisted PEN to continue educational project at Kavre and youth outdoor exposure in the days ahead. He is ready to extend all possible supports for PEN.
Sudan P. Bhandari congratulated PEN for the completion of 2nd year and wished for the progress and prosperity of PEN in the days ahead. He is ready to extend all possible support for the betterment of PEN. He also indicated the need of a formal contact office for PEN.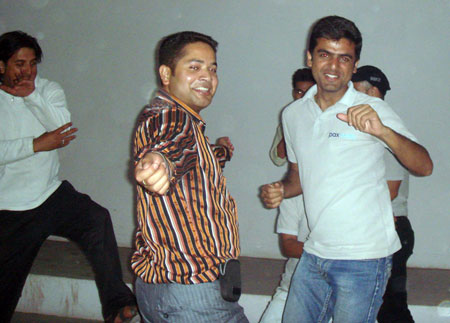 "It is all because of team efforts of PEN, we succeeded in completing two years time quite brilliantly," claimed Binod P. Mainali. He advocated for the revival of weekly Toastmasters as soon as possible. He is hopeful that PEN will organize more educational projects, youth outdoor exposures, environmental workshops in the days ahead. He wished for more successes of PEN in the days ahead.
Laxman B. Pahari congratulated PEN for completing two glorious years. He is quite happy with the way PEN is progressing. He gave credit of the success to those members who have really worked hard for the betterment of PEN and achieving its objectives. He was indebted to President and Board for entrusting him for many undertakings. He wished that the success of PEN will be doubled in the days ahead.
Bal Gopal Shrestha congratulated all members of PEN for successfully completing 2nd anniversary. He opined, "Because of team work, we could stand here today." This year we have increased our activities and circumference. He thanked PEJ for extending financial help for PEN's activities. He assured to hold even more activities in the days ahead. He disclosed that some friends have promised to support in our activities. Now, we are searching a suitable room for PEN Secretariat. Once we succeed in finding a suitable office room, our pace will be excelled. He defended the points raised by Pyakurel that we were quite hurry that we could only inform those who are residing in Kathmandu considering that friends from Banepa could not join in the evening.
Sujan Koirala congratulated all members of PEN for marking the historic 2nd anniversary. It is the team efforts that could bring PEN in an admirable state. He appreciated the role played by Bal Gopal Shrestha, Manohar Sapkota and Shreebatsa Basnyat. Because of its exemplarily activities, PEN could create a unique image among our friends and relatives' circles. He claimed that PEN activities, in terms of both quantity and quality, have increased significantly as compared to the previous year. This year PEN could successfully hold "PEJ meets PEN" and also managed the visit of "Keio University Student's visit", "Kadinche Tour to Nepal", "Soichiro and his team's visit to Nepal", "Youth Outdoor Exposure" and "Educational Project in Kavrepalanchok". He is grateful to Soko Aoki, Secretary General of PEJ for his outstanding support and cooperation as well as to Shoyu Club of Japan for providing funds for PEN activities. He assured to hold more events in the 3rd year. He told that the quest of finding an office room for PEN is going on. He said that the journey began in 2008 has a long way to go, many miles to walk, many hurdles to overcome, many successes to unfold, many summits to escalate and many history to write in the days ahead. He is confident that all members will contribute their level best even in the years ahead to escalate summits as envisioned by PEN. "Long live friendship between PEN and PEJ", he cheered.
President Koirala, Secretary Sapkota and Treasurer Shrestha gave answers to some queries raised by the members during the review session. There was a little discussion about the upcoming strategies of PEN as well. All present members felt the need of a Secretariat in Kathmandu. After the review session, all thirteen members took the dinner. Since the café was well equipped with multimedia and sound system, the members could enjoy music and dancing as well.