PEN MEETS PEJ 2010
(August 12-19, 2010)
The second edition of "PEN MEETS PEJ" was held on August 12-19, 2010 in Japan. The main purposes of the event were to attend a joint meeting between PEJ and PEN and courtesy call to Shoyu Club of Japan. Meeting with Pax IV Hyper members for their forthcoming visit to Nepal, sightseeing around Tokyo and cultural exchanges with Japanese friends were other schedules during the visit. Representing PEN, three Board members: Mr. Bal Gopal Shrestha (better known as 'Bali'), Mr. Shreebatsa Basnyat and I (Manohar Sapkota) attended this event. I was mainly responsible for leading this three members PEN team. We had very deep and meaningful meetings with PEJ and Shoyu Club and also gained life time memories visiting different places, discovering many friends and experiencing Japanese cultures and lifestyle.
It was Tuesday, August 10, I, including my mum, was busy on packing my baggage. The next morning, August 11, we were leaving for Tokyo via New Delhi. We (I & Shreebatsa) arrived at Bali's home at 11.00am where Mr. Sujan Koirala (President of Pax Earth Nepal), Mr. Laxman B. Pahari, Bali and his family members were eagerly waiting for us. We had some traditional rituals at Bali's home before we left for the Tribhuvan International Airport (TIA). We took some snaps with Sujan and Laxman at TIA for our memories and then entered inside the airport. We had to pass through some immigration procedures. We were quite surprised that an immigration official didn't allow entering inside as we failed to produce one document (recommendation letter from PEN) which didn't have that much importance. We convinced ourselves that the documents were in Japanese and they could not understand. We didn't have enough time to go to home and get the documents as the plane was ready to take off. We immediately called Sujan. Thanks God, he and Laxman were there to bring this document at the airport very quickly. If we couldn't get the document on time, we would have faced different circumstances. After the immigration procedure, we headed towards our airplane, Nepal Airlines (NA). But our airplane was delayed for one hour. So, we took photos inside and waited until our flight got ready.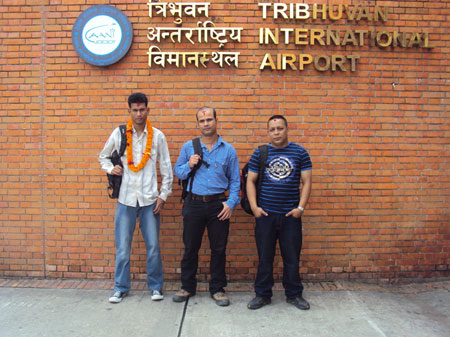 At 16.55, we arrived at Indira Gandhi International Airport (IGIA), New Delhi. It was the first time for all of us to travel in NA. The service aboard was nice but it was sad to know that our only international airline service does not have any significant progress even after many years of its establishment. But the Indian Airport was awesome. The service inside the huge terminal building was superb. Our common negative perception towards India and Indian service dramatically changed into colorful views after the real experience out there. We waited there for about six hours and we did not realize how the time had passed. At 20.50, we left for Narita International Airport (NIA) via Air India. We really enjoyed aboard and made big laugh together.
After spending nearly 10 hours in the flight, we arrived at NIA at 8.30am on August 12. After some formal procedure inside the airport, we came outside of the immigration of NIA. Our intimate friends Mr. Soko Aoki and Ms. Lisa Nakagawa were already there, eagerly waiting for us. We were more than happy to see our well known friends who welcomed us with great vigor. Soko took us to his home in his car. It took a little more than an hour to reach his home. We saw beautiful scenery, green forests, high skyscrapers, huge bridges, wide roads and many more things. Soko was quite happy to get together with us in his homeland. We talked about wellbeing of Nepalese friends, families and had lots of laughter during that one hour journey. Shreebatsa and Lisa contented to see each other after a long gap. Finally, we reached Soko's house at Yokohama, Kanagawa where our friend Ms. Megumi Yoda was waiting with her welcoming smile. We first took few pictures together. After a little rest, we took shower and felt refreshed. It was raining a little bit outside and the wind was blowing strongly. Soko said it's Typhoon. Actually our plane was little delayed due to Typhoon in Japan.
After being fresh, we all, except Megumi left for sightseeing. Soko left us and went for his official work with a promise to meet in the evening. Megumi stayed in home to prepare dinner that evening. Lisa guided us to explore beautiful city near Tokyo. She wanted to make us happy and enjoy at any cost. We visited Minatomirai, Landmark Tower and Queen's Square. We met Ms. Madoka Satoh at Queen's Square. Soko and Lisa kept it secret about her arrival to give us a surprise encounter. We were very happy to see each other again. In the evening, Soko arrived from his work and we together returned back to his home. Lisa left for Nagoya in the same evening as she was quite busy. We could not meet Lisa since then. She was quite sad to leave us especially Shreebatsa. We had delicious dinner that evening at Soko's home which was prepared by Megumi. I could have small conversation with Sujan over skype. We stayed at Soko's home that night.
The next morning (August 13), we woke up at 8.30 and went to Asakusha after having breakfast with Soko and Megumi. Soko left us at Yokohama Subway where friend Ms. Seika Kondo and Mr. Tatsuya Sakabe were waiting for us. After some time Madoka joined us. They took us to Asakusa (temple: Sosen-ji) or Shibakouen (temple: Zojo-ji ), its surrounding and Tokyo Tower. After returning from this memorable visit, we went to Soko's home. We had a great party that night. Mr. Takaharu Sakakibara and his wife Ms. Hyejin Moon, Mr. Kohki Okamura and his wife Ms. Rina Okamura, Madoka, Tatsuya and of course Soko and Megumi joined dinner prepared by PEN team. It was like a "Nepali Night in Yokohama". Bali prepared very delicious Nepali dishes and was assisted by Shreebatsa. Bali deserved special thanks for preparing such delicious foods which everyone loved. Also thanks to Shreebatsa for his help.
On August 14, our schedule was fixed to see our old friend Mr. Soichiro Yamanaka and other friends. This time, they led us to different places at Tokyo and its surrounding. Before we met Soichiro and other friends, Soko took us to McDonald. We went to have some food and actually Shreebatsa was going to meet some senior scouts. One of the scouts arrived there in perfect scout uniform; scout stick on his hand and hat on his head. They were very happy to see us. We gave them some presents. Shreebatsa received a bundle of scout badges and many more. In the meantime, Soichiro and our other old friend Mr. Junichiro Yokosawa arrived at McDonald, Yokohama. After taking some snaps together, we left that place and move toward subway to get in train. Our friends Soichiro and Junichiro took us many places including Parliament House, Japanese Royal Palace and Diet Group. We were touched by the beauty and greenery of this place. The experience was superb. We were feeling hot due to high temperature of sunny day but the level of enjoyment was even higher. After completing our visit around Parliament House, we went for lunch at Ueno and then visited Yobusoba. Yobusoba was a busy market where shopkeepers were shouting and calling the visitors to buy their product. It reminded us our Ason Market of Kathmandu.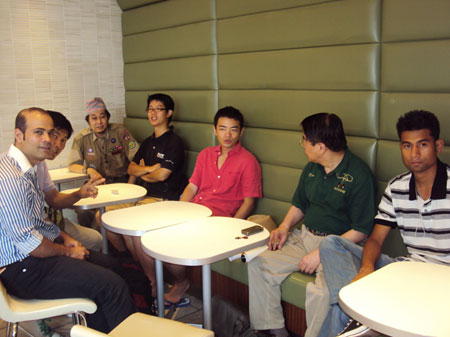 In the evening, Soichiro and Junichiro left us with Soko. Soko had made a plan to take us to splendid Fireworks at Tokyo Bay. We could see a large number of people with their family and friends gathered at Tokyo Bay to watch the Fireworks play. The sea side was completely filled with people. Traffic Police were trying their best to manage crowd and vehicles. They were giving direction using loud speakers and other illuminating equipments. Many people were wearing traditional Japanese costume. There was a long queue of ladies and gents to go for toilet!! All the people were very much eager and excited to watch the yearly event. We were quite lucky to be in Tokyo on an important day. When the sun set and the dusk started, people seemed more excited. We, including Mr. Kazutaka Uchida, his girlfriend and Mr. Sunsuke Imura sat down at a place, having soft drink and light food. When it got dark, the fireworks started. Lots of brilliant fireworks with different color, different shapes and sizes started to sparkle above the sky with big bang of explosion. When the sparkler was fired towards sky, it made various shapes and numerous different colorful explosions. People cheered, shouted in elation and captured hundreds of pictures and videos. The National Television of Japan also broadcasted this great night festival. We stayed at Tokyo Bay for more than three hours to watch the great event.
At night we went to Junichiro home. We had lots of works which needed to complete for the next day's presentation. Therefore, Shreebatsa was quite busy preparing power point slides while Bali and I were preparing the contents having coordination with Shreebatsa. Actually, the presentation was about PEN's vision, mission, future planning for 2011/12 and past achievements. We were preparing these slides on the basis of information provided by Sujan. Sujan had prepared these documents as per the instructions given by the PEN Board Meeting held on August 4. That day, I could have a comprehensive chat with Sujan till midnight. We slept very late that night.
On August 15, we woke up quite late. Shreebatsa sat down in front of computer to complete the PowerPoint presentation which was not completed the day before. Shreebatsa prepared the PowerPoint slides; Bali and I prepared the contents. We had two scheduled programs at Shinjuku Eco Gallery that day starting from 13.00 viz. i) Presentation of PEN's Vision, Mission, Action Plan for the year 2011/2012 including Social Business Model at PEN and PEJ joint meeting, and ii) Meeting with Pax IV Hyper. We were slightly late at the meeting. Our presentation at Joint Meeting between PEN and PEJ was well appreciated. We could have an intensive and comprehensive meeting with Pax IV Hyper members as well. Mr. Yohei Ueda, Mr. Shuho Ohkusa, Ms. Ruriko Kimoto, Seika, Tatsuya, Wakahara, Masanobu, Madoka, Soichiro, Junichiro and Soko from Pax IV Hyper and Bali, Shreebatsa and I from PEN attended the meeting.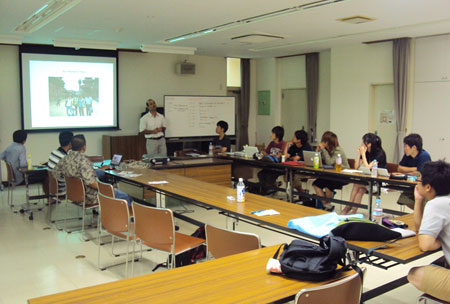 After meeting, we went to a Japanese restaurant, Unoya where Pax IV Hyper offered a special party to welcome PEN representatives. More than 25 Japanese friends were present in that party. Our old mates Mr. Kyosuke Oshio and Takaharu also joined that event. We had great enjoyment that night! The party formally began with a short and sweet welcome speech by Junichiro. Kyosuke and Takaharu from Pax IV Hyper and Shreebatsa from Kantipur Open Crew also delivered their speech about relationship, development and future possible collaborations between Pax IV Hyper and KORC. Kyosuke presented us very beautiful gifts sent by our old friend Mr. Tomohiro Suzuki who was unable to present on the occasion. After the party, we three and some Japanese friends went to see Japanese night life at Ikebukuro which was also a memorable moment for all of us. We stayed there till the late night. After, we went to Junichiro's home that night.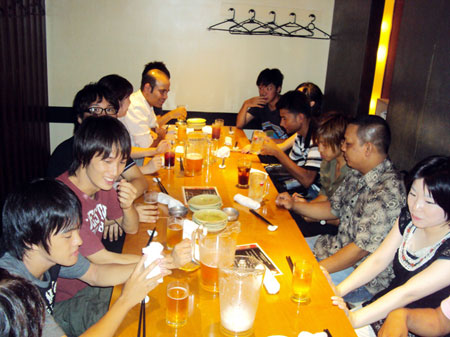 On August 16, we woke up at 8.00am, had our breakfast together with Junichiro and prepared to leave to see our friends Ms. Satomi Tsuneta and Ms. Erico Iwasaki. Junichiro's family gave us nice gifts that made us emotionally happy. We also presented token of love to his family. We had very good time out there at Junichiro home. We were a bit sad to leave his family. Junichiro brought us to Satomi and Erico. After leaving us with them, Junichiro left for his work. Satomi and Erico took us in Ueno Zoo. We could see many kinds of mammals, amphibians, reptiles, pieces and birds out there. The zoo was equipped with high-tech equipments to protect the creatures according to their physical distinctiveness. We could get more information about those animals with the help of special audiovisual device. We heard that it was the hottest day in August. Despite this fact, we could spend all day long inside the zoo. On that day, Bali was having much trouble walking inside the zoo due to infection on his thigh. We went to see Ginja and Ueno after returning from the zoo. We had very nice gossips together with Satomi and Erico while returning in the train. In the evening, we met Soko and Megumi. Together, we all went to a Nepali restaurant and enjoyed Nepali cuisines that night. After having dinner, Satomi and Erico departed and we went to Soko's home. Soko informed us that we should wake up early the next morning as we planned to have a courtesy call to Shoyu Club. We were feeling tired and sleepy that night.
On August 17, we woke up at 7.30am. After having breakfast at Soko's home, we left for Shoyu Club. At Yokohama Subway, Mr. Yuma Wakahara was waiting for us. He was bit sleepy. He shared that he slept late night and woke up very early in the morning. Having plenty of leisure time with us, we decided to visit Keio University. We met Mr. Toshiki Tamagawa near Keio University. Both of them (Yuma and Toshiki) briefed us about the University and guided through the surroundings. It was very big University with huge area and different academic faculties. We clicked some photos together and headed towards Shoyu Club. The building of Shoyu Club was quite big. We waited for a while for Mr. Masaya Arao, Advisor of PEJ. We were very pleased to see Mr. Arao. He was tall, 75 years old gentleman. He offered lunch at the cafeteria of Shoyu Club. After some times, Soko joined us to have lunch together.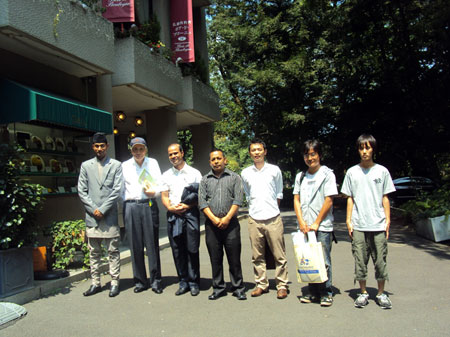 After having lunch, we headed to Shoyu Club's conference hall. We met Mr. Tadahisa Daigo, the President and Mr. Mamoru Yamamoto, Managing Director of Shoyu Club. The purpose of this meeting was to inform Shoyu Club about PEN activities since its establishment, its recent developments and future activities for 2011/12 and also about social-business model. We expressed our sincere gratitude for Shoyu Club's generous support and contribution for the implementation of plans and programmes of PEN. They listened each and every sentence of our speech sincerely and quite attentively. After the formal meeting, we presented a special Letter of Appreciation and a mounted photo of Kavrepalanchok Educational Project to Shoyu Club as well as token of love to Mr. Daigo and Mr. Yamamoto on behalf of PEN. Shoyu Club presented each of us a nice pen. We also presented a token of love to Mr. Arao and Soko. We took some group photos at the end. Later, we could discover from Soko that they were quite impressed with our presentation and attitude.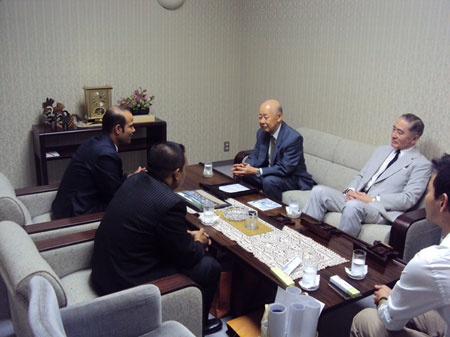 After the meeting, Yuma and Toshiki took us to Akihabara. At Akihabara, we could visit different electronic shops. We had some shopping there. Shreebatsa could also meet a friend at Akihabara. Having plenty of time available with us, we visited Ueno and its surrounding too. We stayed in a café for about one and half hour. In the evening, Soko came and picked us to his home. We (Bali, Shreebatsa and I) had some hot discussions while traveling back to Soko's home. Shreebatsa seemed little upset but after he became cool. We could have a dinner on the way. We went to a Chinese restaurant at Yokohama and had Chinese food together with Soko and Megumi. Soko told that the next morning we must wake up early at 6.00am. The reason was, according to him, we're visiting country side of Japan. He did not mention more about the next day's program. We reached Soko's home, took shower and managed our luggage because we're leaving for Kathmandu the day after tomorrow and slept well.
On August 18, we woke up at 6.00. It was our first time in Japan that we woke up that early. Soko drove us towards Yokohama Subway. Yuma, Yohei and Madoka were waiting for us. We got in the train and traveled to unknown destination. After nearly an hour travelling in three different trains, we reached a place; we were amazed to be at Disney Land, the dream land of us! It was really out of the world experience to be in Disney Land for the first time in our life. We enjoyed a lot for the whole day. Our old mate Ms. Mika Terasawa also joined us inside Disney-Land. She was very happy to see us after a long time.
In the evening, the electric parade was awesome. Actually, the Roller Coaster, Ghost Den, Pirate of Caribbean, 3D movie, etc. were fantastic. We had great enjoyments with lots of thrill and horror inside the Disney Land.
In the evening, Shreebatsa could meet his friend Ms. Shreeti out side of Disney Land. She gave something to Shreebatsa to hand her brother in Lalitpur. We all had dinner together at a restaurant nearby. Then, we returned back to Soko's home at about 23.00. We are grateful with Soko for making our dream of visiting Disney Land comes true. Yuma deserves special thanks for his companionship and time. We enjoyed a lot but were quite tired. Megumi presented us beautiful gifts. She also gave some presents for Sujan and his recently married sister Sonika.
On August 19, we woke up at 8.00am. After having shower, we took our last breakfast with Megumi and Soko. We were a bit emotional to think about our leaving. Takaharu and Madoka arrived at Soko's home. We bid our last Goodbye to our great friends Soko and Megumi and got into Takaharu's car. Soko could not come to the airport due to his busy schedules. Takaharu drove the car to the airport. After one hour, we arrived at NIA. Madoka gave us beautiful gifts there. We could see sadness in her face. We too were so emotional to leave our friends in Japan. Inside the airport, we could see our old friend Mr. Yohei Katoh with his girlfriend. We were really happy to meet him at last hour. We could present him a token of love there. Then, we took photo together. Everyone seemed sad and emotional at that time. Our eyes were moisturizing.
After leaving our Japanese friend, we went to terminal building where we purchased some chocolates and gifts. Having plenty of time, we went to use internet inside airport. We all were so lost in using internet that we became quite late. The airport personnel were searching us because the plane was in a state of taking off shortly. Hurriedly, we got aboard the plane. We were only three people whom the plane was waiting. On the one hand, we felt little ashamed and embarrassed while felt little proud on the other.
In the evening, we arrived at IGIA, New Delhi. As per our plan, we decided to go outside the airport and visit Delhi. Therefore, we gathered our belongings and came outside the airport. We exchanged some Japanese Yen into Indian Rupees but had no idea where to go and where to stay in Delhi. After one and half hours of roaming here and there near the airport, we met a helpful Indian security person who sincerely helped us to find the right bus which led us to a reliable hotel. We stayed in Airport Inn Hotel. We put our luggage in the hotel, took shower and then we came out of hotel to explore Delhi at night. We went to Shiva Mandir which reminded us the statue of Shiva at Sanga. We returned back to hotel at about 21.00 after having delicious dinner outside. We talked, drunk and enjoyed watching TV that night at hotel. We slept at about 24.00. I could have chatting with Sujan till midnight.
On August 20, we woke up early and went to Qutub Minar and Lotus Temple. We took bus which was very dirty and crowded. Passengers were talking rudely and arguing with each other and with conductors. It was so crowded that we forgot the problem we had faced in the local vehicles of Kathmandu. After one hour traveling, we reached Qutub Minar, a world heritage monument in India which was made during Mughal Empire. The area out there was really big. So, we did not visit all around due to limited time available with us. After exploring main places, we came back and got into another bus to visit Lotus Temple (Bahai Temple). It took another one hour to reach there. It was raining heavily but we ignored it and visited that place too. The architecture of that temple was awesome. We entered inside the temple and meditated for about five minutes. After taking some photos, we headed to get vehicle towards the hotel. Our flight for Kathmandu was scheduled for 15.00. It was already 11.30, so, we're feeling hurry. We took an auto rickshaw. The auto rickshaw took us to Delhi haat where we did some shopping and returned to hotel.
We reached IGIA, New Delhi at 13.30. Our flight was at 15.00. Unfortunately, our flight was cancelled due to some technical problem in Nepal Airlines. The airport staff for Nepal Airlines managed us seats in the Air India before the scheduled time. Thus, we arrived at Kathmandu earlier than our scheduled time.
The experience we gained during Japan visit was brand new and unforgettable till we take our last breath in this world. We enjoyed each and every moment in Japan.
We would like to express heartily gratitude especially and sincerely to our dear friends Soko Aoki and Sujan Koirala. Our visit became unforgettable and meaningful because of their sincere planning and management. They worked nights and days to prepare necessary documents and make other arrangements for our visit. We are very much grateful to Megumi Yoda for her superb care and hospitality.
We are equally thankful to our Japanese friends: Soichiro Yamanaka, Junichiro Yokosawa, Madoka Satoh, Lisa Nakagawa, Yuma Wakahara, Yohei Ueda, Satomi Tsuneta, Erico Iwasaki, Tatsuya Sakabe, Toshiki Tamagawa, Seika Kondo, and Mika Terasawa. We could explore Tokyo, its surroundings and gathered lifetime experiences because of their friendly support and enthusiasm.
We are very much thankful to Respected Masaya Arao. We pay our respect to Shoyu Club, Japan specially to Respected Tadahisa Daigo and Respected Mamoru Yamamoto. Lots of gratitude towards Takaharu Sakakibara, Hyejin Moon, Kohki Okamura, Rina Okamura, Kazutaka Uchida and his girlfriend and Kyosuke Oshio for their short but enjoyably valuable time.
Long live friendship between PEJ and PEN!
Cheers for Pax Earth life!
Thank you very much.
Article written by Manohar Sapkota