Four members Kadinche Team led by CEO and PEJ Secretary General Dr. Soko Aoki visited Nepal and Bhutan during 4th to 11th Feb. 2010. Mr. Kazutaka Uchida, Mr. Shunsuke Imura and Mr. Yasuhiro Ichikawa were the three other members of the Team.
PEN President Mr. Sujan Koirala and board members warmly welcomed them at Tribhuvan International Airport Kathmandu. Although Kadinche Team had a week long trip, they could spend only three full days in Nepal. The main objectives of their visit were: to meet heritage and tourism related people (especially at UNESCO), to interview IT professionals (especially Mr. Mahabir Pun) and to visit world heritage sites (including "Namuna Ghar") of Kathmandu valley and take panorama photos.
After an hour of rest at Fuji Hotel, Kadinche Team left for a meeting with CEO of Agile Solutions Pvt. Ltd. Mr. Surya Aryal at Agile's office, Old Baneshwor, Kathmandu. Kadinche Team could take the interview on IT sectors and enquired about the possibility of exploring Kadinche technology's market in Nepal. The Kadinche team showed a demonstration of their technology. Besides, the team took the panorama photos of the indoor setting of Agile. The meeting lasts for one and half hours. PEN President Mr. Koirala, VP Mr. Shreebatsa Basnyat and Board Member Mr. Laxman B. Pahari were present on the occasion.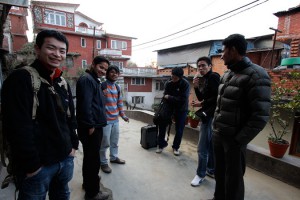 In the evening, the team met Mr. Indiver Badal, an IT expert, who has been in this profession for the last fifteen years at Fuji Hotel. He has worked with Mr. Mahabir Pun in so many occasions. Dr. Aoki interviewed him about present state of IT sector in Nepal. Similarly, he enquired about the initiative taken by Mr. Mahabir Pun in the Himalayan regions. The team could get ample information about the state of IT in Nepal. They are surprised to know the progress that has been made in the IT in Himalayan regions. Kadinche team also had a demonstration of their technology on the occasion. He interestingly watched the demonstration and appreciated the technology. Besides Kadinche team and Mr. Koirala, Mr. Basnyat and Mr. Pahari, Secretary Mr. Manohar Sapkota was also present on the occasion.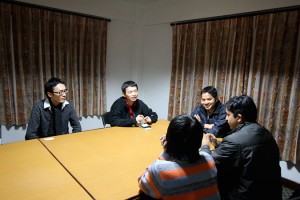 In the morning, Kadinche team left for sightseeing of Boudhanath and Swoyambhunath. However, due to traffic jam they shortened the sightseeing and only visited Boudhanath. They were accompanied by Mr. Basnyat.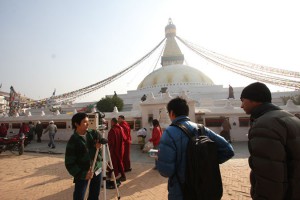 Then after, they left for Bhaktapur picking Mr. Koirala in Balkhu. There Kadinche team had a plan to visit "Namuna Ghar" recognized by UNESCO. We met our friend Rikesh Raj Bharati who was taking care of this model house. Kadinche Team took the panorama photos of whole building, rooms and interiors. The team could obtain necessary information of the house from Mr. Bharati. Besides "Namuna Ghar", the team took panorama photos of different temples and monuments of Bhaktapur.
After Bhaktapur, we left for UNESCO Office at Jawalakhel where we had an appointment with Ms. Nipuna Shrestha of Cultural section at 4pm. Besides having interaction with her, the team had a demonstration of their technology at UNESCO as well. Kadinche team could get good feedback for their technology. She also referred some institutions in which Kadinche technology is useful. Mr. Koirala and Mr. Basnyat accompanied Kadinche team at the meeting.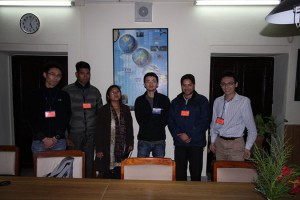 In the morning, the team left to meet advisor of PEN Prof. Dr. Hari Prasad Shrestha who is also the Executive Member of Nepal Mountaineering Association. The team had a small demonstration of the technology out there. Prof. Shrestha and his family interestingly watched the demonstration. Prof. Shrestha highly appreciated the technology.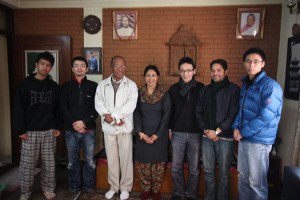 After the meeting, the team was divided into two groups; one consisted of Dr. Aoki and other consisted of remaining three members of Kadinche. Mr. Pahari took three members team to various world heritage sites: Pashupatinath, Boudhanath, Swoyambhunath and Patan Durbar Square to take panorama photos so as to create digital archives of these sites.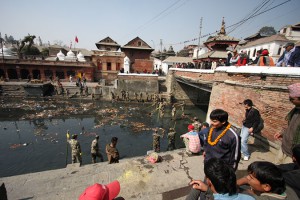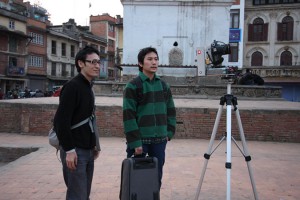 Dr. Aoki represented PEJ in the joint meeting between PEJ and PEN in the afternoon. We talked about various issues of Pax Earth including activity, budget and funding for the year 2010 as well as business models for self-sustaining Pax Earth activities in future. Both PEN and PEJ agreed to revise the budget. However, the PEN members insisted PEJ to continue the youth exchange programme between Nepal and Japan. They also requested Dr. Aoki to highly consider the budgeting.
In the business model, we discussed on café, Japanese university students study tour, promotion of Kadinche technology in Nepal and education consultancy. Mr. Basnyat and Mr. Sapkota agreed to lead the café project, Dr. Aoki from PEJ and Mr. Koirala from PEN agreed to lead the study tour project. For this, we agreed to submit a proposal to International Christian University in April 2010. Mr. Koirala has also shown interest to explore Kadinche technology here in Nepal. Mr. Guna Raj Pyakurel has opened an education consultancy and he is quite interested to explore the possibility of sending students in Japanese university. Dr. Aoki has assured us to explore the possibility of this business in Japan as he is also lecturing at Keio University in Japan. Mr. Koirala shared his opinion on Kadinche technology and provided feedback to improve. PEN members insisted Dr. Aoki to make the Kadinche website in English as early as possible. Eight persons were at the meeting.
In the evening, thanks to efforts of Mr. Indiver Badal, we could have an appointment with Mr. Mahabir Pun, Ramon Magsaysay Award winner for Community Leadership in 2007. Mr. Badal directly brought him to Fuji Hotel from the airport. Mr. Pun was in Pokhara. Dr. Aoki took interview of Mr. Pun for about an hour. He asked about the history, benefits for village people brought from Mr. Pun's initiative, future plan and challenges. Mr. Pun gave a complete reply of each and every question of Dr. Aoki. Everyone present was quite amazed to know the progress made in wireless computer technology in remote mountain areas. Mr. Pun highlighted the benefit that the wireless technology has highly contributed in education, health and communication. Furthermore, the technology has facilitated in remittance, monitoring air traffic and getting information on climate. He further shared that he is planning to start virtual ATM service in these remote villages with the help of service providers employing the same technology. Dr. Aoki who is also the Contributing Writer of JB Press obtained permission from Mr. Pun to publish his interview in this Japanese online business media.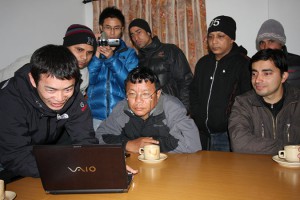 After the interview, Kadinche team had a small demonstration of their technology. Mr. Pun highly appreciated the technology and took no time in providing a feedback that it can be used in education as a virtual study.
Dr. Aoki thanked Mr. Pun for his valuable time and wished to work together in future. On behalf of PEN, President Mr. Koirala thanked Mr. Pun for his valuable presence in spite of his very tight schedule. He highly appreciated Mr. Pun's effort and told that his effort has brought tremendous changes in the remote villages of mountain regions. He added that he is an inspiration for the youths like us. Everyone present in the meeting was honoured to meet him. He further extended best wishes for his future endeavours. He further assured to follow the footprint Mr. Pun has set. Including Kadinche team, a large number of PEN members were present at the meeting.
After the meeting, PEJ and PEN members had the dinner together. On the occasion, Dr. Aoki declared Mr. Laxman Bahadur Pahari as the best performer of PEN for the year 2009 and awarded a token of love as recognition.
In the early morning, Kadinche team left for Bhutan. President Mr. Koirala and VP Mr. Basnyat bid them a farewell for Bhutan trip.
President Mr. Koirala, VP Mr. Basnyat and Mr. Pahari could meet Kadinche Team at the airport who were en-route to Bangkok from Bhutan but required to change the flight. As their flight was of the afternoon, PEN members could spend few hours with the team. Besides having a cup of tea, PEN members could get feedback of their visit to Bhutan. Mr. Koirala, Mr. Basnyat and Mr. Pahari bid a farewell to them and wished a happy journey back to Japan.
Though they have a very tight schedule, PEN could manage all the schedules on time. Nevertheless, PEN put its utmost effort to make this visit fruitful and meaningful. The whole programme of Kadinche was coordinated by President Mr. Koirala.
PEN believes that this is just a beginning of a long race for Kadinche. It will slowly and gradually flourish in the days ahead. Good luck Kadinche!