PEN celebrated its 3rd Anniversary at its Secretariat Umakunda, Pashupati, Kathmandu in the presence of guests, well-wishers, honorary, board and general members on Saturday July 16, 2011. Altogether, 21 persons were present to mark this milestone.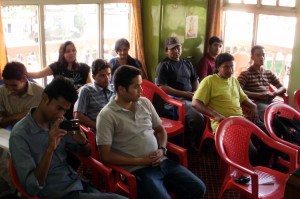 Survival and sustainability have always been a critical issue for a newly established or any younger organisation in Nepal. Despite this fact, PEN is slowly and steadily laying its foundation by carefully navigating and paving the hurdles and challenges. PEN could achieve what it had planned till the date. PEN is smoothly continuing as well as aiming for expanding its educational and environmental mission in Kavrepalanchok.
To mark this event, PEN organized a small program at Secretariat at 3.00pm. With the consent from President Sujan Koirala, Master of Ceremony (MC) Binod Pd. Mainali formally initiated the program with a welcome note. Then, he called Vice President Shreebatsa Basnyat for his welcome speech. VP Basnyat warmly welcomed all guests, well-wishers and PEN members and wished for the success of the program. He praised the role played by all PEN members in bringing the organisation to this respectful state. He wished for the progress and prosperity of PEN in the days ahead.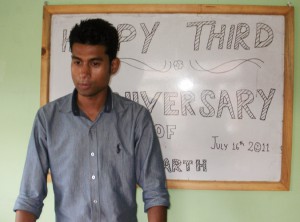 After the welcome speech, MC Mainali asked every member to deliver his/her greeting message one by one. Treasurer Bal Gopal Shrestha congratulated all PEN members for successfully completing three years. He was very happy with the way PEN is progressing towards the mission of contributing in education and environment. He asked for the continued support of every member and well-wisher for successfully carrying out plan and activities of PEN in the days ahead. He further wished for the long-term sustainability and success of PEN.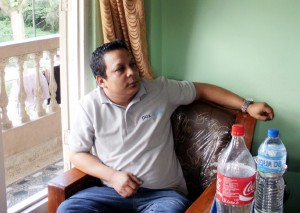 Guest Indiver Badal shared his happiness to be present on this auspicious occasion of PEN. He congratulated PEN for the 3rd Anniversary and wished for a long-term success of the organisation. He was ready to extend any kind of possible support for PEN in future.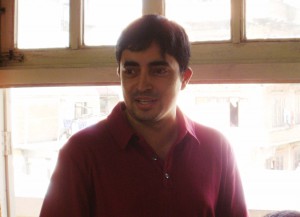 Honorary Member Nilambar Badal admired the way PEN is progressing towards its mission. He appreciated the educational and environmental activities carried out in Kavrepalanchok and Kathmandu. He regretted for not being able to manage time for Kavrepalanchok mission so far. However, he promised to manage time at any cost to visit Kavrepalanchok in next program. He praised the teamwork and enthusiasm of PEN and termed it the hallmark of PEN's three years successful journey. He wished for the more glories in the days ahead and assured for any kind of support and cooperation in the days ahead.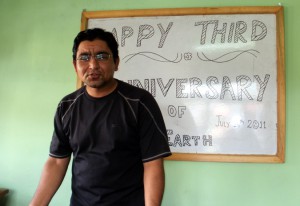 Similarly, PEN members: Guna Raj Pyakurel, Debraj Ghimire, Harihar Sapkota, Dipendra Dangol, Sudan Pd. Bhandari, Bijaya Thapa, Laxman Pd. Neupane and Sudarsan Risal extended hearty congratulations for completing 3-year successfully and wished for the sustainability, progress and prosperity of PEN in the days and years ahead. Similarly, PEN former member Rojee Munakarmi, Shanta Dahal and Prabhakar Acharya, well-wishers Rajan Dulal and Suraj Duwadi also congratulated PEN for this successful journey.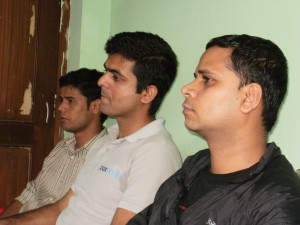 After these greeting messages, it was the time to cut the cake; President Koirala cut a special PEN 3rd Anniversary cake. Everybody sang anniversary song for PEN and cake was distributed to every participant.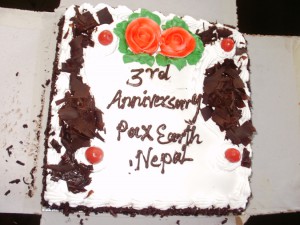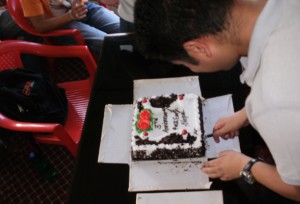 After the cake cutting ceremony, MC Mainali called President Koirala to deliver Vote of Thanks on behalf of PEN. Before his vote of thanks, President Koirala read three greeting messages received from PEJ President Dr. Soko Aoki, PEN Representative for Australia Saroj Ghimire and Honorary Member Nagendra Shakya respectively. The messages are placed below:
Message from PEJ President Dr. Soko Aoki

Dear board members and members of Pax Earth Nepal,
On behalf of your partners and brothers Pax Earth Japan, I would like to congratulate your third anniversary.

Since 2008, Pax Earth grew step by step by increasing the members, projects, and even in terms of funding. We have been making strong impacts in the field of youth empowerment, environment, and community development. From my point of view, I have been happy to hear that PEN started some of new tries such as Kavre project and Japanese language class.

Next three years, we need to focus not only the community development project but also social business which actually earns profit so that the organization lasts for long.

I have a plan to visit Kathmandu in next month. I am hoping that I can have a comprehensive discussion on these topics. I am really looking forward to seeing you in the newly opened PEN secretariat.

Once again, congratulations on the third anniversary and let's have even better years ahead! Social revolutions always start from young small group.

Best regards,
Soko Aoki, the President of Pax Earth Japan
———————————————————————————————————–
Message from PEN Representative for Australia Saroj Ghimire

Dear PEN and respected members,
I would like to congratulate all members of PEN for successful completion of 3 year. It is an immense pleasure to celebrate third anniversary of PAX EARTH. I want to thank all board members for giving me opportunity and making me representative of PAX EARTH for AUSTRALIA. About PAX EARTH as it's already known that PAX EARTH means "peace on earth" this name itself holds all the meaning what PAX EARTH is about.

We PAX EARTH members believe only education and peaceful environment make's our future bright so giving education and distributing the materials to the needed people will make their future bright. Youths are our future so to make our future bright and safe we have to help giving the education and safe environment which PAX EARTH has been contributing since last three years.

I wish all the very best for PAX EARTH and its members who have served three years for developing, managing, distributing and encouraging the youths to participate so called national awareness programme. I personally will be trying my best to help and support PAX EARTH in future.

Thank you,

Regards,

Saroj Ghimire
Country Representative of PEN
Australia

————————————————————————————————————
Message from Honorary Member Nagendra Shakya (Australia)

Dear PEN and respected members,
First of all, I would like to congratulate all the members of PEN and PEN itself for the successful completion of 3 years. It has always been a great honour to be invited in every program of PEN. I cannot express my great joy in receiving the invitation regarding 3rd Year Anniversary Program of PEN. But unfortunately, I couldn't make to the 3rd anniversary due to my studies. However, being a member of PEN I will always be in every program through email, Facebook or any other media.

Lastly, I would like to express my love and remembrance to all the members of PEN. Let the Almighty bless PEN and all the members of PEN with more success in the near future.

Thank you,

With best wishes,
Nagendra Shakya
————————————————————————————————————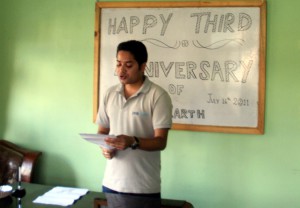 President thanked each and every member and well-wisher for accepting our invitation and attending this historic moment. He also extended heartfelt thanks to those who directly and indirectly helped and supported PEN in successfully completing 3-years journey. He was delighted with the built-up image of PEN in the minds of friends and relatives.
He sincerely thanked for the role played by PEJ President Dr. Soko Aoki and PEJ members. He was equally thankful to Shoyu Club, our sponsor for educational and environmental activities. He praised the role played by Secretary Manohar Sapkota, Treasurer Bal Gopal Shrestha, Vice President Shreebatsa Basnyat, Honorary Member Nilambar Badal and all PEN team members.
In his concluding remark, he said, "The journey that began in 2008 is on a right track; has a long way to go, many hurdles to face, many challenges to overcome, many successes to unfold and many histories to write."
The snacks and drinks were served after the formal program. In the evening, PEN members also had the toast for the success of PEN in days ahead. PEN well wishers Pradip Thapa, Rohan Magar, and Amrit Balami joined that celebration. Everybody enjoyed the celebration and expected the next year to be even better and brighter. The celebration continued till 9.30PM.
Report by PEN Secretariat!