Pax Earth continues to contribute in education of poor and underprivileged students of Kavreplanchok, Nepal. On June 23, 2011, a 12-members PEN team led-by President Sujan Koirala and accompanied by Shreebatsa Basnyat, Manohar Sapkota, Guna Raj Pyakurel, Harihar Sapkota, Binod Pd. Mainali, Laxman Bd. Pahari, Prem Shah, Bijaya Thapa, Japanese friends: Yuko Haraguchi and Sho Hayashi, LB Khadka (Representative of Room to Read and Program Coordinator of Paropakar Prathamik Upachar Kendra, PPUK, Dhulikhel) and guest Sunita KC visited Shree Raktakali Primary School (SRPS) and Shree Kalika Primary School (SKPS) of Kavrepalanchok and distributed educational materials and sports materials to students and teachers. Pax Earth's this noble effort benefitted 131 poor and underprivileged students (101 from SRPS and 30 from SKPS) of Kavrepalanchok.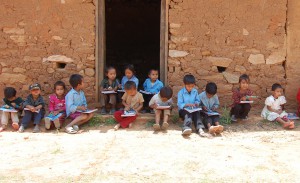 As per the planning, PEN members gathered at Secretariat, Umakunda, Kathmandu at 7.00am. Yuko Harguchi and Sho Hayashi also joined PEN members at the Secretariat. After having some teas, PEN team left for Kavrepalanchok in a micro-van at 8.00am. The team took breakfast at Dhulikhel at around 10.00am. After spending one hour there, the team headed to Kanpur VDC where these two schools are situated. As Japanese friends were quite interested to inspect a library developed by Room to Read, Representative LB Khadka brought the whole team to the library of Sanshari Devi Primary School located on the way to Kanpur VDC. They were quite impressed so as PEN members to see such a well-managed library. Room to Read has been doing an appreciable job for developing a reading habit among the students.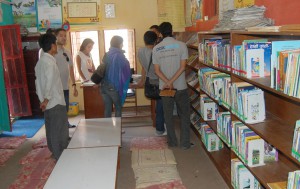 After inspecting the library, the team headed to SKPS and arrived there at 11.30pm. Each team member was cordially welcomed with a bunch of flower by principal and teacher. After the welcome speech by teacher Pramisha Pariyar and a short address by PEN Secretary Manohar Sapkota, PEN team distributed the educational materials such as notebooks, pencils, ball pens, erasers, sharpeners and scales to the students amid a special ceremony. PEN team also distributed a diary and few red-pens to every teacher. Out of 31, only 26 students (from grade one to grade three) were present on the occasion. President Koirala handed the educational materials of absent students, sports materials and some nail-cutters to Principal Ram Lal Shrestha.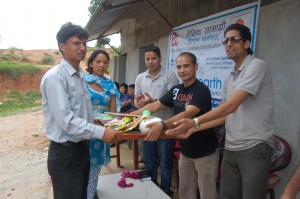 President Koirala shared his happiness to support in education of such a wonderful kids and promises to continue the program as far as possible. Principal extended vote of thanks to Pax Earth for coming a long way to this remote village with an appreciable mission. He has hoped for the continuity of this precious support in the future as well.
After the formal distribution ceremony, the students of each class were asked to draw a picture of their own choice but in a group. PEN team also offered colors to the students. Each class came out with a wonderful and meaningful drawing. The PEN team kept the paints of all three classes as valuable souvenirs from lovely kids. PEN members also had some group photos with students and teachers. Then, the team headed for Bhanjyang where PEN team could enjoy lunch. Having a delicious lunch, the team felt refreshed and instead of going via micro-van, many team members walked to SRPS which took about 10min. It was already 2.30pm when the PEN team arrived at SRPS.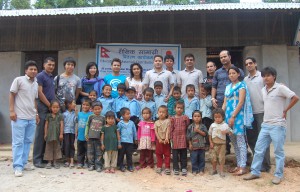 Everyone from PEN was warmly welcomed by the teachers and while entering into school premises, students and teachers were found studying and teaching. After some rests and gossips, the PEN team was prepared to start the program. The students and staffs managed the table and chairs for distribution, students lined up in their respective class group. Teacher and Master of Ceremony Hira Kaji Lama formally started the program with the consent of Principal Hira Kaji Tamang. MC requested School Management Committee (SMC) Chairman Pasang Dorjee Tamang and former SMC Chairman Arjun Bd. Bhandari to formally welcome PEN team members with red tika and khadda and Japanese guests with red tika and garland. On behalf of SKPS, teacher Netra Prasad Pathak gave welcome speech. Chief Guest of the program, PEN President Sujan Koirala shared his happiness and told, "Bringing smile in the faces of students is the ultimate aim of PEN's effort." After his address, the distribution began but after distributing the educational materials to just two students, the sudden and unexpected heavy rainfall hampered our just started distribution program. That delayed our distribution program by one hour. The PEN team waited for the weather to improve but it was unlikely. After discussion with principal and teachers, the team agreed to hold the distribution inside a classroom.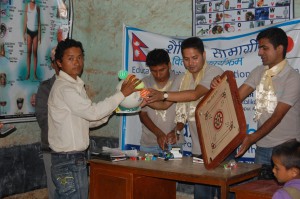 PEN members handed educational materials: notebooks, ball pens, pencils, erasers, sharpeners and scales to 89 students out of 101 students. President Koirala handed the educational materials of absent students, sports materials and few nail-cutters to Chairman Tamang. PEN team also handed a diary and few red-pens to each teacher. Despite some problems created by heavy rains, the PEN team could distribute educational materials in a disciplined and proper manner with an effective coordination of school teacher and staff. Principal of SRPS Hira Kaji Tamang gave vote of thanks. In his vote of thanks, he heartily thanked PEN for bringing such a valuable program to this school and hoped for the continuity of the program in the days and years ahead. Japanese friends showed their great interest in handing over the educational materials to poor and underprivileged kids. After finishing educational materials distribution program, PEN team took some photographs with principal, school staff and students.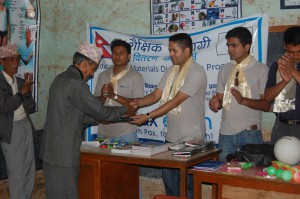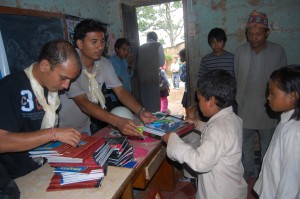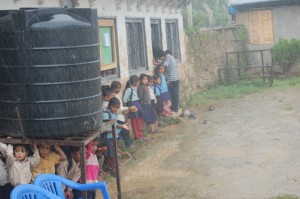 The PEN team was running out of time so they left for Kathmandu at 6.00pm. On the way to a station where micro-van was waiting for us; SMC Chairman generously offered a cup of tea. While friends were having teas, President Koirala, Secretary Sapkota and Vice President Basnyat went to Duyee Pokhari and recalled and refreshed the memories of 2008.
After teas, PEN team returned via same route. They spent few moments at Board Member Mainali's home. PEN members were very grateful with respected parents and family members of Mainali for the wonderful reception and offering a cup of curd and a bowl of curry. Since it was already 7.40pm, the PEN team hurriedly returned to the micro-van and slowly headed to Dhulikhel. Because of damages in the muddy road caused by heavy rains, all team members were very concerned and asked the driver to drive slowly and carefully. The PEN team had dinner at Dhulikhel and slowly returned back to Kathmandu. The team arrived Mitrapark at 9.45pm from where PEN members and Japanese friends departed. Japanese friends Yuko Haraguchi and Sho Hayashi were very happy and heartily thanked PEN for such a wonderful opportunity.
So, PEN could have a fantastic program with an effective team work and cohesiveness. As this was the first distribution in the new academic year 2068, the team members were very happy to see the increment in the enrolment of students at SRPS by 26 percent. The program was coordinated by President Koirala.
PEN is especially thankful to Auto Ave Pvt. Ltd. for sponsoring 100 notebooks and 100 pencils. PEN is also grateful to Yuko Haraguchi and Sho Hayashi for accepting our proposal to join this distribution. PEN extended gratitude to LB Khadka (Representative of Room to Read) and Sunita KC (Guest PEN) for their valuable time and support. PEN thanked the driver and his helper for providing a safe and comfortable journey. PEN sincerely extends gratitude to Shoyu Club and Pax Earth Japan for their strong support without which PEN team could not make this program a grand success. Last but not the least, PEN thanks all those who were directly and indirectly involved and supported in successfully holding of this program.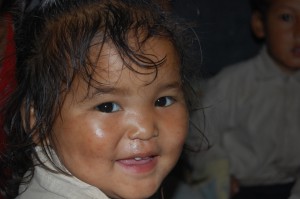 Reported by PEN Secretariat!