It was a matter of great pride for PEN to welcome two Japanese friends' groups in March 2011. The first team led-by Pax Earth Japan's member Soichiro Yamanaka and consisted of his three friends: Keisuke Takeyama, Kazutaka Asakura and Yui Saito visited Nepal during March 4 to March 9 while the second group consisted of Masanobu Ebisawa and his friend Sho Ishii visited Nepal between March 16 and March 23. The visit of Masanobu and Sho was uncertain due to the greatest earthquake and tsunami which hit northeastern coast of Japan on March 11. However, we were very happy that they could manage to visit Nepal even in the uncertain situation. Here is a brief highlight of both the visits.
Soichiro and his friends' visit
(March 4 to March 9)
The four members' team led-by PEN old friend Soichiro Yamanaka arrived in Kathmandu at 2.15pm on March 4, 2011. PEN President Sujan Koirala, Treasurer Bal Gopal Shrestha and Board Member Harihar Sapkota welcomed them at Tribhuvan International Airport, Kathmandu. It's Soichiro's fifth, Keisuke's second, and both Kuzutaka and Yui's first visit to Nepal.
The next day (March 5), the Japanese team attended a picnic programme organized by PEN at International Training Centre of Nepal Scouts, Kakani. Nearly 40 persons attended the picnic. Japanese friends were quite delighted to be a part of an excellent picnic. The picnic provided platform for both Nepali and Japanese friends to extend friendship and enhance relationship with each other. Everyone was enriched with this wonderful picnic experience.
During March 6 and March 7, they could visit Swayambhunath, Boudhanath, Pashupatinath, Garden of Dreams, Shanga Shiva Mandir, Bhaktapur Durbar Square and Kathmandu Durbar Square with PEN members. PEN President hosted dinner for them at his home on March 6. They could even manage to watch a Nepali film "Tahalka.com" in a theatre in Kathmandu. They had worn Nepali dress in many occasions; we were quite impressed.
PEN invited them to have a meeting at the Secretariat in the evening of March 8. We asked them to share about their experience in Nepal. We had a joint party at a restaurant in the same evening.
The team left for Japan at 1.50pm on March 9. On behalf of PEN, President Sujan Koirala and Vice President Shreebatsa bid them farewell at the airport.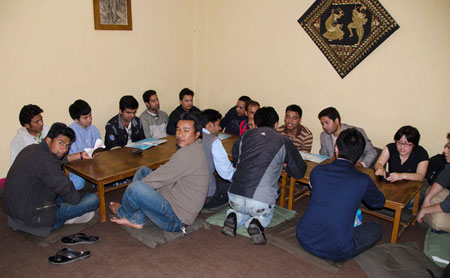 ———————
Masanobu and Sho's visit
(March 16 to March 23)
Masanobu and his friend Sho arrived in Kathmandu late night of March 16. This was the second visit of Masanobu while for Sho it was the first. PEN President Sujan Koirala welcomed them at Fuji Hotel in the next morning.
They could visit Swayambhunath, Boudhanath, Pashupatinath, Shanga Shiva Mandir, Kathmandu Durbar Square, Garden of Dreams with members of PEN and Kantipur Open Rover Crew. They were also taken to PEN Secretariat by the members.
PEN could celebrate this year's "Holi" with Masanobu and Sho on March 19. They were quite delighted to experience this great festival. They could exchange colours and water with Nepali friends. Nepali members were very happy to play Holi with them.
Sujan and Bal Gopal Shrestha hosted dinner for them at a restaurant on March 21. They also hosted dinner for Nepalese friends (from PEN and Kantipur Crew) in the same restaurant on March 22.
Masanobu and Sho left for Japan at 11.30pm on March 23. On behalf of PEN, Sujan, Shreebatsa Basnyat, Guna Raj Pyakurel, Dipendra Dangol and few other friends bid them farewell at the airport.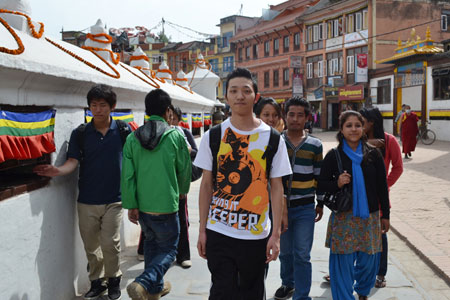 ———————-
Though it was short visit, we did our best to make both the visits sweet and memorable. Even in this short period, they could learn many Nepali cultures. Both the groups stayed at Fuji Hotel. President Sujan Koirala and Treasurer Bal Gopal Shrestha successfully coordinated both the visits. PEN highly appreciates Soichiro's love and dedication for Nepal and Nepali friends which encourage him to visit Nepal at least once a year. Keisuke's passion towards Nepal was also appreciable. Similarly, we appreciate Masanobu's love and affection for Nepal and Nepali friends.