Pax Earth Nepal members, well-wishers and friends went for a picnic at International Training Centre of Nepal Scouts situated at Kakani Village Development Committee, Nuwakot District on Saturday March 5, 2011. This year the picnic was quite special as four Japanese friends: Soichiro Yamanaka, Keisuke Takeyama, Kazutaka Asakura and Yui Saito joined us. Including catering and driving teams, nearly 40 persons attended the splendid picnic. In spite of our effort, we could succeed to welcome only two lady members in this picnic. On behalf of PEN, President Sujan Koirala, Vice President Shreebatsa Basnyat, Secretary Manohar Sapkota (and his spouse Nilas Sharma), Treasurer Bal Gopal Shrestha, Joint Secretary Guna Raj Pyakurel, Joint Treasurer Dipendra Dangol, Board Members: Harihar Sapkota and Binod Prasad Mainali, Members: Prem Shah, Laxman Prasad Neupane and Sudan Bhandari joined the picnic. It was a huge success. PEN had two wonderful picnics before i.e. at Dhulikhel in 2008 and at Changu Narayan in 2010.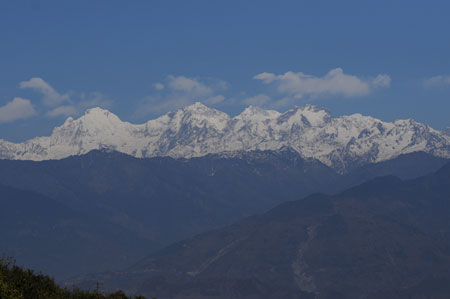 Kakani, located about 25km northwest of Kathmandu (i.e., about 1½ hour journey from Kathmandu) at an altitude of 2000m above see level, offers the magnificent view of a vast collection of majestic peaks stretching from Ganesh Himal to Annapurna and Dhaulagiri ranges. The wonderful views of sunrise and sunset add further value to this place. There is an unusually perfect blending of the imposing mountain scenery with the more sylvan environment of the lower valleys. Rhododendrons growing wild on the mountain slopes begin to bloom in late winter and stay in bloom for several months, giving the village even more charm. Situated amid such a magical environment, the training centre is an excellent recreational destination where the people can either enjoy the view from the picnic spots or spend a night for camping. The facilities such as toilet, water access, kitchen equipments and dinning hall are excellent. There is no other place better equipped for picnic and night camp in Kakani than the training centre. The spot is well-known for the environment and adventure.
PEN members and friends were informed to arrive at PEN Secretariat, Umakunda by 7.00 in the morning. We had a plan to leave for the spot at 8.00 if every member successfully gathered. Our Japanese friends arrived 20min before 7.00 but some key members from PEN could not arrive at the stipulated time. We had to wait 2 more hours for them. As it was not possible to leave even at 9.00am, we made a decision to have breakfast before leaving for Kakani. Thanks to our friend (and catering manager) Ashok Malla and his team who could manage toasts, teas/coffees and boil eggs for the breakfast at his office premises. After having breakfast, we left for Kakani in a rented bus at 9.30am.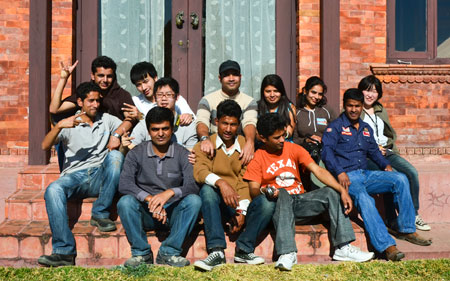 The 1½ hr journey from Kathmandu till Kakani was awesome. We could enjoy beautiful panoramic views throughout the way. We arrived at the training centre at 11.00am. We could see majestic White Mountains in the northern part. The weather was sunny and bright. But the tender breeze was there to keep the sun from making any uncomfortable.
Right after reaching the picnic spot, the catering team started to prepare snacks, some began to play cards, some got busy to manage music, some were enjoying natural setting, and a few started to take sip of whiskey and beer. The kitchen team came up with beaten-rice, curry and pickles. Everyone enjoyed the snacks as they were bit tired of 1½ hour journey.
As there was free time for a while, some members went to inspect the training centre and camp sites, some kept on playing cards and some kept on enjoying music. Japanese friends also stood with Nepalese friends and attempted some dance steps. In the mean time, a friend appeared with some bottles of local wine prepared from strawberry. The taste was sweet and many of the members tried it. Then, some went to hang out in the shady area and explored jungles. Japanese friends also inspected the area including the plantation site where Pax IV members had plantations few years back.
The kitchen team prepared snacks: Momos, Sausage, Pakoda, Chicken Jhili, Pickles and served to everyone. The snacks were served till the lunch was being prepared. Everyone enjoyed these snacks a lot.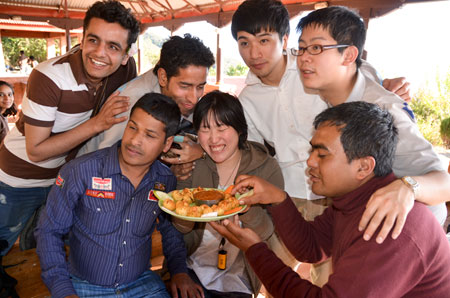 Before the lunch, Sujan Koirala, Shreebatsa Basnyat and Bingo made the environment more thrilling and exciting by running "Bingo". Each time, when a number was picked and Sujan was ready to announce in an attractive fashion, the heartbeat of the participants turned high. Many times, it was breathtaking. Congratulations Soichiro for winning the prize of full house!
After the thrilling Bingo, the members took the lunch. We had a wonderful lunch: Plain Pulau, Lentils, Spinach, Chicken Chili, Pickles and many more. The "Fruit Salad" was so so tasty and unforgettable.
The weather turned cold as the tender wind turned into hard. As we had taken warm clothes, we began to wear them. We could also see sunset. Some friends could capture it in their cameras. We didn't realize how the time had been passed. It was already 5.30pm. Then, we resembled and left for Kathmandu.
The excitement got further momentum after entering into the bus. Bal Gopal and some friends started to dance in the bus. Everybody highly enjoyed Bal Gopal's dance specially in the Bollywood's two hit numbers: "Munni badnaam huyee darling tere liye" and "My name is Shila". He was joined by Manohar, Sushil, Bipul and Keisuke. The excitement came to end after arriving in Kathmandu. It's already 7.30pm while reaching Kathmandu.
The picnic was well blend of "music, dance, cards, bingo, foods, drinks, hike, snapshot, sightseeing and chill out". The picnic provided platform for both Nepali and Japanese friends to extend friendship and enhance relationship with each other. So, it was one of the best events for PEN towards its mission of promoting international peace.
Many thanks to Sujan and Bal Gopal for superlatively coordinating the picnic. Thanks to Ashok and his kitchen staffs for feeding us wonderful feasts throughout the way. We are equally thankful to the driver team for offering a wonderful journey. Above all, thanks to every participant for making this picnic a grand success and memorable. Next year will bring a new picnic and we all will look forward to attending.