Pax Earth organised fruit saplings plantation and distribution program for the underprivileged farmers under the fruit garden (FG) project at Namobuddha municipality, ward no. 5, Kot Timal village, Kavre, Nepal on January 16, 2021. Pax Earth has an ultimate goal to create one fruit garden at each interested household and has been supporting the farmers in Kot Timal village to plant fruit plants since 2018 under the slogan "one house, one fruit garden." The main objective of this project is to support cultivating highly nutritious fruits and increase the income of the farmers once they are produced in tradable quantity. The nutritious fruits are highly beneficial to health. Hence, our thirst is to contribute to their livelihoods by increasing incomes and improving health.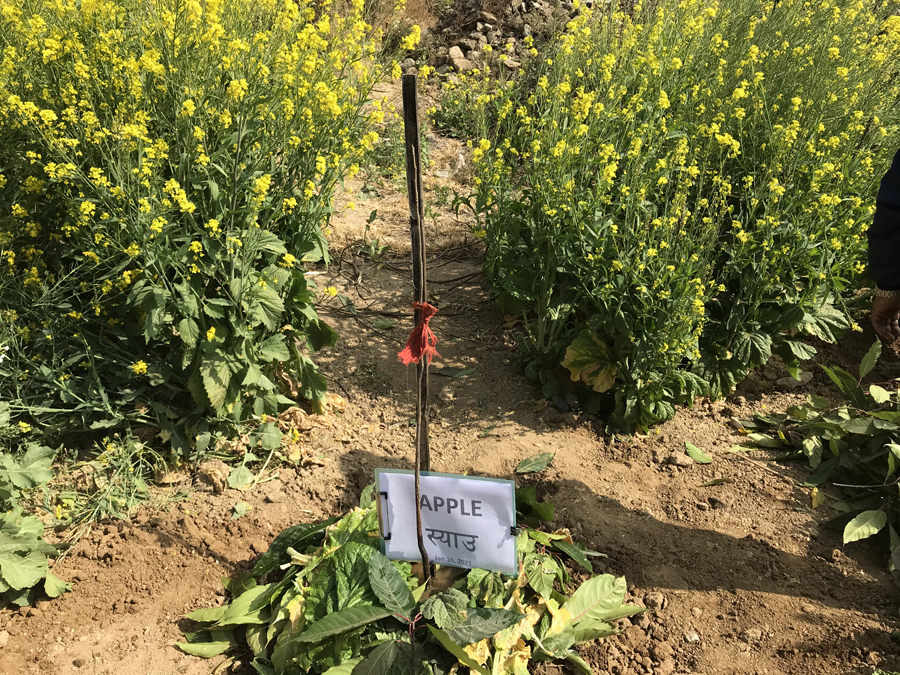 On January 16, a Pax Earth team consisted of president Sujan Koirala, secretary Manohar Sapkota, treasurer Bal Gopal Shrestha, joint secretary Jamuna Siwakoti Kachyapati, board members: Laxman Prasad Neupane, Laxman Bahadur Pahari, Members: Debraj Ghimire, Dev Raj Karki, Prabin Giri, horticulture specialist Ramhari Prasad Upadhyay, well-wishers: Radha Krishna Sapkota and Anita Yonghang travelled to Kot Timal along with 195 fruits saplings (pears 100, apples 50, walnuts 25, kiwi fruits 10, persimmons 5 and pecan nuts 5) and conducted the plantation and distribution.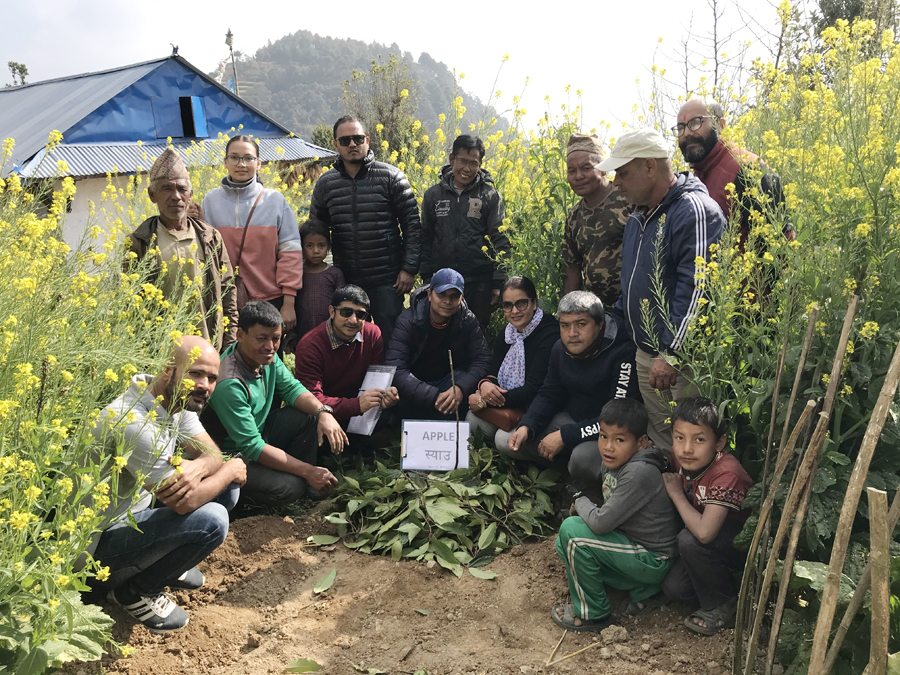 The Pax team fixed 7 locations for on-field plantation from Kalimati through Bhainse in Kot Timal. At Kalimati, Dev Raj Sorali Magar and Ram Das Tamang planted one and two saplings of apple at their respective homestead gardens. At Kot Timal, Tulasi Raj Koirala and Sudarshan Bhurtel planted one sapling each of apple at their respective homestead gardens. At Duyee Pokhari, Lal Man Tamang planted one sapling of pear, at Tallo Gaon, Mandhwoj Tamang planted one sapling of walnut and at Bhainse, Indra Raj Bhandari planted one sapling of pear at their homestead gardens respectively. All these farmers followed the systematic method of fruit plantation under the supervision of specialist Upadhyay.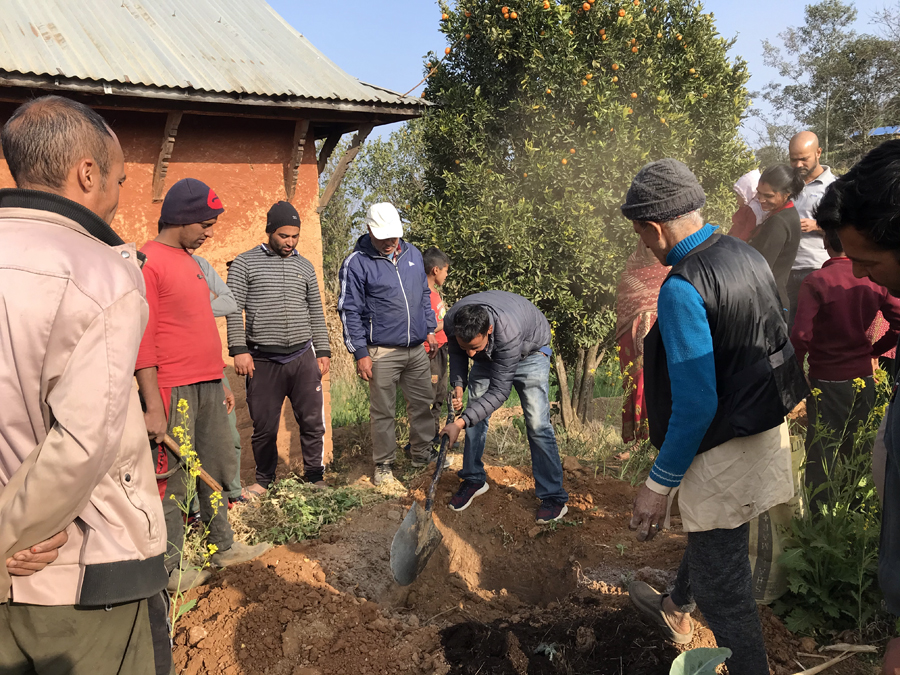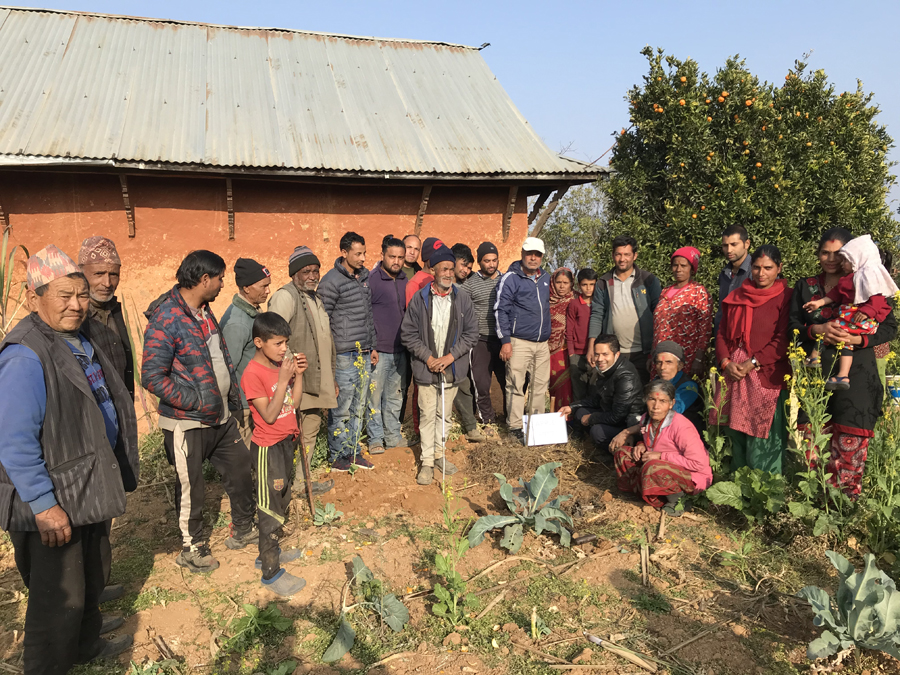 Beside conducting and observing plantation, the Pax team distributed remaining 187 fruit saplings to more than 80 farmers in Kot Timal village. Each farmer could get minimum one plant to maximum three plants based on certain criteria. The saplings of apple, pear and kiwi are grafted saplings and will yield fruits in 3 to 4 years. But, the saplings of walnut, pecan nut and persimmon are reproduced from seeds and will yield fruits in 5 to 7 years. Pax Earth had organized fruit plants management training program a week back to prepare the farmers for the plantation. After the plantation and distribution, the Pax team handed 3 pruning shears, 3 grafting knives and 1 pruning saw to facilitate fruit plants management in the Kot Timal region. Local coordinator Dev Raj Khakurel received it on behalf of the community. The farmers can share these important tools as and when needed.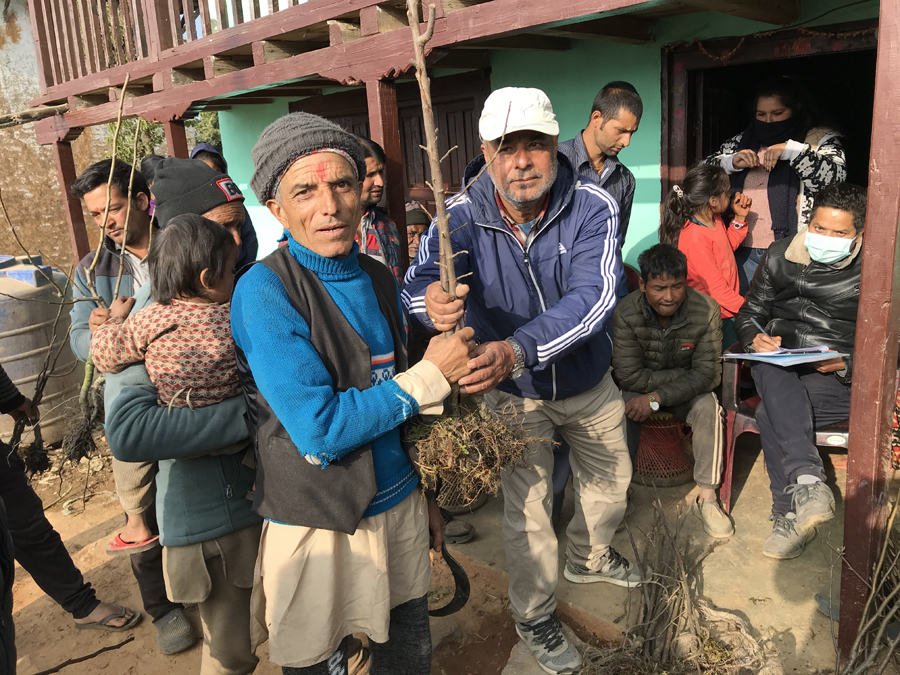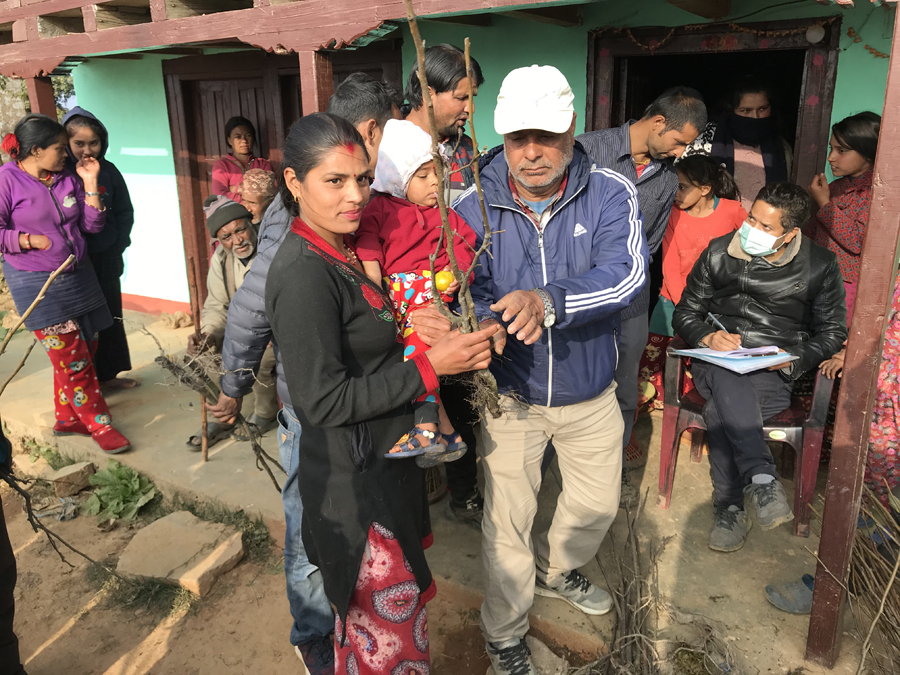 Pax Earth will continue the fruit sapling plantation and distribution activities until we succeed in creating one fruit garden at each interested farmer's homestead garden in Kot Timal village. We will keep on conducting necessary training and provide technical supports as well. Once these gardens start to harvest the fruits in sellable quantity, Pax Earth will establish a link between the farmers and the markets in Kathmandu to facilitate the trading of the surplus fruits.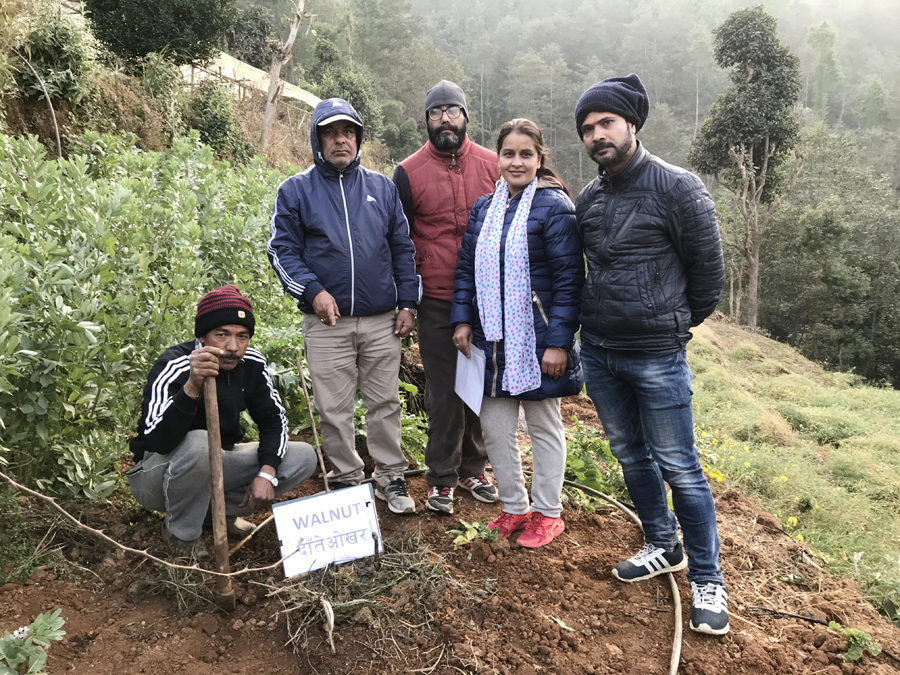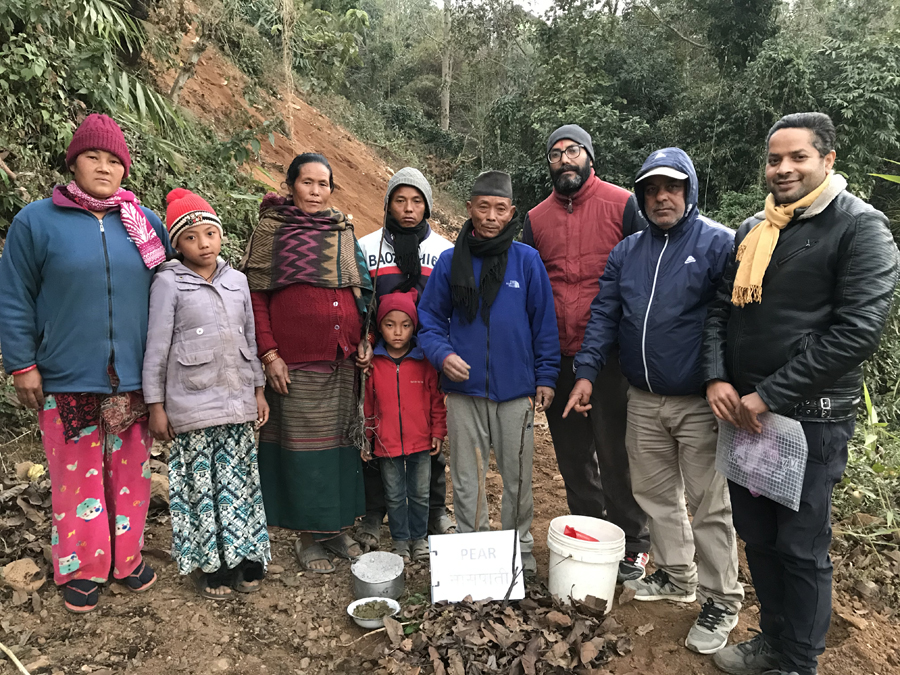 A few apple, pear and orange trees have already started yielding some fruits. The results in a short span of time are more than enough to attract the local farmers for fruit plantation on one hand and to encourage Pax Earth team to support them on the other. If project succeeds, we want to replicate it into other villages too.
We believe that the trees help to absorb carbon and reduce global warming. This very project is a small contribution towards this goal.
Reported by PEN Secretariat!