"If we want to trust someone, trust till the end whatever the result may be because in the end either we will have a good or a true friend or a good lesson."

– Reetu Adhikari

"… friends are those who are only we go through this life and friends are only we hope to see in our next life."

– Laxman B. Pahari

"If we have friends, life will be more social and more livable."

– Sanjay Sharma
PEN Toastmasters Cell (PTC) successfully conducted Vol. 3, No. 7 Toastmasters on the theme "FRIENDSHIP" at PEN Secretariat, Pashupati, Kathmandu on Friday September 7, 2012. Including five enthusiastic females, seventeen energetic youths attended the Toastmasters Program.
President Sujan Koirala called Toastmasters Program to order at PEN Secretariat at 5.50PM. He cordially welcomed all the guests and members respectively. Each participant gave a brief self-introduction. After the introduction, President introduced Toastmaster of the Day (TMD) Shreebatsa Basnyat and passed him the podium.
TMD Shreebatsa stated the theme of the day: "FRIENDSHIP" and explained why this theme was picked. He stated the 'code of conduct' of the Toastmasters Program. Then, he introduced members of the evaluation team: Nilambar Badal, Sujan Koirala, Sachin Koirala and Kamala Basnet who were performing the role of general cum speech evaluator, grammarian, Ah-Counter and timer respectively. The program entered into the manual speaking session after the introduction session.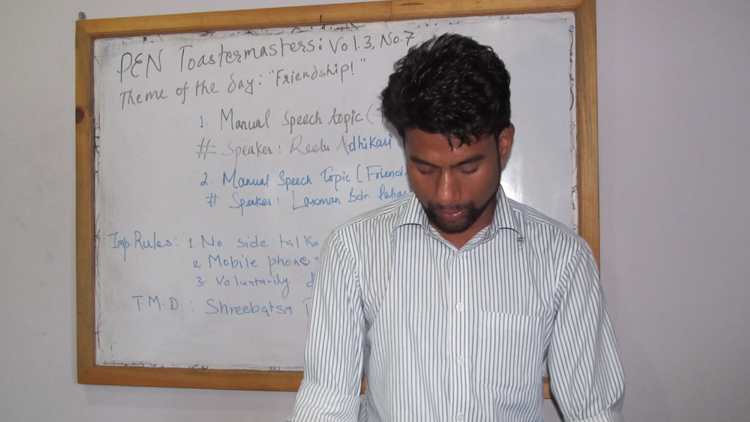 TMD Shreebatsa introduced first manual speaker Reetu Adhikari who was in her Project-3. She delivered her speech on "TRUE FRIEND". Before starting her speech, she thanked Pax Earth for organizing the Toastmasters Program and said, "Through the participation in such events, we can learn from each other and we should not go with empty mind leaving this room." Then, she started her speech with a statement, "A person whom we trust more than self is known as a true friend. The society in the world accepts this relationship and follows it." She said that friends are not the blood relationship even though they are very important part of our life and they hold the greatest impact on our life and whose presence will stick throughout all the time. "A true friend accepts us as we are no matter what our profession is and how we look and do not measure us with our property", she added. She shared one of her naughtiest experiences when she was 10 years old. She shared how she and her friends cut the hair of a girl to whom her mother had given some of her unused clothes. With this sharing, she tried to indicate that the true friends are forever ready in every naughty day not only in our good days. She argued if we want to have a true friend in our life, first we have to be a true friend with ourselves. Hence, she urged to be a true friend with ourselves. She concluded her speech with an inspiring note, "If we want to trust someone, trust till the end whatever the result may be because in the end either we will have a good or a true friend or a good lesson."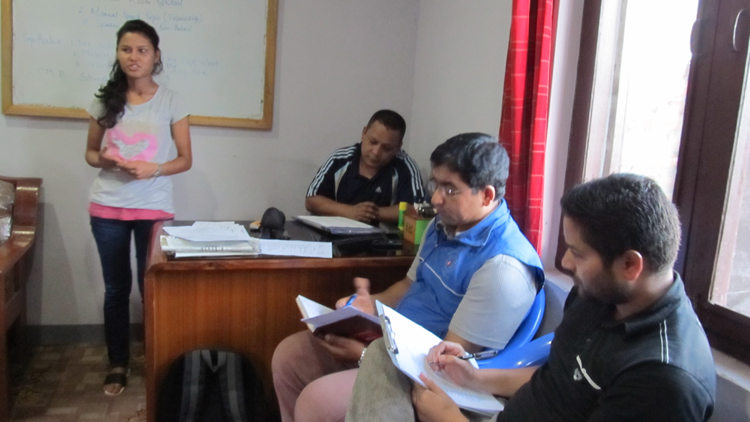 TMD Shreebatsa, then, introduced second manual speaker Laxman B. Pahari who was also in his Project-3. He spoke on "FRIENDSHIP". Laxman started his speech with a quote of all time great boxer Muhammad Ali, "Friendship is the hardest thing in the world to explain. It's not something you learn in school. But if you haven't learned the meaning of friendship, you really haven't learned anything." He said that friendship is really hard and we must know what friendship is to run our life smoothly, to run our relationship smoothly. In every relation in our life like family relationship, friendship and in every step of our life, if we understand the friendship, we can run our relationship very smoothly. "Friends support us and touch our wounds in a tender way that it heals no matter how big the wound is", he added. He shed lights on how internet and social networking sites such as facebook and twitter are helping discovering friends, maintaining friendship and sharing our happiness and sadness. In these very busy days, we could maintain friendship through these virtual zones. Further, he presented a real incident of 'stealing of a cucumber' by a brother of his brother-in-law to give a real example of Friendship. He concluded his speech with a note, "Friendship is a spiritual thing that comes from your heart and someone is always willing to establish a relation with you. So, friends are always important; friends are those who are only we go through this life and friends are only we hope to see in our next life."
In Table Topics session, TMD Shreebatsa who was also assuming the role of Table Topicsmaster put three table topics one by one: 1) AN UNFORGETTABLE MOMENT WITH FRIENDS, 2) LIFE WITHOUT FRIEND, and 3) A FRIEND I ALWAYS ADMIRE. Jamuna Siwakoti, Sanjay Sharma and Natsuo Mishina voluntarily picked the respective topics and delivered their speeches.
Jamuna Siwakoti shared her 11-year back's incident as "AN UNFORGETTABLE MOMENT WITH FRIENDS". She and her best friend Kamala went to Tribhuvan Park, Thankot. They arrived at the park at 9:00am and had lots of fun. After enjoying nearly 5 hours, they left for their home. While they arrived at the station, they could see a child killed by a bus. Soon after, the people started to strike against the killing. The strike made them scared. As they didn't have any choice, they started walking with a view of getting a vehicle. After 15/20 minutes of walking, fortunately they could get a micro-van and arrived home safely. If they didn't get the micro, the situation would have been worsening.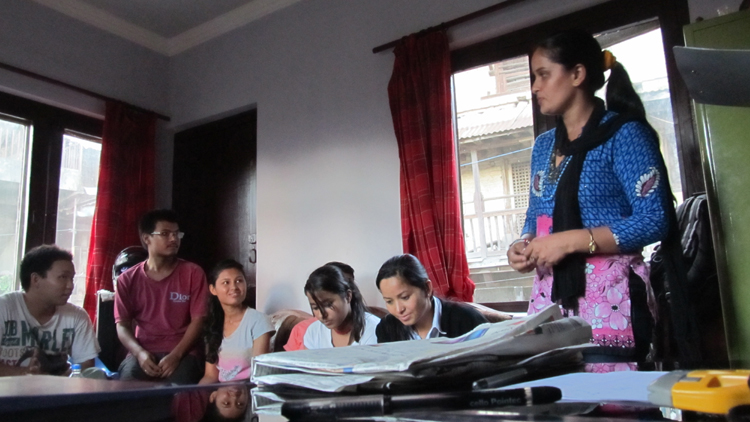 Sanjay Sharma in his speech on "LIFE WITHOUT FRIEND" stated, "Everyone wants to have a friend because life without friend would not be worth-living. It's not possible what I think so." He argued that friendship is more of an emotional attachment rather than the blood relationship. You can even be a friend with your mom, with your parents." He concluded his speech with a note, "Life without friend is unimaginable. Be better in choosing friends and make the maximum of it because friendship is just dwelling of a soul in two bodies. If we have friends, life will be more social and more livable."
Natsuo speaking on "A FRIEND I ALWAYS ADMIRE" said that he admires his Nepali friends a lot because they have helped him learning Nepali language in many ways. Nepali friends helped him by sending a dictionary, chatting in the net and commenting in social networks.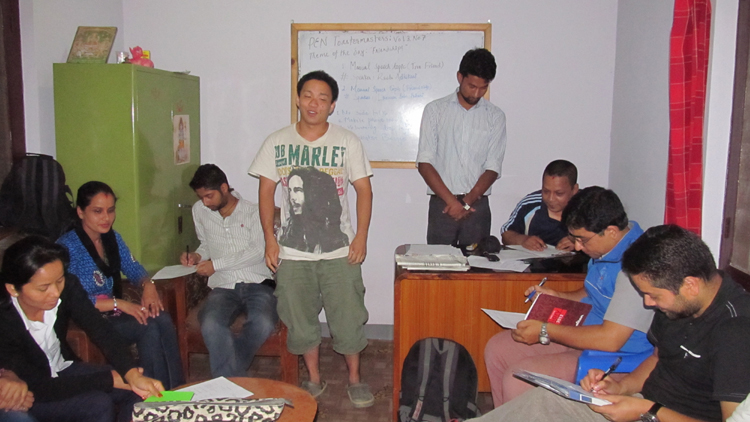 After the Table Topics session, the program entered into evaluation session. In the evaluation session, General Evaluator Nilambar called for the reports from the Timer Kamala, Ah Counter Sachin and Grammarian Sujan respectively.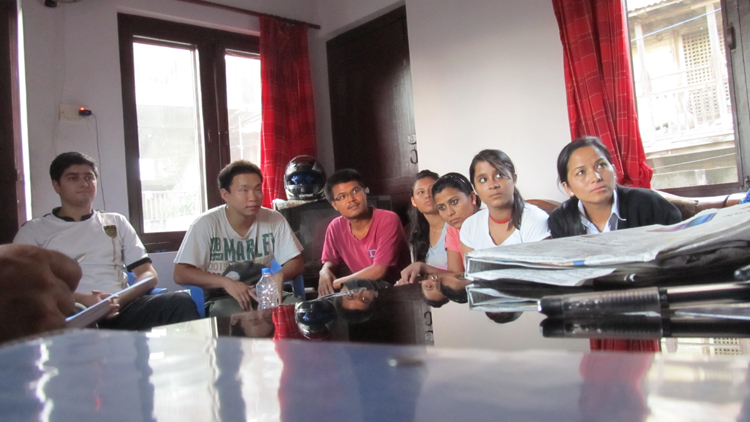 Timer Kamala in her report revealed that out of the 7 allotted minutes, manual speaker Reetu spoke about 4min 26sec while Laxman spoke about 7min 14sec. Similarly, she reported that out of 3 allotted minutes, table topics speakers Jamuna, Sanjay and Natsuo spoke 3min 42sec, 2min 32sec and 2min 40sec respectively. She was satisfied with the time utilized by Laxman, Jamuna, Sanjay and Natsuo however suggested Reetu to fully utilise the allotted time in the next speeches.
Ah-Counter Sachin presented his report on unusual pauses, hesitations and repeated words used in all five speeches respectively. Manual speaker Reetu committed 16 errors in aggregate in this category (unusual pause: 0, hesitation: 12 and repeated words: 4) while Laxman committed 37 errors in aggregate (unusual pause: 1, hesitation: 28 and repeated words: 8). Similarly, he reported that table topics speakers Jamuna Siwakoti, Sanjay Sharma and Natsuo Mishina committed 21 errors (unusual pause: 0, hesitation: 14 and repeated words: 7), 5 errors (unusual pause: 0, hesitation: 3 and repeated words: 2) and 11 errors (unusual pause: 0, hesitation: 9 and repeated words: 2) in aggregate respectively. He was very happy with Sanjay for committing the least errors among all five speakers.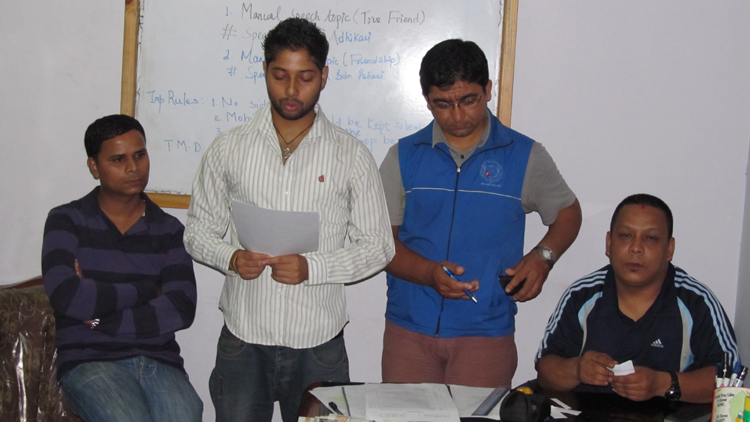 Grammarian Sujan presented his report on grammar mistakes (particularly: grammar errors, awkward words and misuse of language) of all five speeches respectively. He reported that manual speaker Reetu committed 10 grammar related errors in aggregate (grammar error: 9, any awkward use: 0 and misuse of language: 1) while Laxman, the next manual speaker, committed 9 errors in aggregate (grammar error: 5, any awkward use: 2 and misuse of language: 2). Similarly he reported that the table topics speakers Jamuna committed more than 25 grammar related errors in aggregate (grammar error: more than 20, any awkward word: 2 and misuse of language: 3) and Sanjay committed 4 errors (grammar error: 1, any awkward: 2 and misuse of language: 1). He, however, could not judge speech of Natsuo as he spoke in both English and Nepali languages. It was bit unusual for him in judging Natsuo's speech because of frequent change of languages. Sujan suggested Reetu to improve verb agreement, Laxman to work on verb and time agreement, Jamuna to verb and time agreement and also to avoid using awkward word 'and' where there is no need, Sanjay to work on avoiding awkward word particularly 'and'. He did not forget to give a huge complement to Natsuo for a very good Nepali speech.
Finally, speech evaluator Nilambar came up with his report. He presented his report starting from table topics speaker Natsuo. He appreciated the way Natsuo translated his speech into both English and Nepali languages. He complemented Natsuo saying that he is going to be very good in Japanese, English and Nepali languages. While giving a tip for developing new language skill, Nilambar advised him, "When you practice a single language, try not to speak other languages."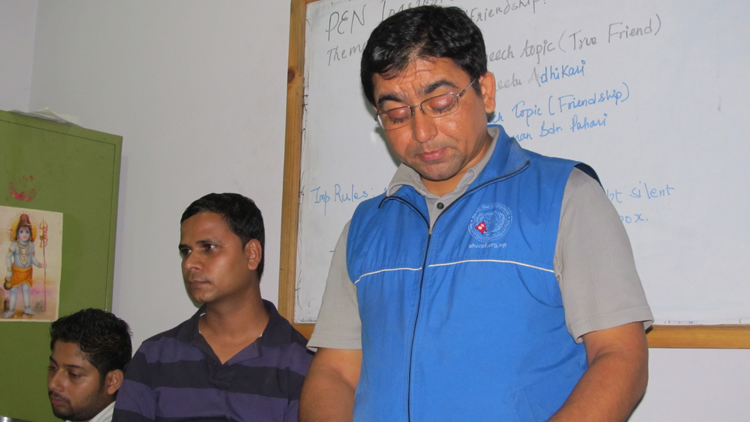 Nilambar appreciated the voice quality, language and speech fluency of Sanjay. He pointed, "Everything was good except that when you came over here and explain something, I thought you got anxious at some points." He added, "You had some kinds of worry explaining the things at some times." He revealed that Sanjay's anxiety level increased may be because he was trying to explain it very quickly. He suggested him to speak a little slower that will help him improve his speech to a greater extent.
Nilambar admired Jamuna's courage as she stood for the first time to present a speech in English. He stated that her true reflection was very nice though there were lots of grammatical errors as pointed out by grammarian Sujan. He hoped that these errors remain as errors not appear as the mistakes next time when she speaks. He advised her to listen more if she wants to improve her speaking ability.
Nilambar said, "Among three of you, your quality were almost similar and to say precisely, three of you are three angles of a triangle: one is learning English, one is learning Nepali and one is very good at speaking." In that respect, three of the table topics speakers scored the same. He further stated, "Here no one is winner and looser but with the fluency and speed, Sanjay is going to win here with a minimal margin."
Moving on to the manual speakers, Nilambar reported the evaluation of Laxman's speech. He reported that Laxman mixed the thing he learned. He pointed out that he forgot what he had learned from rehearsal and this has increased his anxiety. He further told that his long thought made him murmuring. He was not satisfied with his warmer and context setting. His voice quality and fluency were also not upto the mark. His reflection and examples were very good. In content he was good but the main part, i.e., the objective of the speech was not clear. He did not take evaluators or audiences to any conclusion and his speech was like beating around the bush once again. He suggested him, "Try not to recite but try to read the things what you have to say not how you have to say." He further suggested to work on warmer and context setting and to maintain a good eye contact.
Finally, he presented the evaluation of Reetu. He really liked her speech. The best part of her speech was she could keep eye contact with the audiences.. She had a very good warmer and a good context setting as well. Her introduction was very good and definitions were detail in making listeners clear. The good part was she actually made everyone listen to her. She actually said something to the audiences. But, her objective was not clear as well and never took evaluators to a conclusion. Though she concluded her speech with a quote but it did not give a clear message. He advised her, "When you say something, even the quote, after or before the quote, you have to say that the meaning of the quote or where we are going from this quote." That was only lacking in her speech and he hoped that she will work on it in her next speeches. Besides that, her speech was exceptionally well.
As a final note, Nilambar said, "Today, everyone is confident. I would like you all to improve in some aspects." He thanked all five speakers and the evaluators, and handed the podium to TMD Shreebatsa.
Though evaluation was done by the evaluation team, the best speakers were to be chosen by the audience voting. Bal Gopal Shrestha coordinated the ballot counting. After ballot counting, Reetu Adhikari and Sanjay Sharma were declared the best speakers in manual speaking session and table topics session respectively. TMD Shreebatsa awarded the best speakers with a pen that symbolically represents Pax Earth Nepal (PEN) and audiences gave a big round of applause. The audiences also gave a big round of applause to the remaining three speakers for their appreciable attempts. He thanked PEN Toastmasters Cell for giving him the role of Toastmasters of the Day and thanked the evaluation committee members for their excellent evaluations. Then, he returned the control to the President.
President Sujan Koirala heartily thanked TMD Shreebatsa, all five speakers, evaluation committee members, ballot counter and audiences for their active participation in making this program a success. After his vote of thanks, he formally adjourned the day's Toastmasters.
List of the participants:
(1) Sujan Koirala, (2) Nilambar Badal, (3) Shreebatsa Basnyat, (4) Bal Gopal Shrestha, (5) Laxman B. Pahari, (6) Debraj Ghimire, (7) Sachin Koirala, (8) Anita Subedi, (9) Kamala Basnet, (10) Peter Badal, (11) Kapil Deuja, (12) Reetu Adhikari, (13) Jamuna Siwakoti, (14) Natsuo Mishina, (15) Mili Ghimire, (16) Sanjay Sharma, and (17) Ramji Bhattarai
Reported by PEN Secretariat!!!