An Evaluation visit to Educational Project in Kavrepalanchok
(September 9, 2010)
A jumbo team led by PEN President Sujan Koirala made an evaluation visit to Shree Raktakali Primary School, Kot Timal, Kavrepalanchok on September 9, 2010. The main objective of the visit was to inspect the usage of the educational materials and sports materials distributed in June 2010. Secondary objective was to observe the level of health and environmental awareness of the students. If we able to manage time, we have promised to visit Shree Kalika Primary School situated at Kanpur. This time, we also took the members of Pax IV Hyper. There was continuous raining for last few days. We were bit unsure whether we could make to our destination.
In the morning, we (both from PEN and Pax IV Hyper) gathered at Mitrapark Café. After having a cup of tea, we headed for Kavreplanchok in a bus at 8.30am. The team could have lunch at Dhulikhel at 10am. After the lunch, we left for Bhakunde. Till the Bhakunde, the road was excellent. After that, we had to travel through graveled road. The road was damaged in many places but we were slowly heading towards the school. But in one place, the road was too damaged and our bus could not pass through it. We had no choice than to leave the bus. We were in bit dilemma whether to return to Kathmandu or move ahead towards school on foot. We stayed there a while. Afterwards, we saw a big German truck heading towards Kot Timal. We could successfully negotiate with the driver and managed to get into the truck. The truck was already crowded and our team made it very crowded. The travelling was very difficult in the damaged way. Still, our team-spirit kept us active and enthusiastic. The road was quite damaged in many places. We helped improve the damaged roads in several places. Finally, we could make it to the destination: Shree Raktakali Primary School, Kot Timal at 2.30pm. We were warmly welcomed by the Principal Hira Kaji Tamang.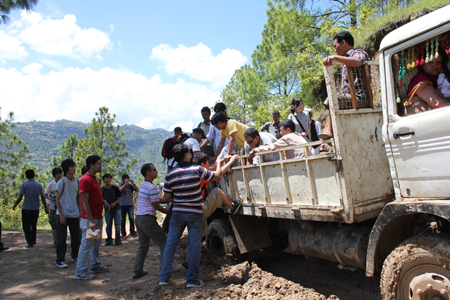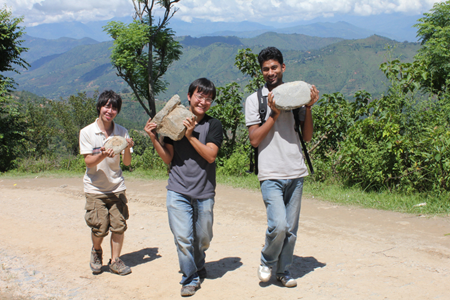 As we were not sure whether we could get any vehicle to take us back from Kot Timal to the place where we left our bus, we shortened the programme. The joint team members were divided in five groups (every group containing two members: one Japanese and one Nepali) and asked to evaluate the usage of books and other stationery materials in each class. The joint Pax team members were quite happy to see the proper usage of the given educational materials and sports materials. The students also entertained the evaluation team members with their singing and dancing.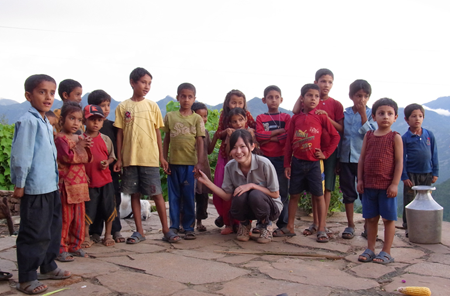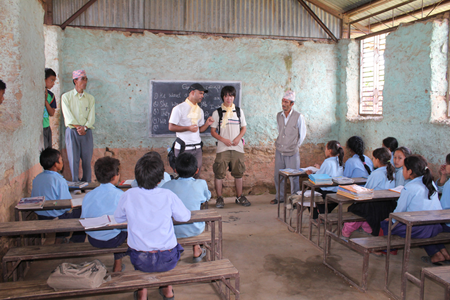 Further, the joint team attempted to explore the level of awareness among the students on health and environment related issues. The team members were quite impressed with the students' level of awareness. In spite of the shortage of water, they could manage to keep themselves clean and healthy. The students were also asked to involve in cleaning their respective classroom and also the school premises. The students collected the waste in very short period. The students were supported by the teachers and joint Pax team members. As we did not have enough time, we could not show the management of the garbage. Thus, we handed the garbage to the school authority giving proper instruction of managing the wastes. The school staffs offered us tea and biscuits. After saying good bye to the teachers and students, we headed for the place we left our bus before at 4.15pm.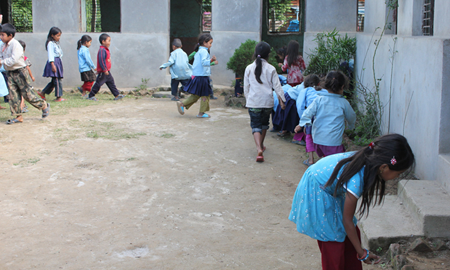 Sujan's grandfather's home was situated on the way. In spite of our hurriedness, we could manage to spend little time drinking water, eating some cucumbers and baked-corn at his home. We had even attempted to find a vehicle to take us back to our bus. But we could not succeed and started walking.
We wanted to spend few moments in Binod's home which is situated at Kanpur. While we were at Binod's home, the students of Shree Kalika Primary School came one after another and wanted us to take into their school. We didn't want to disappoint them and made a small visit to the school. The condition of the school was really poor and the students were also underprivileged. There were nearly 40 students from grade one to grade three. The school authority asked if PEN could do anything for the school and students. Binod also explained the condition of the school to Pax members. We replied if PEN will be able to manage fund in future, we would be very happy to help. It was already 6.30pm while we left from Shree Kalika Primary School. In altogether three hours of walking, we could reach to our bus. The bus driver and staff were curiously waiting for us. Then, we headed for Kathmandu. We all had dinner at Dhulikhel. After dinner, the bus headed for Kathmandu. Right after reaching Kathmandu, we left Pax IV Hyper members at Thamel and then the members of PEN one by one. Everyone was very tired that night.
In spite of some difficulties, Pax team could complete its mission. Altogether 19 members consisted of Sujan, Manohar, Bal Gopal, Shreebatsa, Harihar, Binod P. Mainali, Debraj Ghimire, Sachin Koirala, Kapil Koirala and Dhiraj Sharma (representing PEN) and Seika Kondo, Toshiki Tamagawa, Takahiro Yazaki, Masanobu Ebisawa, Shuho Ohkusa, Yusuke Muramatsu, Yuma Wakahara, Keisuke Uchida and Ruriko Kimoto (from Pax IV Hyper) joined the programme. PEN good friend and journalist Kapil Koirala was with us throughout the day who managed to take some glimpses of our activities in his movie camera. With his effort, the news of this programme could appear in the National Reporter of National Television on September 10, 2010.