One Day Hike to Chisapani (June 12, 2010)
A Pax Earth Nepal team consisted of President Sujan Koirala, Secretary Manohar Sapkota, Treasurer Bal Gopal Shrestha, Board Member Harihar Sapkota, General Member Sudan Pd. Bhandari and friends Dhiraj Sharma, Nagendra Shakya and Dipesh Upreti went for one day hike to Chisapani on Saturday June 12, 2010.
In the morning, all eight friends gathered at Mitrapark café. After having some cups of tea, the hiking team left for Sundarijal on four motorbikes at 9.30am. The hiking team reached Sundarijal at 10.30am and had the lunch at popular Sher Bahadur Lama's restaurant together.
After having lunch, the hiking team left the motorbikes there and began hiking at 11.30am. The hike started with ascending ladders for about half an hour. Due to the hot weather and continuous climbing through ladders, every member of the hiking team was so tired that at one time they were about to drop the idea of hiking and instead going to Chisapani on motorbike as there was an alternative route to reach Chisapani. Thanks to the highly motivated friends Nagendra, Dhiraj, Harihar and Manohar, the team members changed their mindset and stuck on to the prior decision of hiking.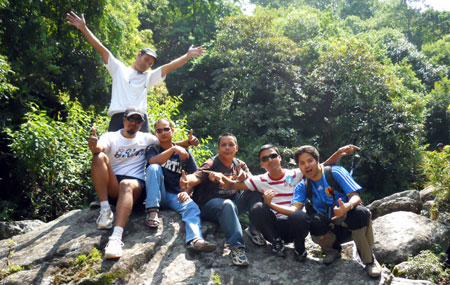 The team members revived their energy and were more determined to complete the mission. They resumed hiking and headed through ladders, muddy ways, hills and forests. Climbing ups and downs, walking through forests, resting under the shed of big trees on several occasions, gossiping, singing, joking, caricaturing, taking pictures, sharing old memories, the hiking team kept on hiking. The hiking team did not pay any attention to rains, sun and cold. In many places, they were heavily beaten by rains. They were totally wet. Still, it did not stop their motivation. The natural scenes, trees, bushes and cool breeze kept their motivation up. The team kept on asking the trespassers about the probable time to reach the destination. However, there was no consensus among these trespassers. Some said it would take 3 hrs, some said 2.30 hrs, some said 2hrs. The hiking team was in a dilemma about the probable time of reaching the destination. Walking through the forest way, the team encountered with a team of young people with whom they could make friendship and exchanged addresses to be friends in the facebook. They took 20 minute rest at a big ground together where they could exchange jokes. The young people gave them company for a while. Since the young team was planning for one night stay in Chisapani, the PEN hiking team was forced to excel their pace and leave the guys on the way.
One after another the hills continued to come. The hiking team slowly ascended and passed through them. Their motivation got heavier while they were approaching near to Chisapani. When they saw the plate of Chisapani, they were really delighted. But their delightment did not last longer while knowing that it would require another half an hour to reach the destination. Still, they rejuvenated their strengths and spirit.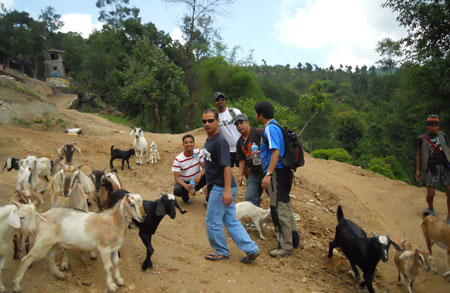 It is really worth-mentioning: In just about five minute distance of reaching the destination, the hiking team unknowingly took the different way and entered into other village in Nuwakot. The team members tried to ask about the right way. However, nobody was available during half an hour walking. They could see some ladies after half an hour. Thanks to the ladies if the hiking team did not meet them, they would rather reach to another destination instead of Chisapani. The hiking team was in a miserable situation. What a poor hikers they were to experience such a mess to step into the wrong way in just about five minute from the destination. Due to which, they had to walk one extra hour. Dhiraj jokes revived their motivation and brought refreshment for a while. They termed this experience as another adventure and calmed themselves. They slowly returned via same route and reached the final destination "CHISAPANI" at 3.30pm.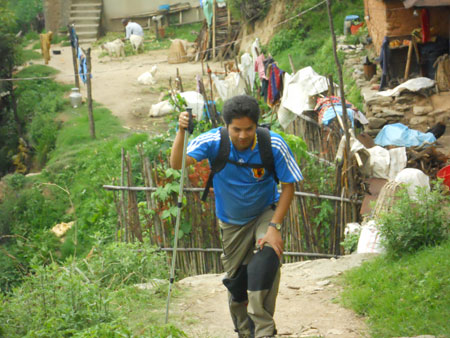 The hiking team was quite delighted when they reached the destination. It was a lifetime and out of the world experience. They were so tired but all the tiredness disappeared when they achieved the mission. They could see a very good sightseeing in the northern part. Unfortunately, the cloudy environment resisted them to get any glimpse of Himalayas. Still, it was an awesome experience. Even in the summer season, they were forced to wear warm clothes in Chisapani. It gave a very good break for each hiker from a very hectic schedule as well as pollution and noisy environment of Kathmandu.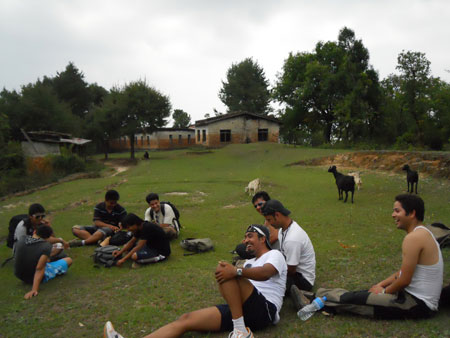 It would be really nice if they could have stayed one whole night. It was not possible as some friends have to return on the same night. After having some snacks and cold drinks, they left for Sundarijal at 5pm. The hiking team returned following the same route. They were pleased to pass through the same forests, trees, bushes, climbing ups and downs. Since the team had to hike through the forests, it got very dark. There were even some fears of wild animals as well as thieves. Hence, they walked in a team. The gossiping, joking, singing and photography had continued till they reached Sundarijal. After having some cups of tea at Sher Bahadur Lama's restaurant, they left for Kathmandu at 8.30pm. Since they had their bikes, it took just half an hour to reach their homes.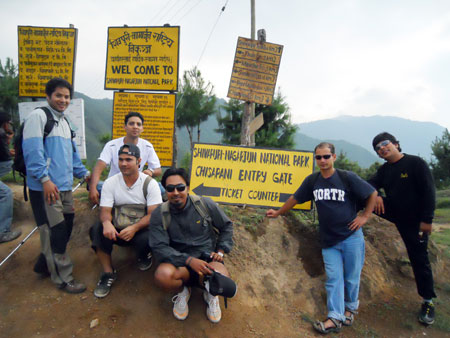 The team members walked about 30km throughout the day. It was the first visit to Chisapani for each hiker. It was one of the finest experiences. For Dipesh and Nagendra, it was the first time that they joined in any hiking. They were very happy to discover such an unparalleled happiness. This hiking programme was coordinated by PEN dear friend Dhiraj Sharma. He deserves a special thank from PEN. Since the hiking team could not fulfill the desire of experiencing one night stay and having sightseeing of the Himalayas, the team will go for one night camping at Chisapani in the near future.