Educational Material Distribution to Shree Raktakali Primary School, Kot Timal, Kavrepalchok
(June 27, 2010)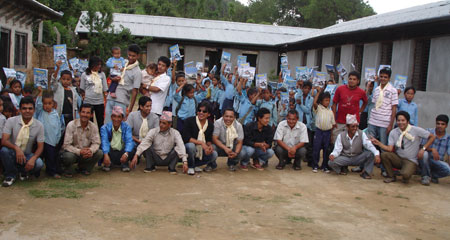 Pax Earth Nepal distributed educational materials to eighty poor students of Shree Raktakali Primary School, Kot Timal, Kavrepalanchok nearly 75km from the capital city, Kathmandu, on Sunday June 27, 2010. A PEN team consisted of President Sujan Koirala, Vice President Shreebatsa Basnyat, Treasurer Bal Gopal Shrestha, Joint Secretary Guna Raj Pyakurel, Board Members Harihar Sapkota and Binod Mainali went to Kavrepalanchok for this mission. Journalist Kapil Koirala, friends: Dhiraj Sharma, Sital Mainali, Bishnu Gurung were present on the occasion. We were accompanied by the two sisters of Binod Mainali as well.
PEN team left for the mission at 8.00am from Kathmandu. The team took the breakfast at Banepa en route to Kot Timal at 10.00am. We could have the lunch at the residence of Binod Mainali, Kanpur, where we were hosted by his parents and sisters. It is in the distance of 15 minute on vehicle from Kot Timal.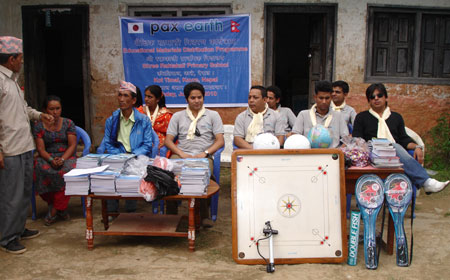 We arrived at the school premises at 1.00pm. We were warmly welcome by the Principal Hira Bahadur Tamang and teachers: Hira Kaji Lama and Netra Prasad Koirala. Principal put Khadda (white silk scarf) on our neck. Then, we went to inspect the class-room and students.
After half an hour's inspection, the school arranged a formal distribution ceremony. The ceremony was chaired by Principal Tamang while President Koirala was requested for being the special guest. Teacher Netra Prasad Koirala, on his welcoming speech, cordially welcomed all members of Pax Earth's team. He was very happy to see Pax Earth members in such a noble and generous activity. According to him, such help was very necessary for the students and the school.
His speech was followed by teacher Hira Kaji Lama's remarks. He recalled his early student life and shared about the difficulty he faced for getting education at his childhood. He had to walk nearly four hours a day to get the education. He shared about the present state of school. He was very happy with the performance of the students. He is working very hard to improve the environment of the school. He appreciated Pax Earth and spoke that this type of support will highly encourage and motivate students to perform even better. He further wished for the continuity of this programme in future as well.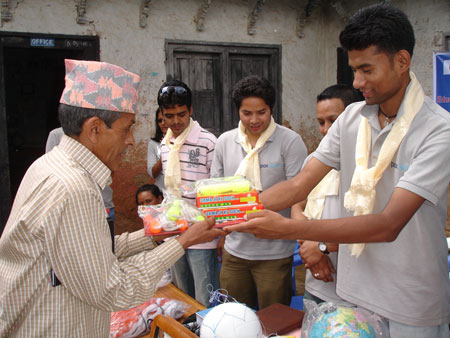 Then after, President Koirala distributed educational materials to 80 students from class 1 to class 5 respectively. Each student received 4 books, 3 ball pens, 2 pencil, 1 eraser, 1 sharpener and 1 scale. He was assisted by Vice President Basnyat, Treasurer Shrestha, Joint Secretary Pyakurel, Dhiraj Sharma, Sital Mainali and two sisters. After the students, PEN team handed a note book, some motivational books and a novel for each teacher. Similarly, the team handed a globe, some dictionaries and some story books as a reference materials for students. Then after, the team handed the sports materials (which included some volley balls, net, some badmintons, chess, skipping, carom board, tennis balls, etc.) to the teachers.
After the educational materials distribution, Special Guest President Koirala was requested to delivery a speech. In his remarks, he said that he was very happy to be here after nearly one and half year's time. In December 2008, President Koirala, Vice President Basnyat and Secretary Manohar Sapkota had a courtesy call to the school and could distribute a very small pack of stationary materials. Similarly, a small need assessment was done by the PEN team at that time. The team had promised to do something for the school. Recalling the same visit, President expressed that Pax Earth exists for contributing in the area of education and environment and we were very happy to help such wonderful kids of this poor community. He disclosed that the reasons behind this programme were to support poor students with the educational materials and keep them physically and mentally fit with the sports materials. He termed this as the formal beginning and hoped for a long way to go. He said that if the distributed materials be properly used, we would be very happy to continue this programme. For this, the school authority should ensure the best use of the materials. He thanked all the students and their guardians and hoped that these educational materials will support a lot in their study. He thanked Principal and school authority for a warm welcome as well as the wonderful arrangement of the distribution ceremony. He wished to visit the school in September 2010 as an evaluation visit.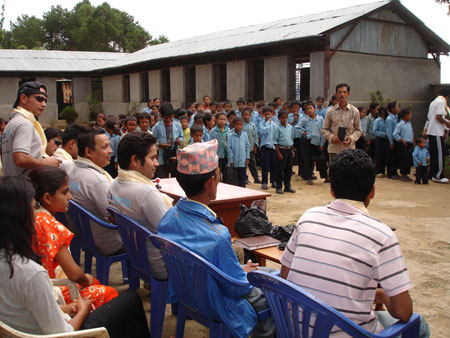 After President Koirala's remarks, Journalist Kapil Koirala expressed his happiness to be a part of such a praiseworthy event. He highly appreciated the generosity of Pax Earth. He expressed that this type of programme will certainly enhance the motivation of the students. He assured to extend all possible supports to the Pax Earth in future.
Principal Tamang was very delighted with the success of the programme. He thanked PEN team without which support such a grand distribution was not possible. It is the first time in the history of Shree Raktakali that such a distribution could happen. This type of programme was quite necessary for poor students of Kot Timal. He also thanked PEN for providing reference materials for the teachers which are of great value. He wished PEN to continue this programme in the future and assured for the proper use of the given materials. After his remarks, he declared the closing of the formal distribution ceremony.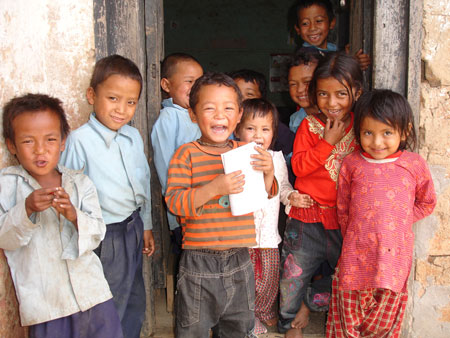 PEN team involved all the students in some games after the formal ceremony. The students of each class were further asked to draw an art of their own choice. PEN team offered colours and the students put colours on their respective paints. The PEN team collected all the paints as souvenirs. We could have some group photos together after these activities.
PEN team was offered teas and snacks by the school authority. After spending nearly 5 hours in the school, we left for Kathmandu at 6.00pm. Since we had rented a micro-van for the whole day, there was nothing to worry. But the season was rainy and we had to pass through the hilly way. As such, there was a chance of encountering some hurdles if the rain would have been heavy. It was 7pm while reaching Banepa. We took some snacks there and left for Kathmandu at 8.00pm. It was already 9.30pm while reaching Kathmandu. The whole programme was coordinated by President Koirala and was equally supported by Journalist Kapil Koirala.
It was really a wonderful experience. We were really proud to be associated with Pax Earth which offered such a wonderful platform and opportunity to serve others.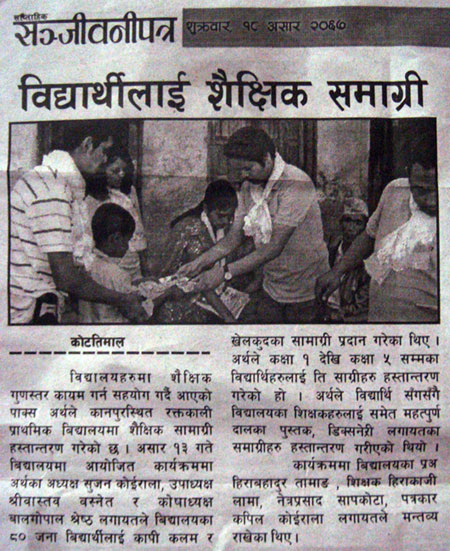 Some Notes:
1, We have distributed educational materials to the following students.
Class: No. of boys / No. of Girls / Total
One: 13 / 11 / 24
Two: 4 / 7 / 11
Three: 8 / 7 / 15
Four: 6 / 8 / 14
Five: 6 / 10 / 16
Total: 37 / 43 / 80
2, The news of this programme was telecasted by a national news channel of Nepal: "National Television" on Monday/Tuesday June 28/29 on its programme: "National Reporter". This was the first time in the history of Pax Earth Nepal that our programme was telecasted in any television channel. Thanks a lot to Journalist Kapil Koirala who helped make this happen.
3, The news of the same programme was published in a local newspaper of Kavrepalanchok district: "Sanjivani Patra" on Friday July 2, 2010. This was also possible because of the help of Kapil Koirala. PEN thanks him a lot.
4, PEN thanks all those who were involved directly and indirectly in this event. PEN is especially thankful to teacher Hira Kaji Lama for his wonderful setting. PEN is grateful to respected parents and sisters of Binod Mainali for their wonderful reception at home. Honorary Member Nilambar Badal deserves a special thank for his help in the purchase of educational materials. Manab also deserves a special thank for making a wonderful banner for this programme. Last but not the least, PEN team thanks the driver for offering a comfortable travelling throughout the day.