Pax Earth Japan Meets Pax Earth Nepal in Kathmandu Nepal
Five Pax Earth Japan (PEJ) members under the leadership of Mr. Soichiro Yamanaka visited Nepal during 1st September to 15th September 2009. The other four members were Miss Seika Kondo, Mr. Yohei Ueda, Mr. Shuho Ohkusa and Miss Ruriko Kimoto. The main objective of the visit is to involve in some collaborative projects with PEJ in the area of environment and education. The major highlights of their visit are:
Arrival Meeting and preparation of schedules
PEJ members arrived in the late hour of September 1, 2009. Since the arrival time was quite late, it was not possible for Pax Earth Nepal (PEN) members to welcome them at the Tribhuvan International Airport.
On 2nd September morning, PEN President Mr. Sujan Koirala welcomed all five members at Fuji Hotel and wished them a very nice stay in Nepal. In the evening, the joint meeting of PEJ and PEN was held during 5PM to 7.30PM at the residence of PEN Secretary Mr. Manohar Sapkota, Kumarigal, Kathmandu. The meeting finalized the schedules and activities for PEJ members. In the meeting, Soichiro presented Pax Earth T-shirts to PEN members Harihar Sapkota and Prem Shah. Altogether 15 members (5 from PEJ and 10 from PEN) were present on this joint meeting.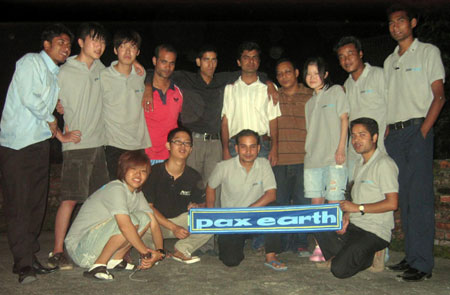 Homestay
A homestay programme was held during 2nd and 3rd September. Soichiro, Seika, Yohei, Shuho and Ruriko were hosted by Dipendra, Bal Gopal, Manohar, Guna Raj and Sujan respectively. The PEJ members could experience cultures and tradition during the homestay. They were quite happy to have exposure in completely different environment.
Tree plantation
As a continuation of friendship and collaboration between Pax IV and Kantipur Open Rover Crew, a tree plantation programme was held at Kakani on September 6. Rover Scouts Shreebatsa Basnyat, Dipendra Dangol and Prem Shah from Kantipur and Rover Scouts Soichiro, Ruriko, Seika, Yohei and Shuho from Pax IV planted varieties of tree plants. The rover scouts were accompanied by boys and girls scouts from Hilary Scout Troop in a large numbers. They also planted a large numbers of tree plants.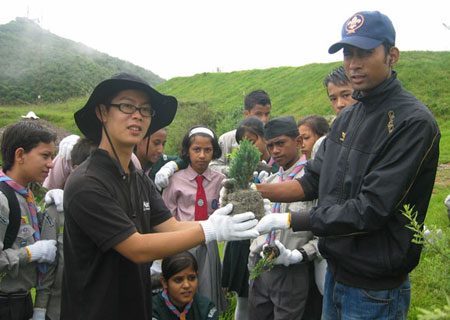 Garbage management programme
With the purpose of creating awareness among elementary students on global warming and its negative impact upon climate and ecosystem, Pax Earth members organized a garbage management programme at Bal Byabasai School, Siphal, Kathmandu on September 12. Pax Earth team gave a lecture on global warming and its impact on eco-system, climate change and its consequences including brief information on Kyoto Protocol. Different pictures were used to disseminate proper information on these issues. Twenty students of different grades were involved in that program. Besides, school principal, guests and PEN members were present.
After the lecture, students, guests and Pax Team collected garbage of the school and ground outside the school. They collected plastics, bottles, metal can and other kinds of disposable garbage. The main aim of that program was to convey a message of taking care of garbage and to throw them in proper place. All the participants had worn T-Shirt in which "DON'T THROW YOUR GARBAGE" was written. A large number of people watched the garbage collecting activity quite interestingly. Not only the students but also the local people could learn something on garbage problem and its management. Altogether forty persons (students, teachers, guests and Pax Team) attended the programme. It's noteworthy to say Participants could collect 25 bags of garbage. Ruriko Kimoto from PEJ and Manohar Sapkota from PEN coordinated the whole programme. Special thanks to Mr. Nilambar Badal without whom the programme would not possible. He made all the necessary arrangements for the programme.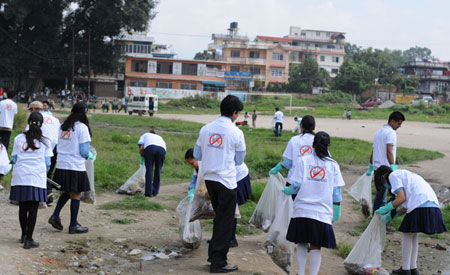 Pack test/Air Test
During the stay in Nepal PEJ members involved in pack test and air test activity. Using the pack test, PEJ observed quality of water of Bagmati (Kathmandu), Hanumante (Bhaktapur) and Seti (Pokhara). The test showed shocking result as the quality of water was highly polluted in Kathmandu. River water in Pokhara was found less polluted however it is also gradually deteriorating due to drainage and garbage disposal from unmanaged urbanization.
Using a simple tool, air quality of Pokhara & Kathmandu valley was measured. The result shows Kathmandu valley is highly polluted as a result of increasing vehicles, factories & stench from carelessly thrown garbage over there. However, the level of pollution is less in Pokhara as compare to Kathmandu valley.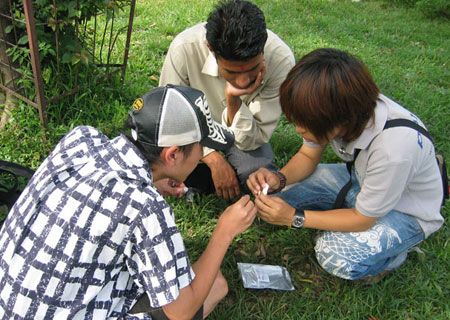 Meeting with Environmental Management Department
Pax Earth members Sujan Koirala, Soichiro Yamanaka and Ruriko Kimoto met Mrs. Sanu Maiya Maharjan, Coordinator, Community Mobilisation Unit, Environment Management Department of Kathmandu Metropolitan City. Activities of KMC and information obtained. Compost manure preparation, compost bin, recycle centres, We enquired whether we can obtain technical support if PEN makes necessary arrangements for compost manure workshop. They are very positive and ready to extend the support. Possible collaboration in environmental activities, the door of relationship has opened. The meeting was arranged by colleague of Sujan Koirala at M.Phil., Mr. Shiva Raj Adhikari (who is also a staff of Kathmandu Metropolitan City). Mrs. Maharjan invited Pax Earth members to participate the bamboo plantation programme to be held in the next day.
Meeting with Advisor Hari Prasad Shrestha
A meeting with PEN Advisor Hari Prasad Shrestha at the residence was arranged on September 14 after the meeting at Kathmandu Metropolitan City at his residence, Teku, Kathmandu. Soichiro and Ruriko enquired about the present scenario of Nepal including contemporary problems and challenges. Soichiro, Ruriko and Sujan were present on the occasion. Soichiro presented a Pax Earth T-shirt to Mr. Shrestha.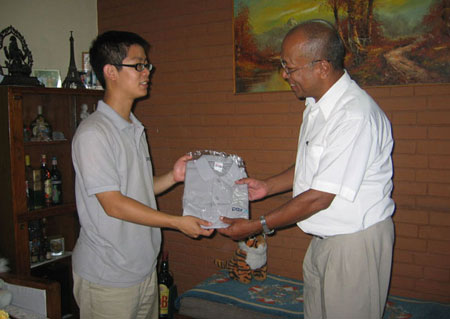 Bamboo plantation
On September 15, Pax Earth members involved in a bamboo tree plantation programme organized by Kathmandu Metropolitan City. All five PEJ members and PEN members Laxman Bahadur Pahari and Harihar Sapkota planted some bamboo trees. The plantation programme was arranged at the bank of Bagmati River at Teku, Kathmandu.
Visits and receptions
This year PEJ members could observe Endra Jatra, a historic festival of Nepal. They could explore Pokhara and could enjoy boating at Fewa Lake. Besides, they visited Kathmandu Durbar Square, Bhaktapur Durbar Square, Bouddhanath, Pashupatinath. President Mr. Koirala and Secretary Mr. Sapkota hosted a dinner for PEJ members at their residence on September 10 and September 13 respectively.
Evaluation Meeting
On September 14, an evaluation meeting of PEJ visit was held at Fuji Hotel from 6PM to 7.30PM. President Mr. Koirala presented PEN token of love to all 5 PEJ members. Dinner programme was jointly organized by PEJ and PEN members after the meeting. Altogether eighteen members were present on the meeting.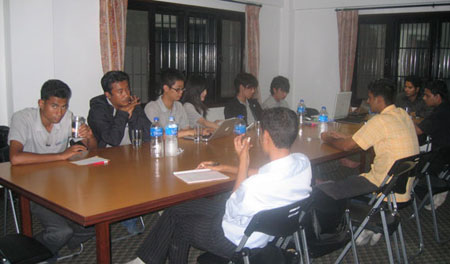 Seeing Off
The 15 day visit of PEJ members to Nepal came to an end on September 15. All PEN members bid farewell to PEJ members at Kathmandu International Airport.