Pax Earth has been implementing fruit garden (FG) project for the underprivileged farmers in Kot Timal village of Namobuddha Municipality, Kavrepalanchok district, Nepal for nearly two years. The objective of the FG project is to contribute to increase the income of the farmers once the fruit trees start to yield fruits in sellable quantity on one hand and to promote greenery on the other. On August 2, 2021, Pax Earth distributed nearly 100 saplings of lemon to the farmers in Kot Timal village. Before the distribution, the farmers dug a pit and planted a lemon plant at the kitchen garden of farmer Sudarshan Bhurtel under the observation of the Pax team.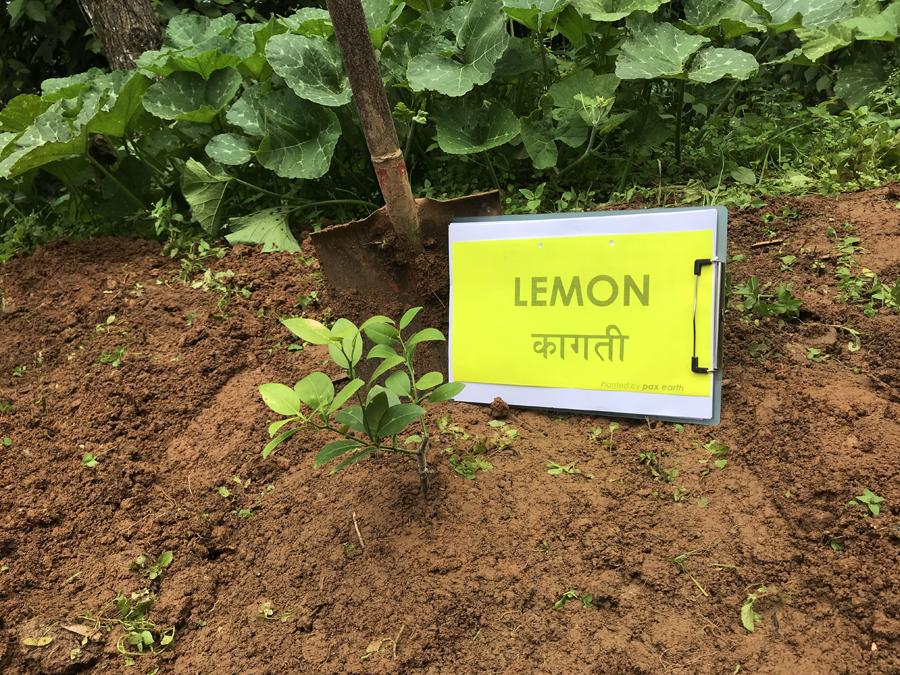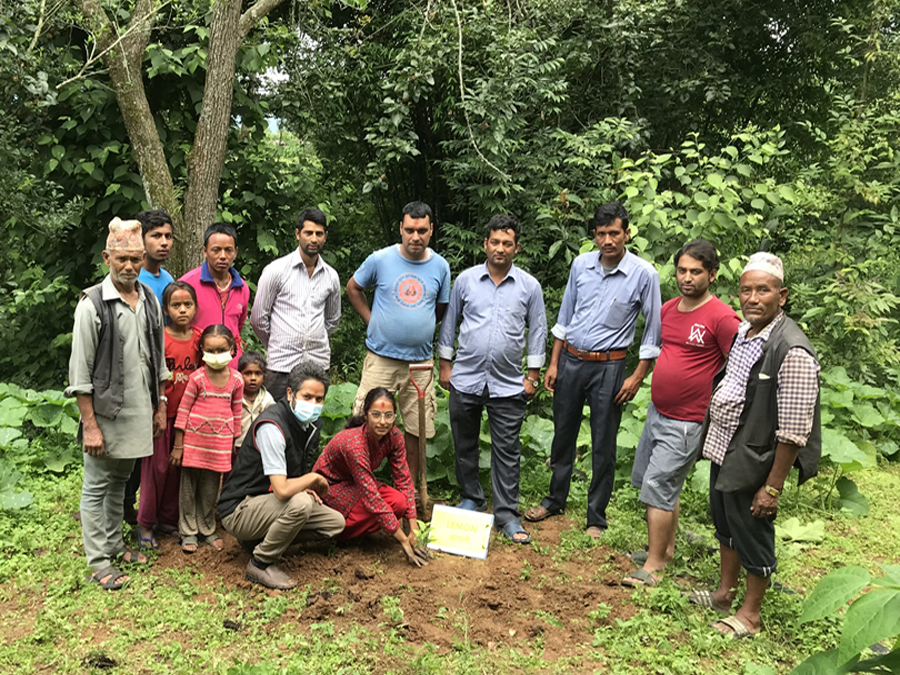 Due to COVID-19, the Pax team was involved in planting only one lemon sapling. We handed 5 saplings each of lemon to 18 farmer households including Man Dhwoj Tamang, Lal Man Tamang, Dev Raj Khakurel, Sudarshan Bhurtel, Tulasi Raj Koirala, Indra Raj Bhandari, Bishnu Raj Bhandari, Binod Koirala, Ram B. Koirala, Sabitri Koirala, Pramod Koirala, Uttam B. Badal, Urmila Koirala, Ramhari Khakurel, Dinesh Bhandari, Bhairab B. Koirala, Shiva B. Koirala and Ramhari Koirala. We selected these 18 farmers among the beneficiary farmers of the FG project who have been actively involved in the fruit plantation and taking a good care the planted trees. Horticulture expert Ramhari Prasad Upadhyay provided necessary guidelines for the cultivation of the lemon. These lemon saplings are grafted saplings which will start bearing fruits in 2 to 3 years.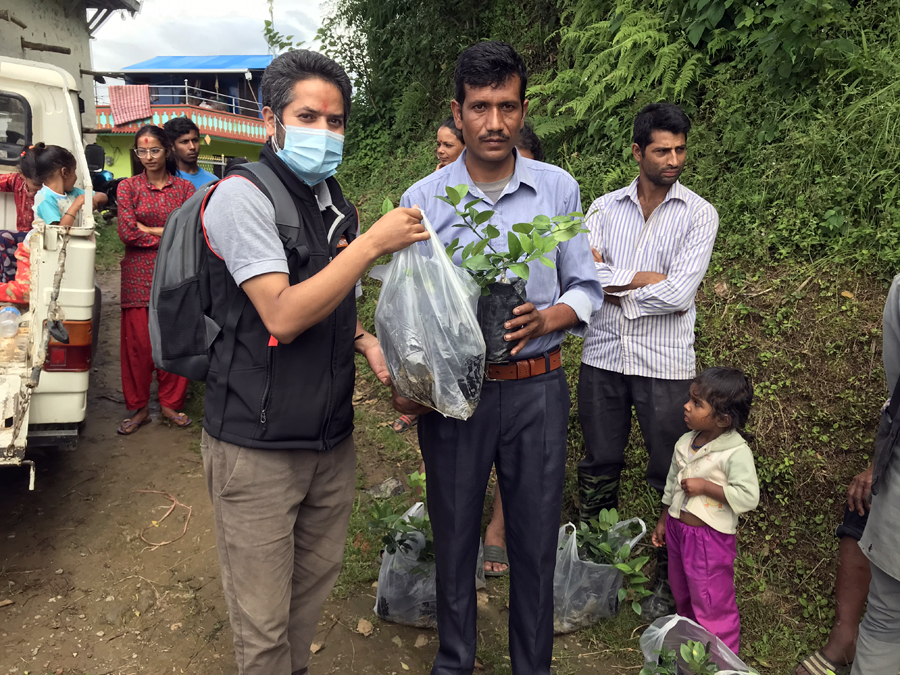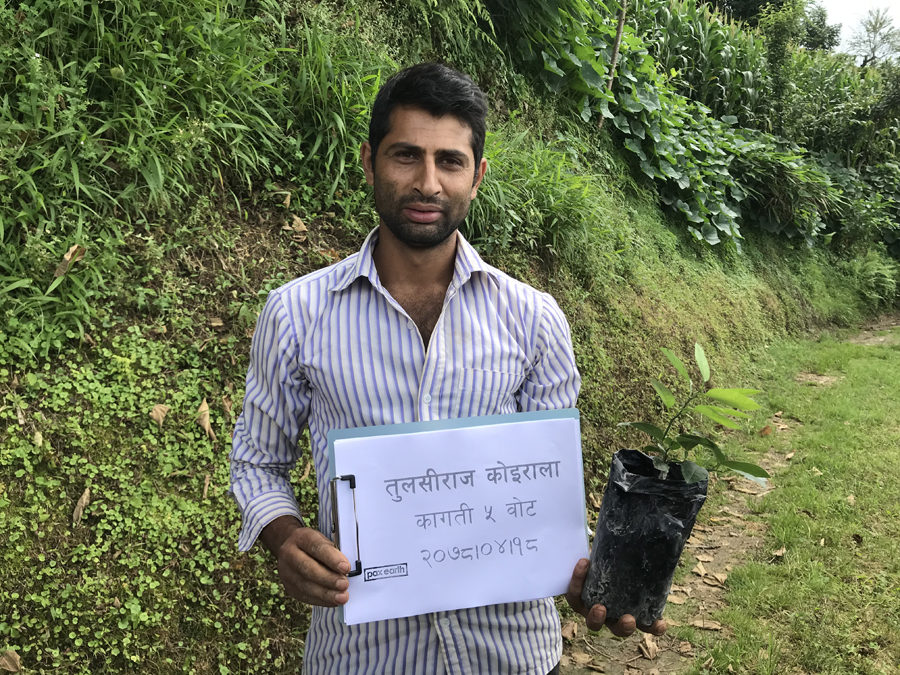 The FG project has aimed at creating one fruit garden each at the kitchen garden of selected farmer households in Kot Timal. We had been providing fruit saplings to as many households as possible previously. But, highly considering the advice of horticulture expert Upadhyay, future business potential, present context of COVID-19 and self-motivation of the farmers, we have changed the strategy of fruit sapling distribution. Instead of providing 1 or 2 fruit saplings to many farmers, we have decided to provide at least 5 fruit saplings to a smaller number of farmers. This step will not only encourage the interested farmers in cultivating fruits in a larger scale but will equally aid Pax Earth in saving time and effort to manage the FG project ensuring the survival and growth of the fruit trees.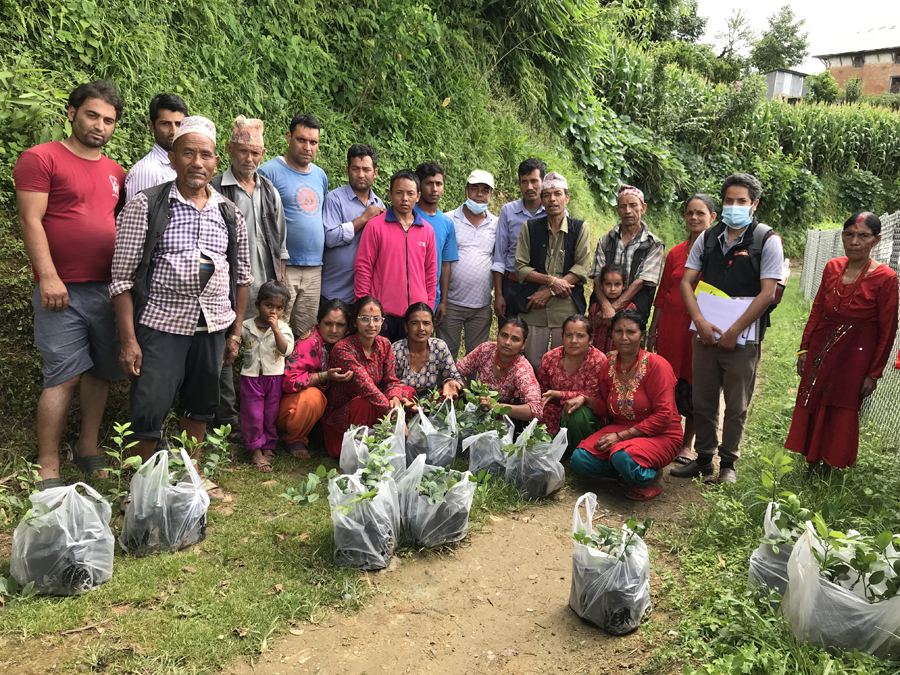 We also distributed 5 saplings of lemon to farmer Durga Prasad Mainali in Kanpur where Pax Earth has been experimenting fruit cultivation for some years. We observed his fruit garden where one orange tree and one kumquat tree are bearing some fruits currently. Besides, we handed a lemon sapling to a farmer Bimala Mainali in Kanpur as a trial.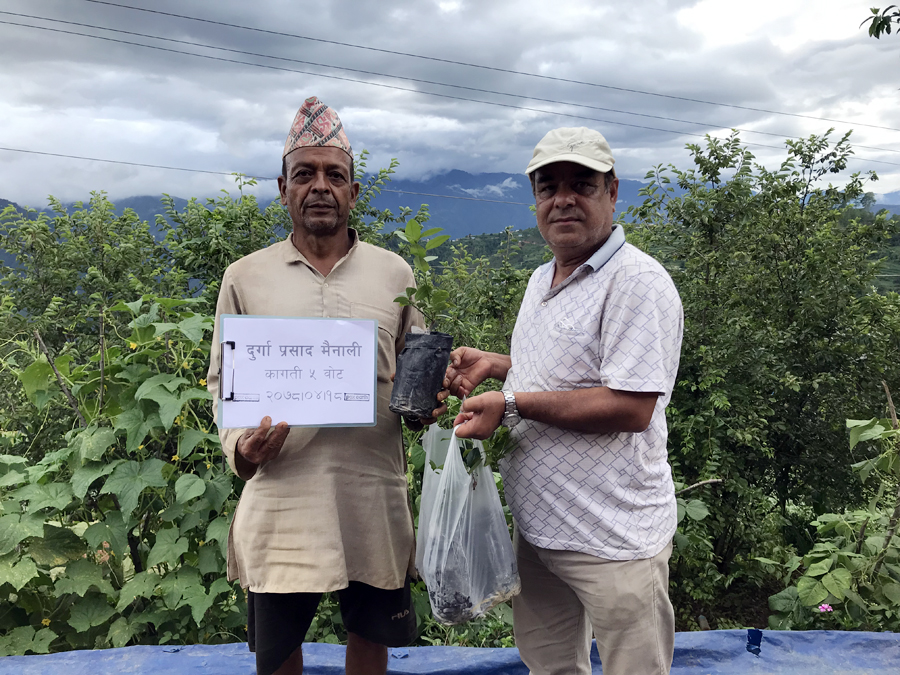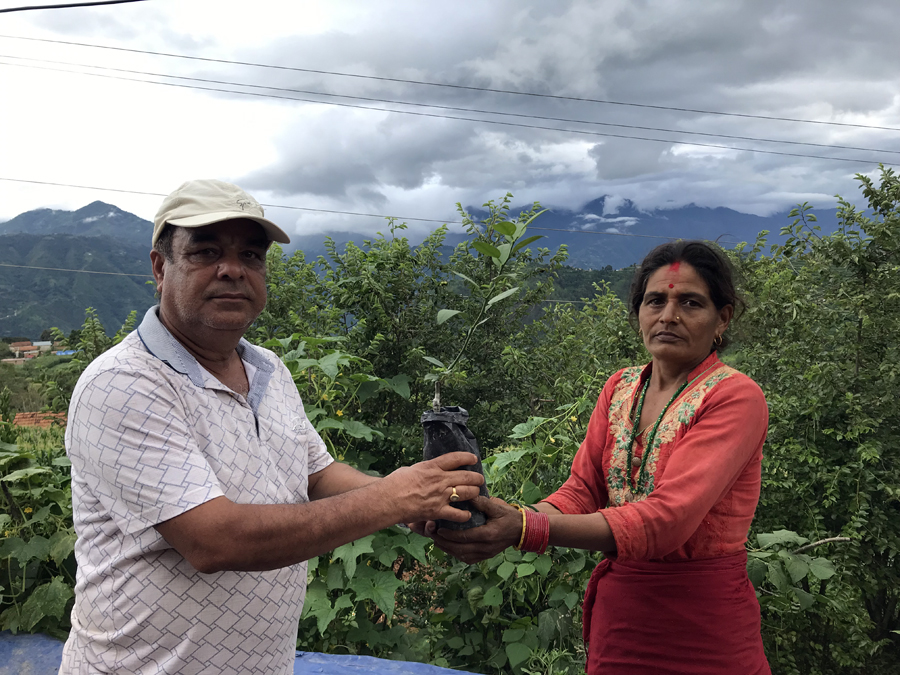 The fruit trees are growing properly in most of the farmers' kitchen gardens in Kot Timal, and they are quite happy with the progress. Two apple trees and one pear tree have started bearing fruits in Kot Timal. The Pax team could observe the Japanese pear being cultivated at the garden of farmer Dev Raj Khakurel. He even presented two pears as a present to the Pax team. Interacting with the farmers, we have understood the reason behind the survival and growth of the fruit trees is the fruit plants management training conducted in January 2021. This training provided practical knowledge on pruning, training, and manuring which not only helped the survival and growth of the fruit plants/trees but also helped in improving the quality of the fruits particularly the kiwi fruits the farmers have been cultivating for some years. They have requested to conduct the fruit management training again and if possible, to conduct nursery development training as well. Pax Earth needs to plan to hold these training in coming winter as far as possible.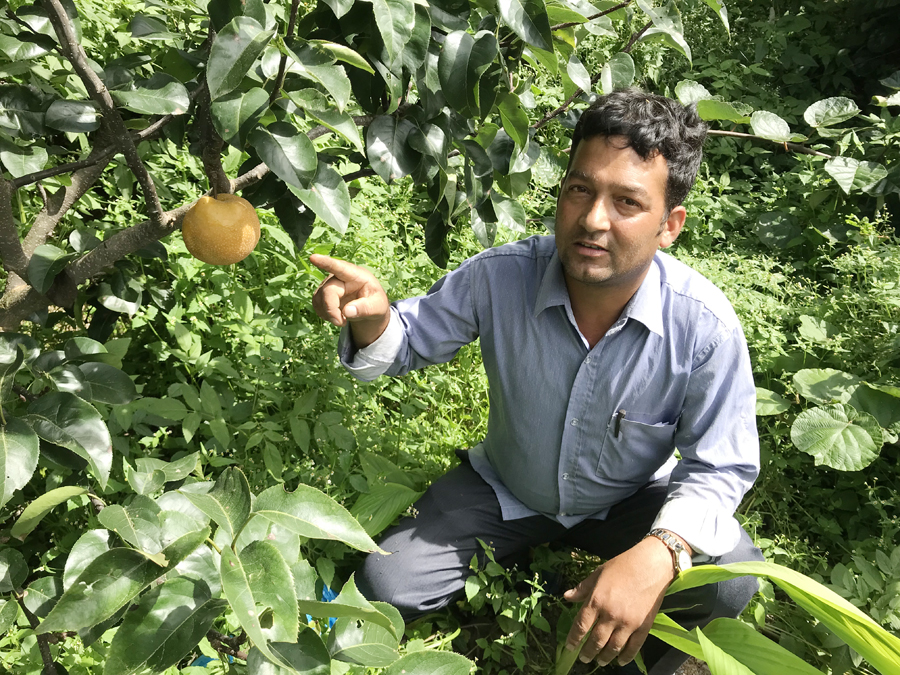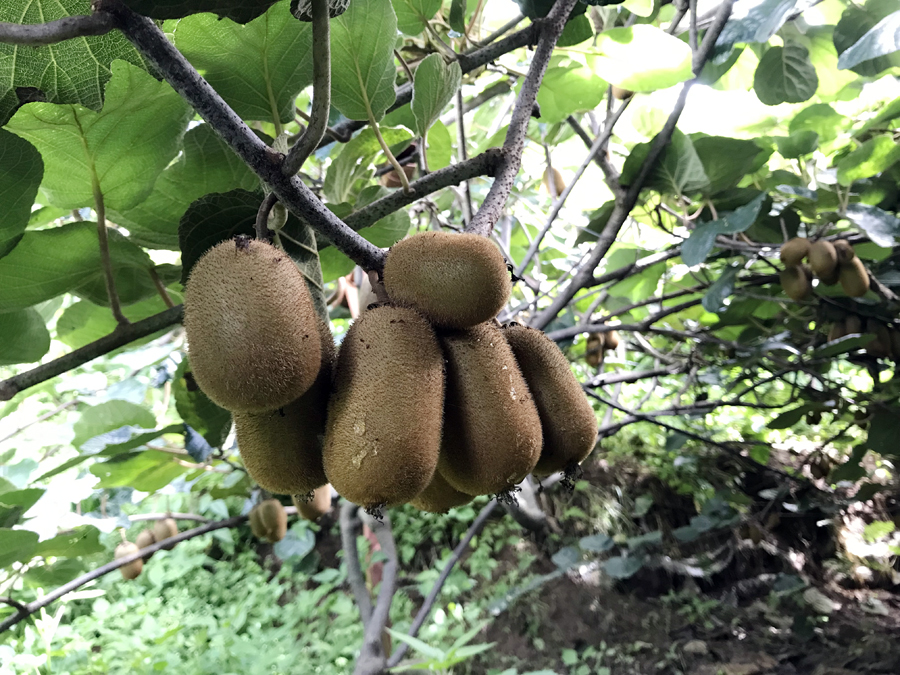 Our fruit cultivation experiment at Mainali's kitchen garden in Kanpur and at farmers' kitchen garden in Kot Timal village have led us to an understanding that kiwi, apple, pear, and lemon plants are appropriate fruits among the fruit saplings planted in Kot Timal. Therefore, we will plant and distribute only these plants until we succeed in creating a fruit garden each at the interested farmers farm in Kot Timal village.
We are glad to see that the plastic ponds are filled with the harvested rainwater as there is ample amount of rainfall in this monsoon. The harvested water will help the farmers in rearing cattle, cultivating vegetables, and growing fruit trees.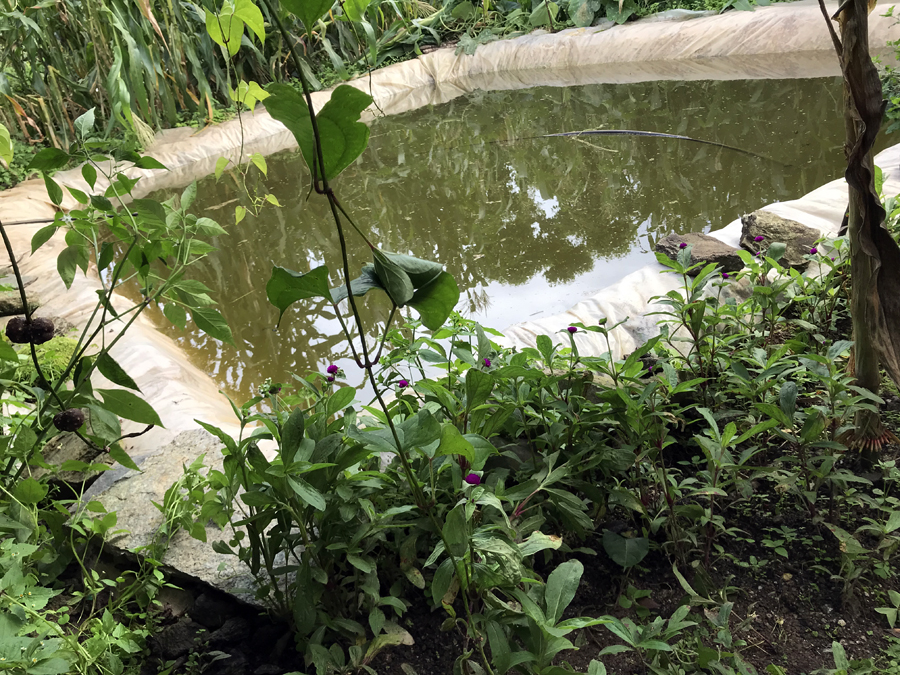 Pax Earth will continue to contribute to earth by planting and preserving trees in the days ahead.
Reported by PEN Secretariat!
Thanksgiving!
We are grateful to horticulture expert Ramhari Prasad Upadhyay for his precious presence and key advice. We would thank him for his support in arranging the 100 saplings of lemon. His presence has been highly valued by the farmers as well. We are thankful to Daniel Tamang for his participation. We would like to thank Dev Raj Khakurel for coordinating with the local farmers. We highly appreciate our president and FG project leader Sujan Koirala for coordinating the program successfully.
—