Nepal experienced the incessant rainfall from August 11 to 14, 2017 that triggered widespread floods in Terai region and several landslides in the Hill areas resulting in a huge impact on life, livelihoods and infrastructure in 35 out of 77 districts. According to Ministry of Home Affairs (MoHA), there were 159 deaths, 28 missing and 45 injury cases recorded as of August 27, 2017. Of these, 18 districts (Banke, Bara, Bardiya, Chitwan, Dang, Dhanusha, Jhapa, Kailali, Mahottari, Makwanpur, Morang, Nawalparasi, Parsa, Rautahat, Saptari, Sarlahi, Siraha and Sunsari) were most affected. In these most affected districts, 134 people (female 44 and male 90) lost their lives and 22 got injured. The floods affected 1.7 million people in these 18 districts. A total of 41,893 homes were totally damaged and a further 158,758 were partially damaged. Humanitarian Situation Report of UNICEF reveals that education of nearly 240,000 students in 35 districts had been disrupted due to the floods. Many schools were turned into shelters. The floods damaged 28 schools, collapsed 205 classrooms and partially damaged 707 classrooms. According to Post Flood Recovery Needs Assessment (PFRNA) Report of National Planning Commission (NPC), the total damage and losses caused by the floods estimated under 9 sectors – housing, health, education, agriculture, livestock, irrigation, transport, water and sanitation, and energy is NRs. 60,716.6 (USD 584.7) million. This, however, does not include the personal household losses. The total recovery need for these nine sectors is estimated at NRs. 73,224.8 (USD 705.1) million.
Yes, Pax Earth cares for the education and environment of underprivileged children in Nepal. The organisation is even more concerned for the children at risks of disasters such as floods, landslides and earthquake. After the country faced the severe floods and landslides in decades, it started a campaign within a network of members and well-wishers to raise fund to support the flood affected students during August and October 2017. Sanga Sangai Nepal (Sanga Sangai e.V.) agreed to collaborate with Pax Earth by providing fund to this mission. Peace Nepal Academy also assured to support the programme. Utilising the network of the members, Pax Earth could identify Shree Rashtriya Adharbhut Bidhyalaya Laukhari in Chitwan (one of the 18 most affected districts) was severely hit by the floods in mid-August 2017. Accordingly, the Pax Earth team planned to provide educational materials and hygiene kits as a relief support to the flood affected students of this school.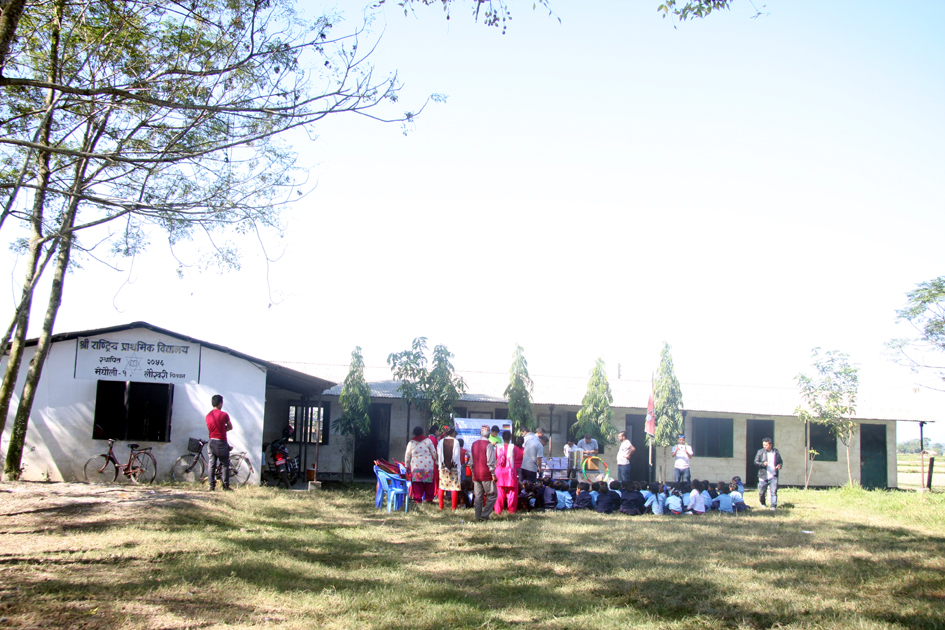 On November 16-17, a Pax Earth team comprised of president Sujan Koirala along with vice president Guna Raj Pyakurel, treasurer Bal Gopal Shrestha, board members: Laxman B. Pahari and Laxman P. Neupane, members: Prabin Giri, Sital Mainali and Badri Sigdel, teacher Dawa Lama and students Ojaswi Karki, Anusha Lama, Dipesh KC and Mandip Lama of Peace Nepal Academy travelled to Shree Rashtriya Adharbhut Bidhyalaya Laukhari located at Golaghat, Meghauli, Chitwan. Upon arrival at the school, principal Sobha Kumal and school management committee chairperson Dhan Maya Kumal warmly welcomed each member of the Pax team with a khadda, red tika and a flower. The school is running classes from preschool through class three with a total of eighty students (play group: 27, one: 16, two: 17 and three: 20) in the presence of a principal and five teachers.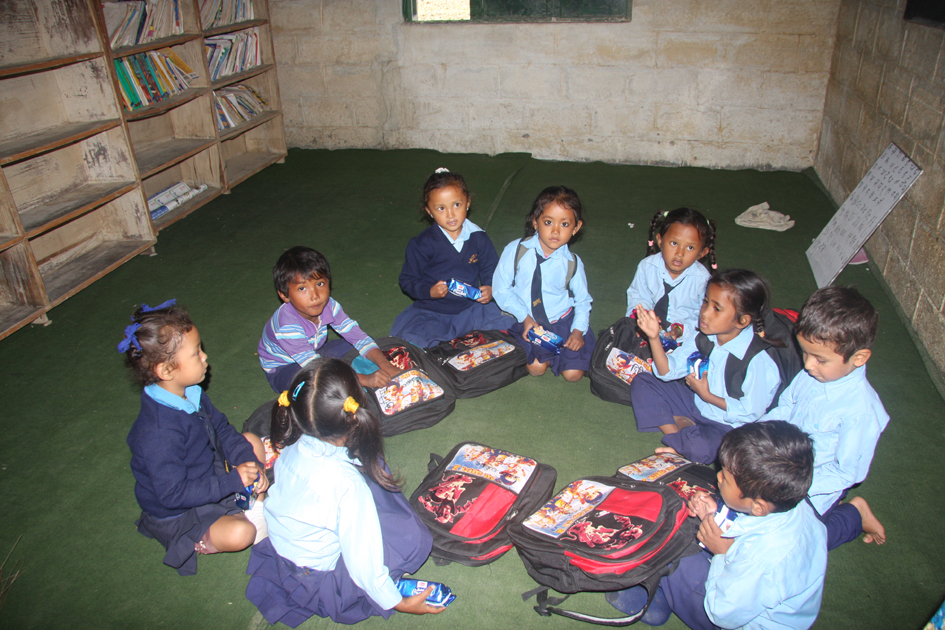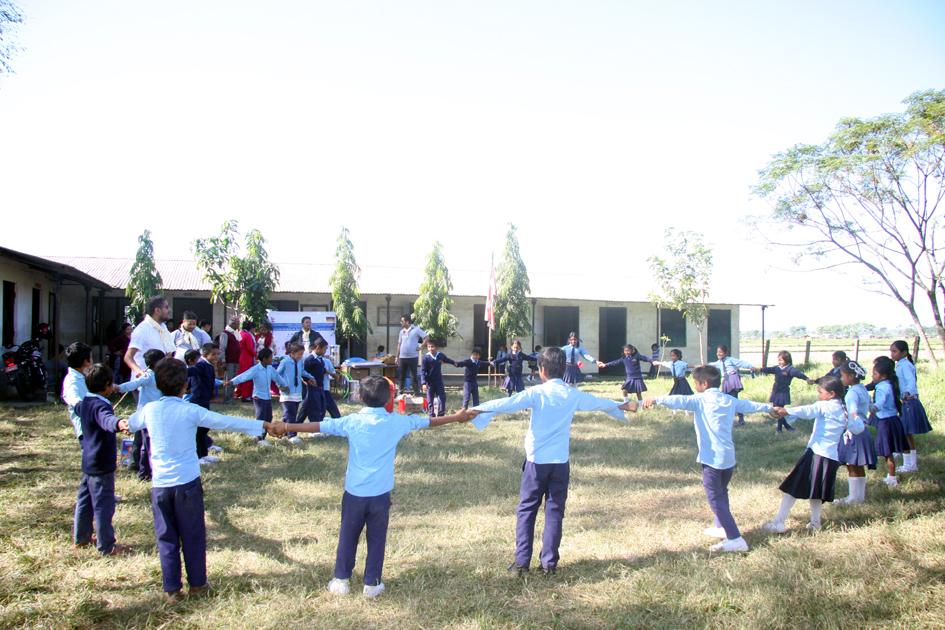 Without any formal observation, Pax Earth team in coordination with the principal and the teachers started to distribute the materials to the students. The students were queuing class-wise in the school premises. The class teacher announced the name of each student according to the attendance sheet and the Pax team distributed the materials to all eighty students one by one.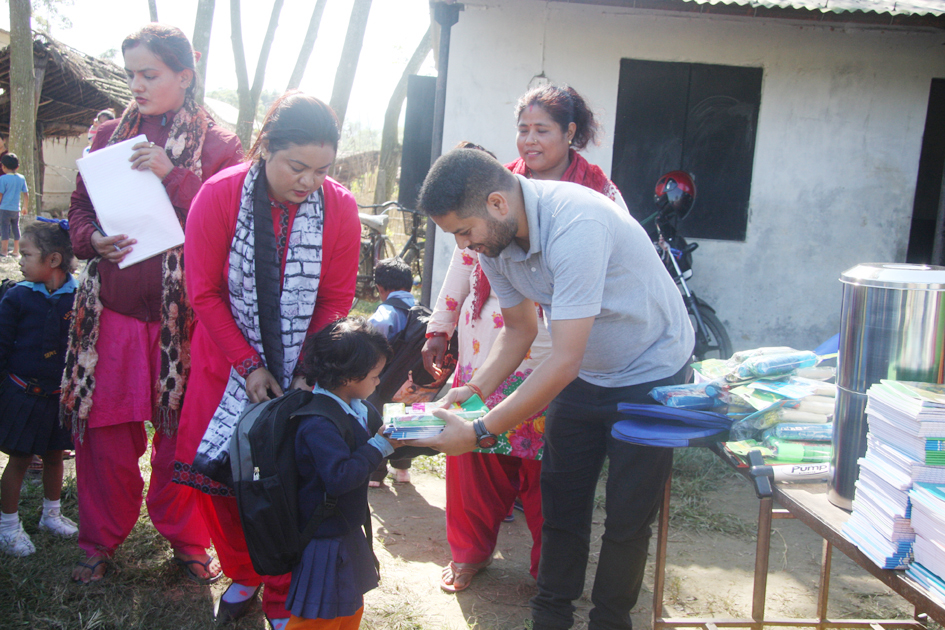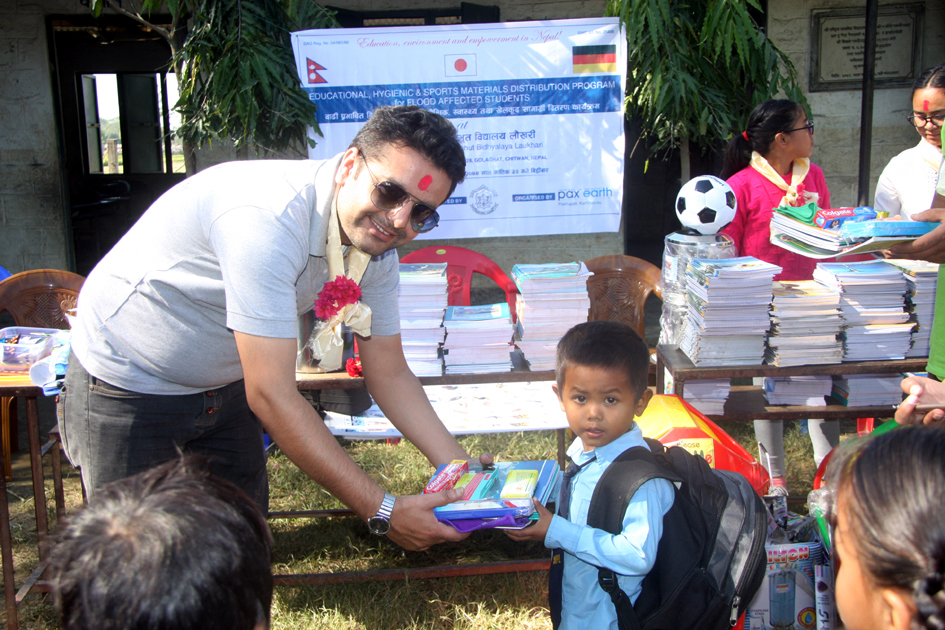 The Pax team handed the educational materials such as notebooks, drawing books, pencils, erasers, sharpeners, crayons, scales, pencil boxes and hygiene kits such as soaps, toothbrushes, toothpastes and handkerchiefs to the students. The team handed a few ball pens, a diary and a hygiene kit as a token of love to each teacher. Similarly, the team handed 5 water filters to place in each class and the office to offer clean drinking water to the students and teachers; some dustbins and dustpans to keep the classrooms and the school premises clean; sports materials such as footballs, stepping ropes, swinging rings, carom board, tennis balls, badmintons, chess, and ludo to support in extra-curricular activities. In addition, the team handed a small box of medicines too.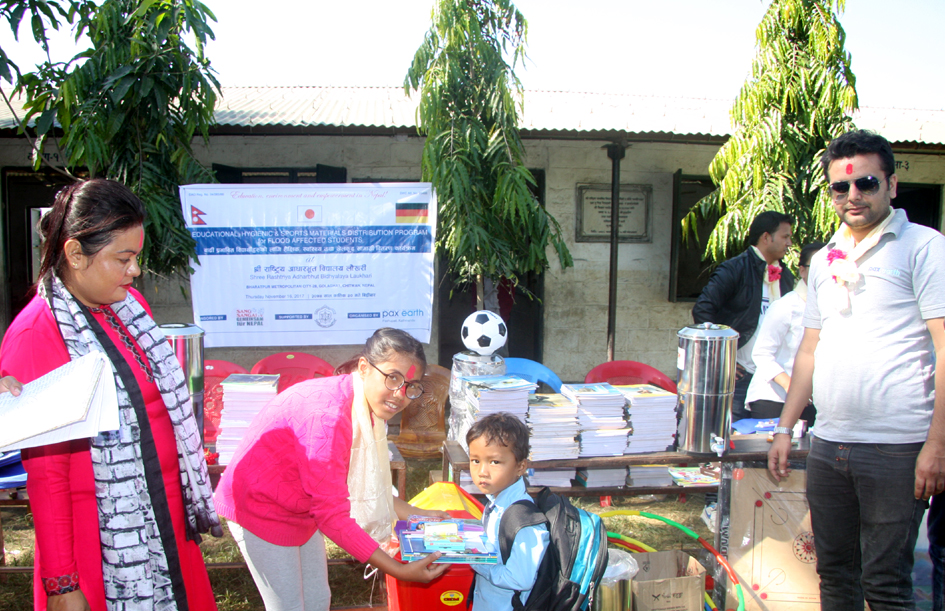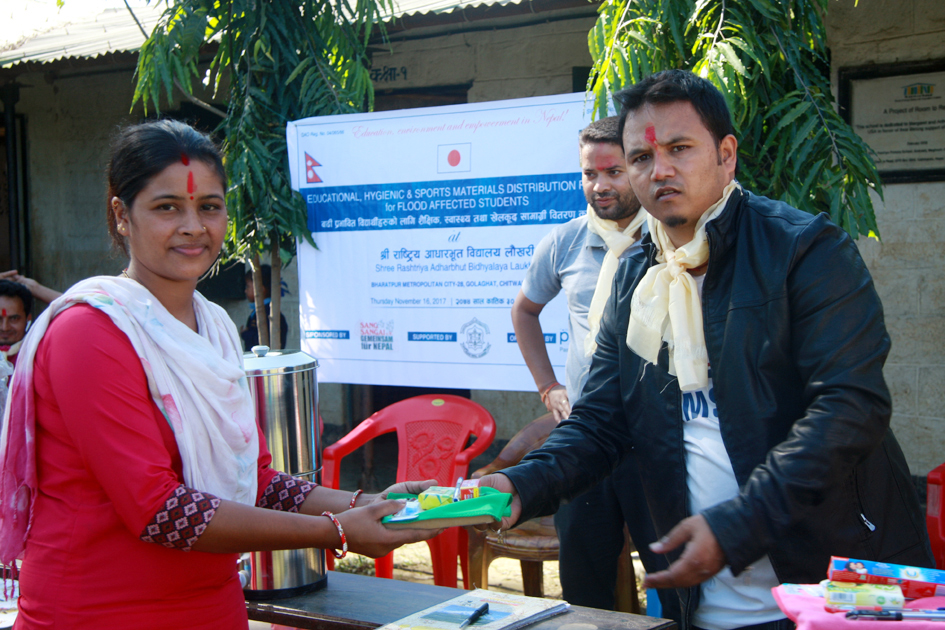 The list of educational materials and hygiene kits distributed to students is provided in Table 1 while sports and other materials handed over to the school is provided in Table 2. The educational materials and hygiene kits will be adequate for the next 6 months. In other words, these educational materials and hygiene kits will be sufficient for this academic year ending March 2018 while the sports materials will contribute students to develop their physical capacity for some years.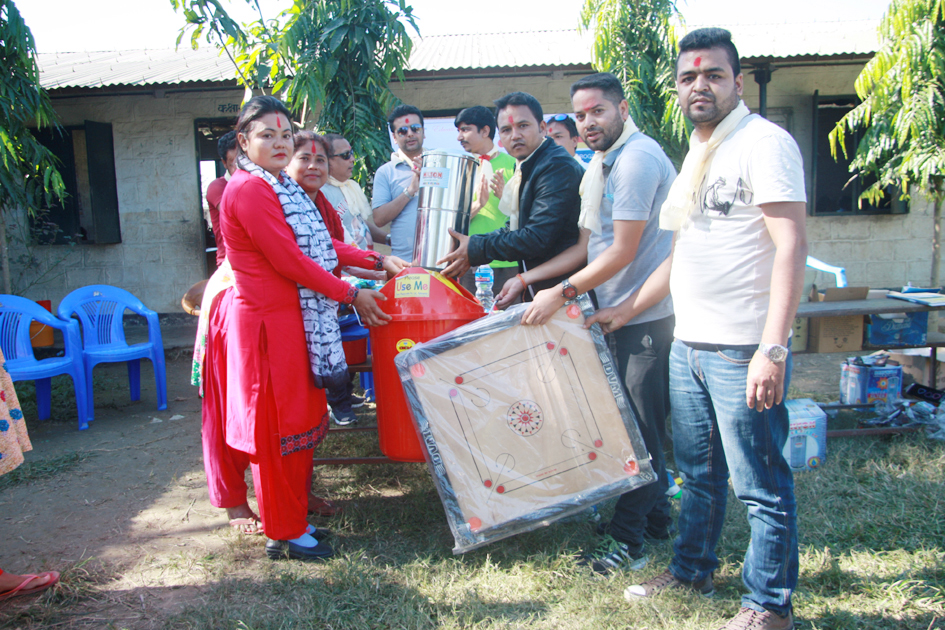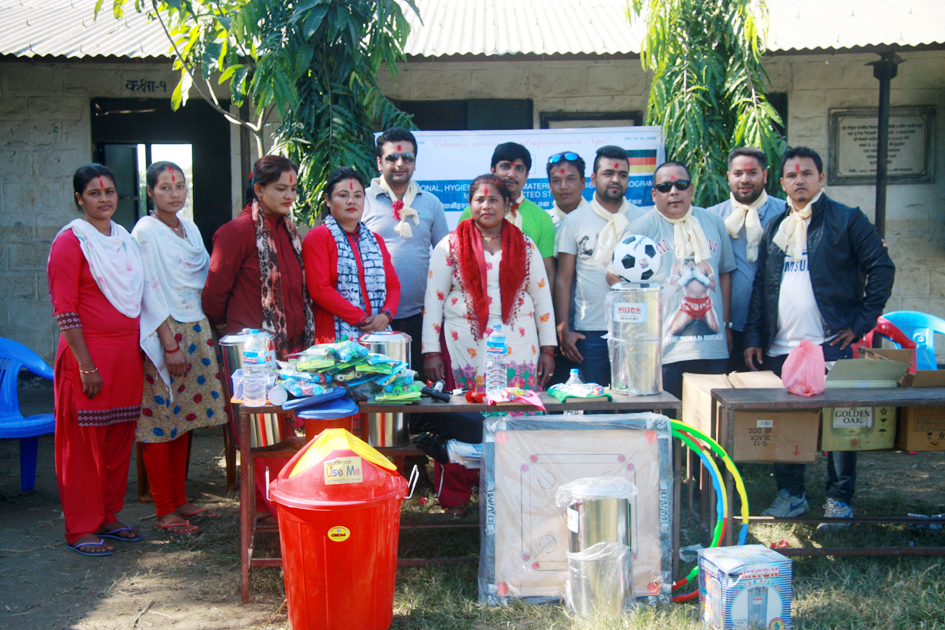 After the distribution, the Pax team observed the state of personal hygiene of the students as well as sanitation of the school. The team involved students in a short cleaning campaign under which they cleaned the classrooms and the school premises. The team also demonstrated how to wash hands using soap and water. The students were quite excited to receive the materials and to participate in the short cleaning campaign.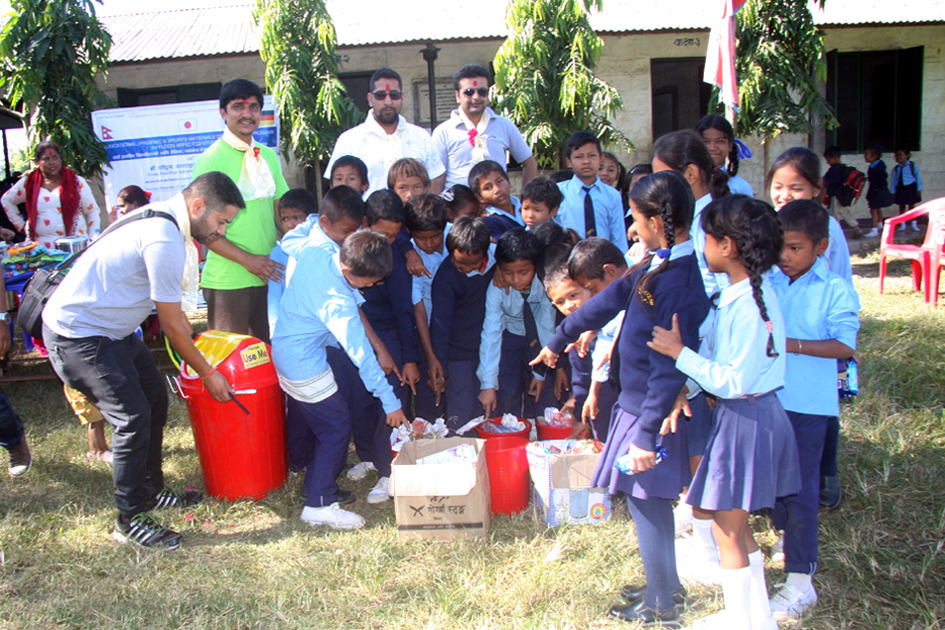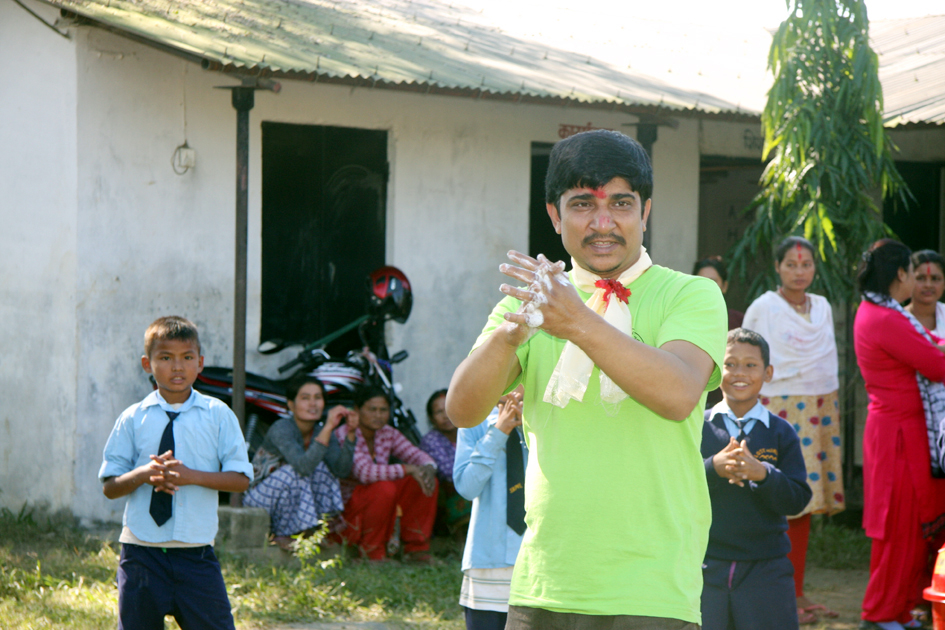 Principal Sobha Kumal expressed a huge gratitude to Pax Earth, sponsor Sanga Sangai e.V. and supporter Peace Nepal Academy to come a long way from Kathmandu to support such underprivileged and flood affected students and school. She said that the support has a great value to the students and the school. She requested Pax Earth to continue such support in future too. President Sujan Koirala expressed his happiness to be able to support such flood affected students. He heartily thanked the principal, chairman of school management committee, teachers and students for their warm welcome and praiseworthy cooperation for the distribution. He wished that the distributed items will be utilised properly. He even apologised for not being able to come earlier. The Pax team assured to continue the support if Pax Earth succeeds in generating funds in future. The students and teachers bid a warm farewell to entire Pax Earth team after the programme.
The school and the students had suffered a huge flood in mid-August 2017. The flood had hit the school very hard sweeping most of the teaching materials, stationery, sports materials and a few furniture. The community people in entire Golaghat village suffered a huge physical and infrastructural damage and losses. Before leaving for Kathmandu, the Pax Team went to observe the river as per the suggestion of the teachers. The school is located at one-kilometre distance from Golaghat – a junction of two huge rivers – Rapti and Narayani. There is always a risk of flood in Golaghat village during the rainy season.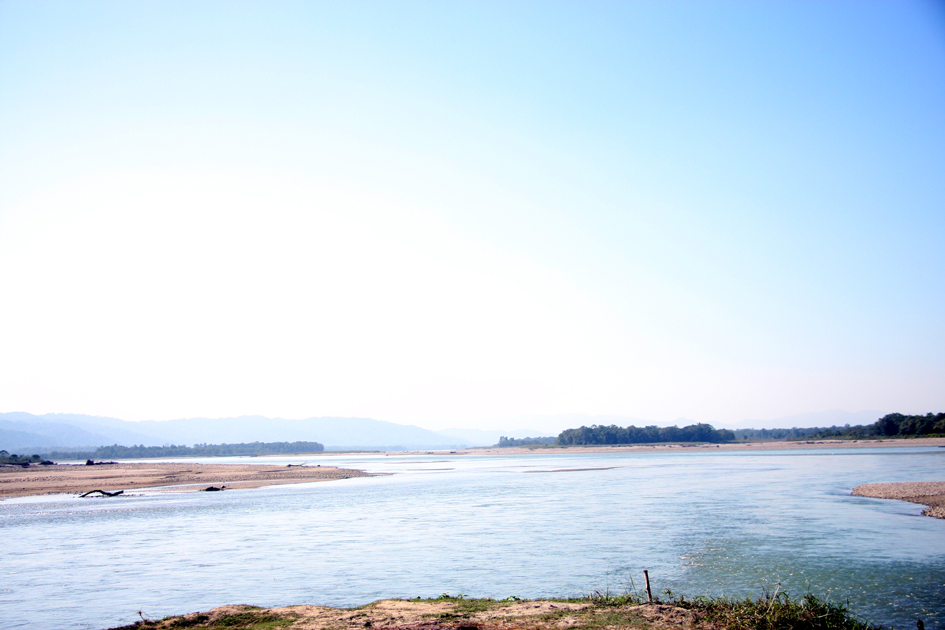 The Pax Earth team managed to arrive in Kathmandu at late night on November 17 after successfully carrying out the distribution programme. Despite the two-days' tough journey, there was a sense of a great satisfaction in every member's face to be able to contribute (to some extent) to the education and personal hygiene of the students as well as to the sanitation of the school highly affected by the recent floods. Member Prabin Giri coordinated the entire program excellently.

Table 1: Educational materials and hygiene kits distribution list
S.N.
Particulars
Preschool
1
2
3
No. of students
27
16
17
20
1
Notebooks Nepali
3
6
6
6
2
Notebooks English
3
4
4
4
3
Notebooks Math
0
2
2
2
4
Pencils
4
6
6
6
5
Erasers
2
2
2
2
6
Sharpeners
2
2
2
2
7
Crayons
1
1
1
1
8
Scale
0
1
1
1
9
Drawing book
1
1
1
1
10
Pencil box
1
1
1
1
11
Soap
1
1
1
1
12
Toothbrush
1
1
1
1
13
Toothpaste
1
1
1
1
14
Handkerchief
1
1
1
1
15
Biscuits
1
1
1
1

Table 2: Sports and additional materials distribution list
| | | | | | |
| --- | --- | --- | --- | --- | --- |
| S.N. | Particulars | Qty | SN | Particulars | Qty |
| 1 | Football | 2 | 9 | Tennis ball | 6 |
| 2 | Pump set | 1 | 10 | Dustbins for classrooms | 4 |
| 3 | Carom board | 1 | 11 | Dustbin for school premises | 1 |
| 4 | Stepping rope | 12 | 12 | Dustpans | 5 |
| 5 | Swinging tube | 6 | 13 | Water filters | 5 |
| 6 | Badminton sets | 2 | 14 | Nail cutters | 6 |
| 7 | Ludo | 2 | 15 | Teaching chart | 16 |
| 8 | Chess | 2 | 16 | Medicines in a first aid box | a few |
Reported by PEN Secretariat!!!
Acknowledgement!

Hats off to program coordinator Prabin Giri and the dedicated Pax Earth team (president Sujan Koirala, vice president Guna Raj Pyakurel, treasurer Bal Gopal Shrestha, board members: Laxman B. Pahari and Laxman P. Neupane, Sital Mainali and Badri Sigdel, teacher Dawa Tamang and students Ojaswi Karki, Anusha Lama, Dipesh KC and Mandip Lama of Peace Nepal Academy) for executing the distribution programme successfully. We would like to thank the principal, teachers and the students of Shree Rashtriya Adharbhut Bidhyalaya Laukhari for their warm welcome and outstanding cooperation for the distribution programme.
We would heartily thank Sanga Sangai team from Nepal and Germany particularly President Claudia Chloe Schülein from Sanga Sangai e.V. and President Prajesh Adhikari from Sanga Sangai Nepal for sponsoring this important event. We are equally thankful to Ajit Laxman Dhakal from Sanga Sangai e.V. and Prabin Giri from Pax Earth for connecting Pax Earth and Sanga Sangai e.V. We shall look forward to a long-term collaboration between Sanga Sangai and Pax Earth in the days and years ahead.
We are thankful to Peace Nepal Academy for the outstanding contribution and cooperation. Dawa Sir and the students were brilliant throughout the trip. We would thank purchasing committee members including Laxman B. Pahari, Jamuna Siwakoti and Badri Sigdel; Packaging and distribution management committee including Sujan Koirala, Bal Gopal Shrestha, Prabin Giri and Sital Mainali for carrying out the responsibility brilliantly. A big thanks to well-wisher Shanta Baduwal for supporting some useful medicines. Last but not the least, we are equally thankful to well-wisher Sanobhai Bista for giving us a smooth ride throughout.