PEN Toastmasters Cell (PTC) successfully conducted Vol. 3, No. 6 Toastmasters on the theme "WATER CYCLE" at PEN Secretariat, Pashupati, Kathmandu from 5:45PM to 7:00PM on Friday July 27, 2012. Including five enthusiastic females, sixteen energetic youths attended the day's Toastmasters.
President Sujan Koirala called Toastmasters Program to order at 5:45PM at PEN Secretariat. He cordially welcomed guests and members respectively. Each participant gave a brief self-introduction. President, then, introduced Toastmasters of the Day (TMD) Binod P. Mainali and passed him the podium. TMD Binod briefly shed lights on the day's Toastmasters. He stated the theme of the day "WATER CYCLE" and stated the importance of the water-cycle and justified why it was chosen as the theme of the day. He introduced evaluation committee members starting from Nilambar Badal in the role of general cum speech evaluator, Sujan Koirala in grammarian, Sachin Koirala in Ah-Counter and Laxman B. Pahari in timer respectively. Then, the program entered into manual speaking session. He further told that Nepali was set the standard language for delivering speeches.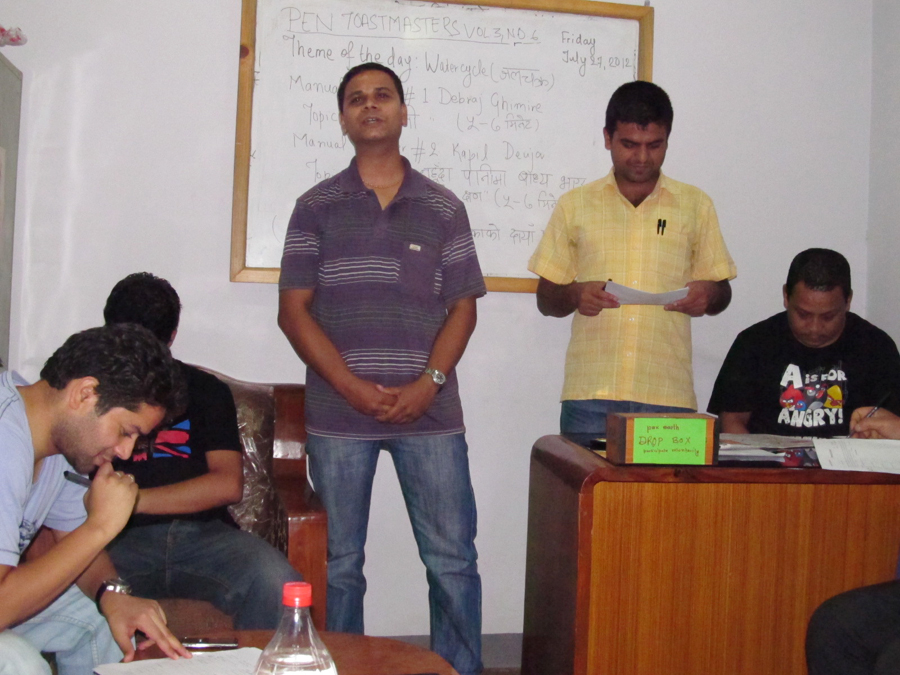 TMD Binod introduced first manual speaker Debraj Ghimire who was on his project-2. He spoke on "Water". He stated that the water is the most basic need for every living thing. For the human being, it is inevitable from birth to death. He told that the life without water is unimaginable. He reported that the country is second richest in the water resources with huge potential of hydro-electricity. He further stated that Nepal holds more than 6 percent out of 8 percent pure drinking water available in the world. He raised an issue on rain water harvesting too. In his concluding remark, he told, "Nepal has enough potential to light whole Asia through its hydro-electricity capacity and adequate drinking water to supply to the world but it is possible only if the proper utilization of water resources is ensured."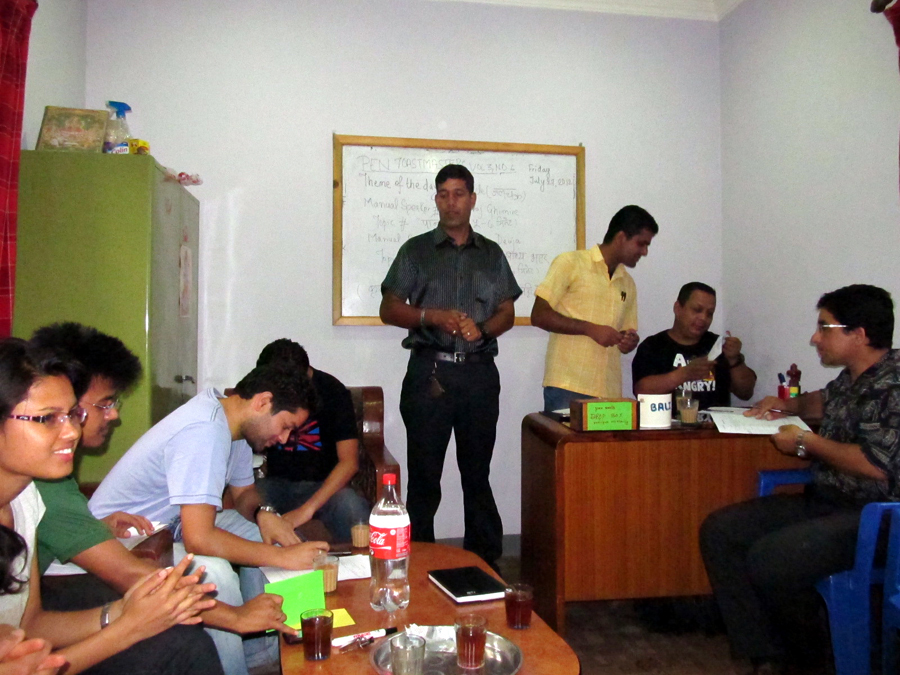 TMD Binod introduced second manual speaker Kapil Deuja who was also on his project-2. He spoke on "The time when situation forced to wet due to the absence of an umbrella or raincoat". It was such a coincident that his topic actually resembled what he had just experienced due to heavy rainfall. As he neither had an umbrella nor a raincoat, he was forced to wet in the rain in order to attend the day's Toastmasters. Kapil presented a true anecdote of his interview for a foreign employment that took place on a general strike day called by an ethnic group. He had to walk from his home located at Bhaktapur to the Radisson Hotel, Lazimpat where the interview was scheduled for and he was badly affected by running cats and dogs because he did not have any umbrella or raincoat at that moment. Though there was a dress code for the interview, he could not follow it due to the general strike, heavy rainfall and wet and muddy streets. When Kapil told the truth to the interviewer, he selected him without any objection.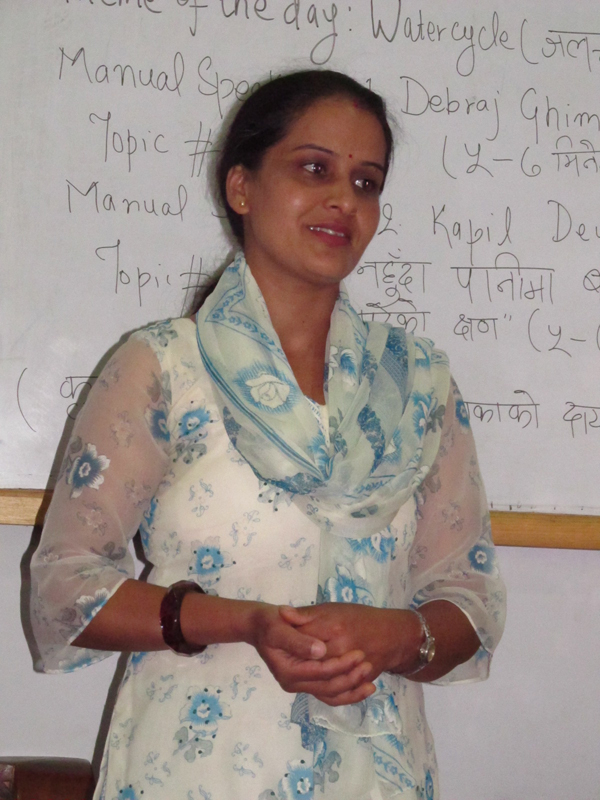 In Table Topics session, TMD Binod who was also assuming the role of Table Topicsmaster put five spot topics on the floor with a view that the participants would encourage to pick interesting topic voluntarily. Out of the five topics, Ram Sharan Paudel, Jamuna Siwakoti and Kamala Basnet voluntarily picked the topic "WATER AND LOAD-SHEDDING," "WATER AND FALGU," and "WEDDING IN ASHAR" respectively and delivered their speeches.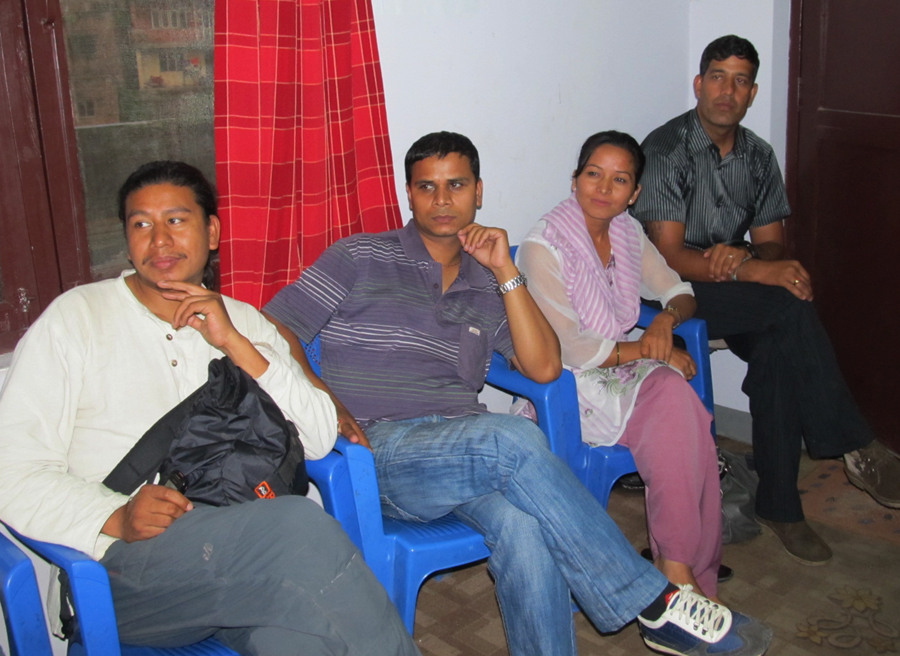 First Table Topics speaker Ram Sharan said that though the country has huge potentiality of producing hydroelectricity, we are facing the load-shedding of about 17/18 hours a day. He recalled the contribution of Michael Farade in generating electricity through water. He called for all the stakeholders to come together in solving the rampant load-shedding problem through the materialization of hydroelectricity project. Second Table Topics speaker Jamuna spoke on "Water and Falgu". She highlighted the importance of Falgu in Nepal and stated the role of water in the festival. As the Kathmandu valley is suffering from huge scarcity of water resources, she advised people to celebrate the festival responsibly. Third and final Table Topics speaker Kamala shared her younger sister's marriage that held 11-years ago. She explained how the rain disrupted her sister's marriage processing and how they could manage to tackle the situation. After Kamala's speech, TMD Binod handed the podium to Nilambar Badal for evaluation session.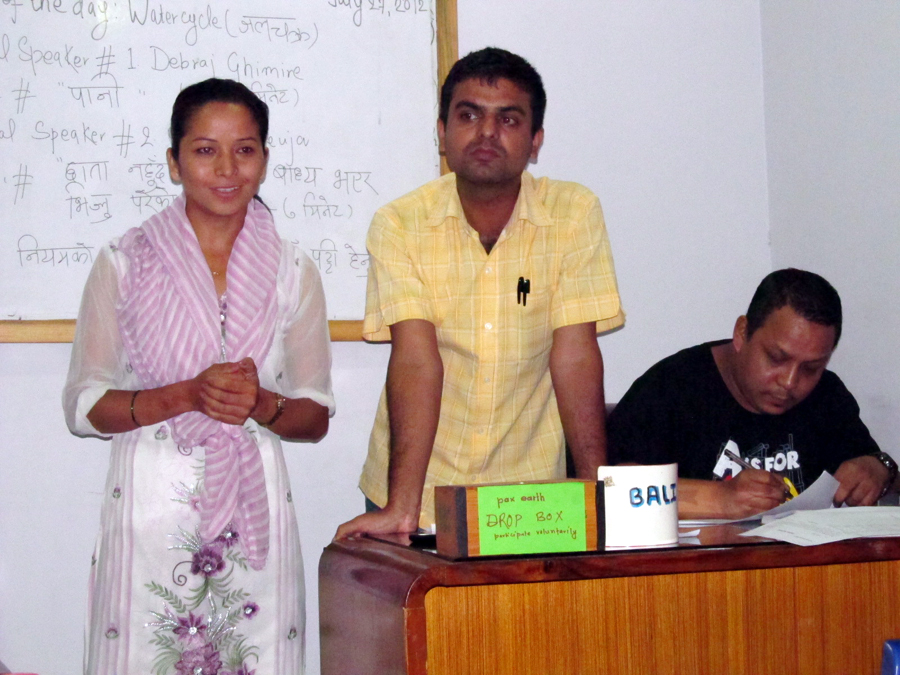 General cum speech evaluator Nilambar called for the reports from timer Laxman, grammarian Sujan and Ah-Counter Sachin. Timer Laxman reported that manual speakers Debraj and Kapil spoke 7min 29sec and 7min 56sec respectively while Table Topics speakers Ram Sharan, Jamuna and Kamala spoke 3min 10sec, 3min 23sec and 3min 46sec respectively. He was happy with the time utilized by all five speakers.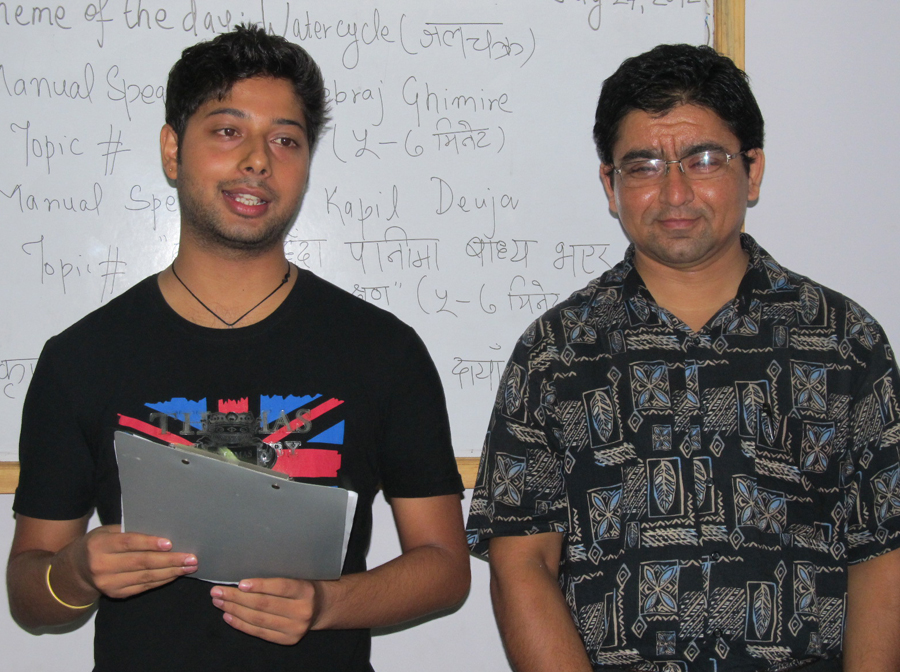 Grammarian Sujan reported the grammar mistakes (grammar error, any awkward word or misuse of language) of all five speakers. Manual speaker Debraj, in his speech, committed 19 grammar related mistakes in aggregate while Kapil committed 27 mistakes in aggregate. Similarly, Ram Sharan, Jamuna and Kamala respectively committed 6, 11 and 11 grammar related mistakes in aggregate.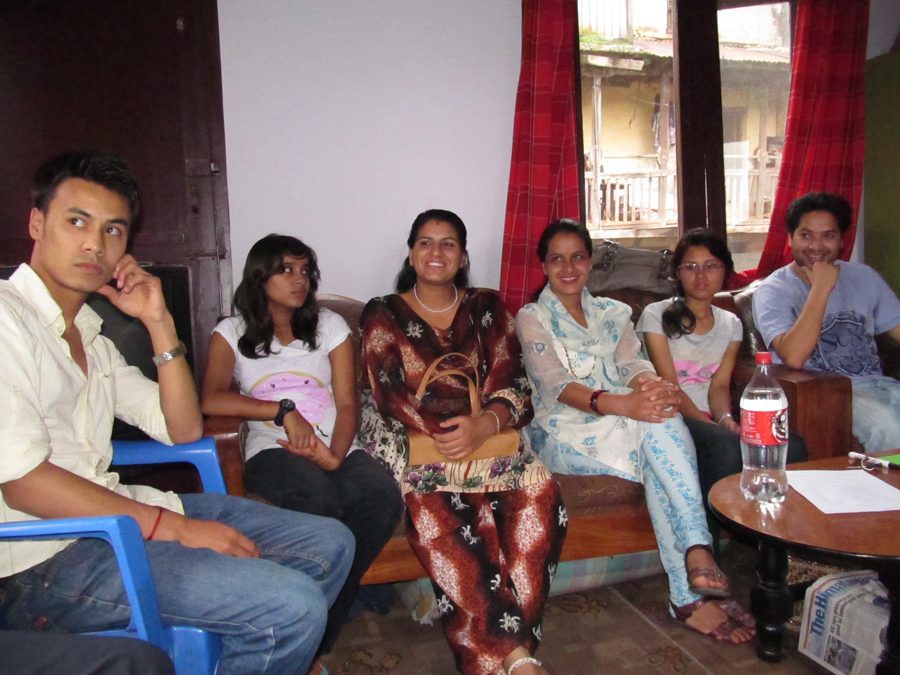 Ah-Counter Sachin reported the Ah-Counting errors (unusual pause, hesitation and repeated words) on all five speeches. He reported that Debraj committed 46 Ah-Counting errors in aggregate while Kapil committed 15 mistakes in the same category. Most of Debraj's mistakes were contributed by his stubbornness and he was advised to work on improving it. Similarly, he reported that the Table Topics speakers Ram Sharan, Jamuna and Kamala committed 6, 11 and 11 mistakes in A-Counter category in aggregate respectively.
Finally, Nilambar came up with his speech evaluation report. He evaluated the speeches of manual speakers Debraj and Kapil in terms of speech value, preparation, organisation, opening, body, conclusion and transition. Except the opening of the speech of Debraj, both the speakers' speeches scored above average in all the aforementioned categories. Debraj's opening was bit ordinary as he defined topic only in the middle of his speech. Nilambar liked the local and proximate examples in Debraj's speech and also appreciated the voice quality. He pointed if Debraj could connect his speech to audience, the speech would be more attractive. He, however, advised to work on removing his stubbornness to become a good speaker. He liked the overall speech of Kapil as it was well prepared and presented with excellent voice quality. He appreciated his confidence and told that he has every quality that a good speaker possesses.
Similarly, Nilambar judged the speeches of three Table Topics speakers with reference to speech value, preparation, organisation, opening, body, conclusion and transition of the speech. Though he made comment on each speech in terms of respective category, he adjudged all three speeches as above average. He liked the voice quality and confidence in the speech of Ram Sharan, very well put reflection in Jamuna's speech and confidence and reflection in Kamala's speech. He reported, if Ram Sharan could have remedial quarries and reflection in his speech, the presentation would have been more effective. If Jamuna's opening could be like the body of the speech, the presentation would be far better. He advised all five speakers to have proper warmer, gesture and body language. Nilambar while commenting on today's Toastmasters expressed happiness over the smooth operation of the day's Toastmasters. After the evaluation session, Nilambar returned control to TMD Binod.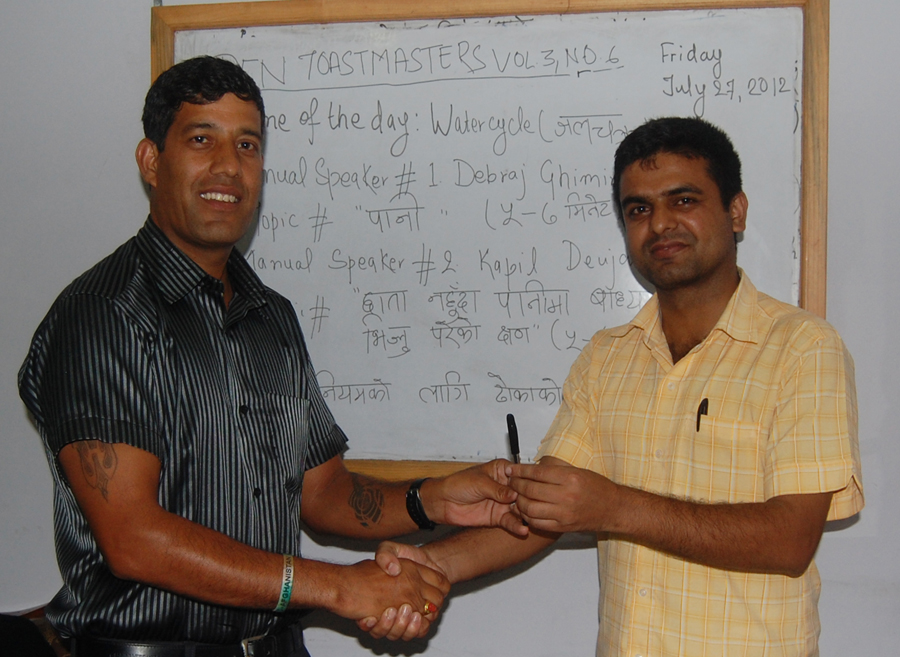 Though evaluation was done by the evaluation team, the best speakers were chosen by the participants through voting. Bal Gopal Shrestha assisted in ballot counting. Kapil and Ram Sharan were declared the best speakers in manual speaking session and table topics session through the ballot counting respectively. TMD Binod awarded these two best speakers with a pen that symbolically represents Pax Earth Nepal (PEN). The audiences gave a big round of applause to the remaining three speakers for their appreciable attempts.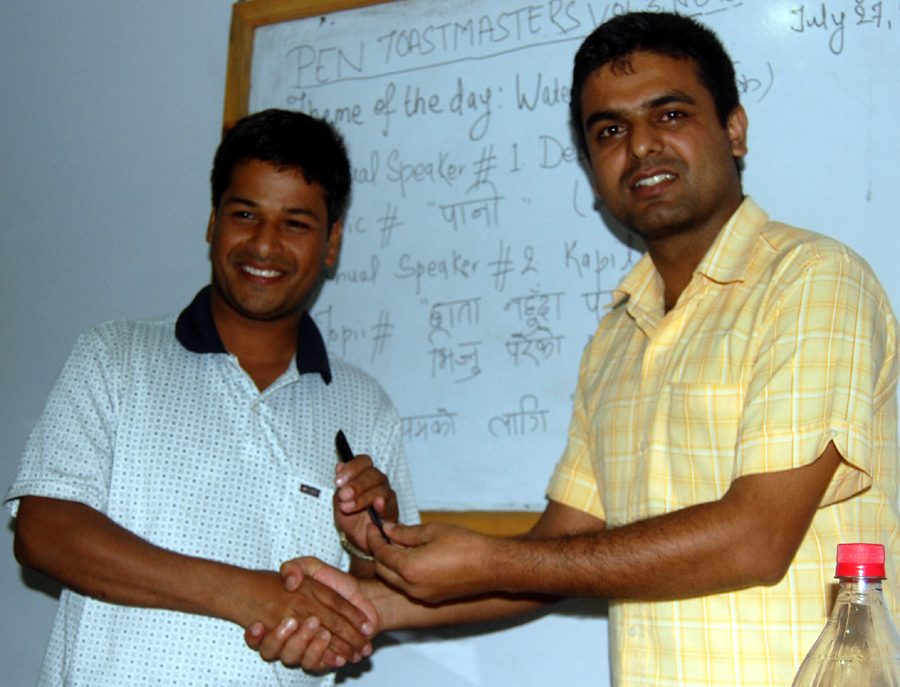 President Sujan Koirala warmly thanked TMD Binod for his coordination, all five speakers, evaluation committee members, ballot counter and audiences for their active participation in making this program a grand success.
After the vote of thanks, President formally adjourned the PEN Vol. 3, No. 6 Toastmasters.
List of the participants:
(1) Sujan Koirala, (2) Nilambar Badal, (3) Binod P. Mainali, (4) Bal Gopal Shrestha, (5) Laxman B. Pahari, (6) Debraj Ghimire, (7) Sachin Koirala, (8) Rajan Dulal, (9) Kamala Basnet, (10) Kapil Deuja, (11) Reetu Adhikari, (12) Jamuna Siwakoti, (13) Mili Ghimire, (14) Bhagawati Pandey, (15) Ram Sharan Paudel and (16) Sumit Shrestha