Pax Earth Nepal (PEN) writes a history of successfully completing one year time on July 16, 2009. PEN was formally founded a year ago, i.e., on July 19, 2008 after being registered at Chief District Office, Kathmandu. It organizes an anniversary party in the evening on July 16 where all 10 members were present.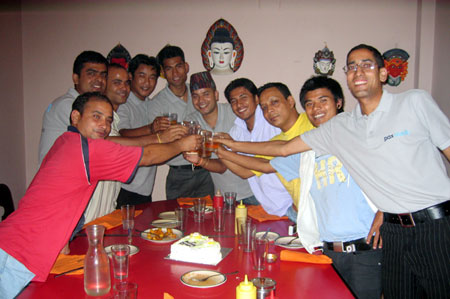 In Nepal, survival is a critical issue for the newly founded NGOs. In such scenario, surviving a year is itself a great achievement. However, PEN did it quite brilliantly with considerable efforts and praiseworthy team work which have been reflected on its core activities like Pax Earth Toastmasters, 1st Leadership Camps, educational materials distribution at Kavre Palanchowk and many others.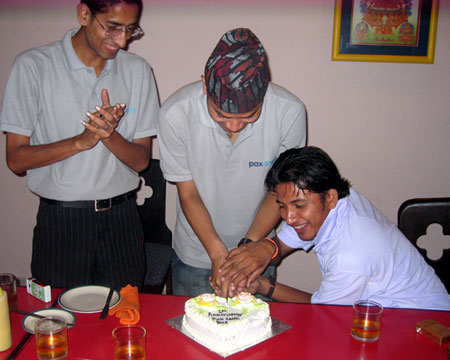 The celebration began with a Toast and cutting 1st Anniversary Cake by President Mr. Sujan Koirala at The Bakery Café, a local fast food chain, at 7.00 PM. Every member expresses their joyous feelings on one year journey. Each member's expression has been highlighted below.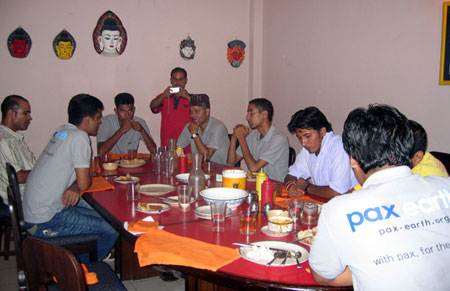 Mr. Binod P. Mainali, "Unity is strong which have been proved by our team work." He advocates, "We need to broaden our horizon and as far as possible include other youths in our activities." He congratulates each and every member for successfully navigating PEN into this stage. The team work will successfully guide PEN in future.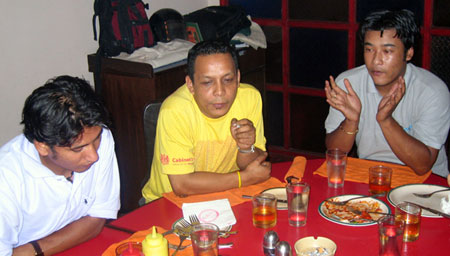 Harihar Sapkota congratulates President Mr. Koirala and other members for successfully completing one year period. He says, "Existence and survival are the major issues for the newly established NGOs and 1st Anniversary shows we are on the right direction." He wishes, "PEN should encourage new members to join and double its activities." He thanked President Sujan Koirala, Secretary Manohar Sapkota and Treasurer Bal Gopal Shrestha for trusting him and giving an opportunity in becoming one of the board members of this multidimensional NGO.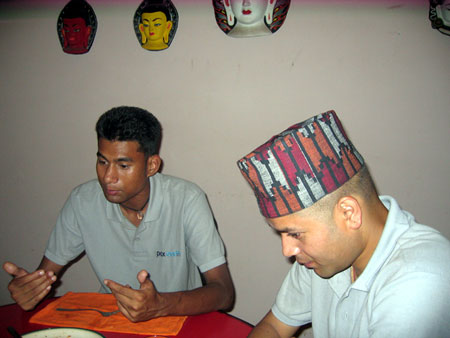 Laxman B. Pahari thanked members for involving him as a board member about which he had never thought. He is very happy to work, learn and serve through PEN. He congratulated every member for their outstanding contribution in successfully passing one year. He is confident that Pax Earth will escalate greater heights in the days ahead. He strongly advocates for the increase in PEN activities.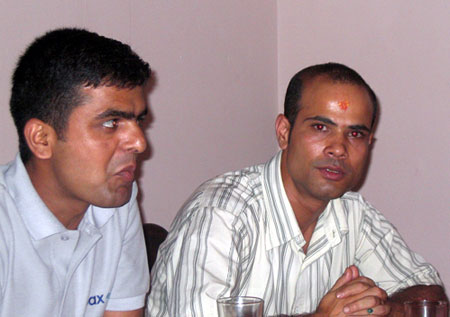 Dipendra Dangol congratulates every member in bringing PEN to this respectful stage. He says, "Our team system and communication system is unique. We need to make our programme more attractive and more participative. He further says, "Japanese friends are coming. We need to make their visit meaningful and entertaining." He is quite enthusiastic to take the responsibility of managing PEJ members' upcoming Nepal visit.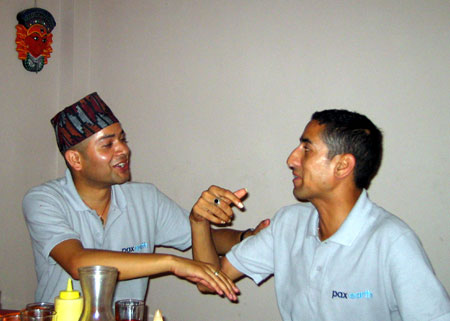 Bal Gopal Shrestha attempts to shed light on how PEN was conceptualized and founded. He explains the reasons for founding this NGO. He praises the leadership of Mr. Koirala (in Nepal) and Soko Aoki (in Japan). He is quite happy with the performance of Pax Earth in a short span of time. He hopes that the team spirit will long forever. He is hopeful that PEN's activities will spread in future.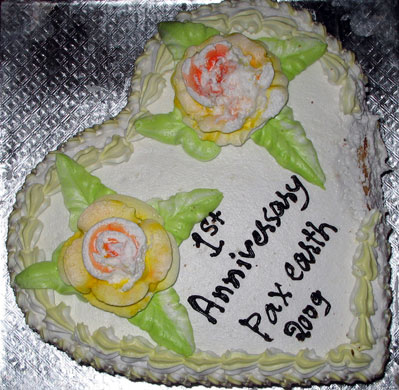 Prem Shah, "PEN is a unique team consists of divergent members equipped with unique skills, talents and competencies. Moreover, our friendship is our strength. We should encompasses many challenges and set a milestone for the organization. We need to increase our activity and involve as many people as we can." He further alerts the members that the speed and the frequency of PEN's activity have slowed down in last few weeks. He wants PEN to be more extensive in future.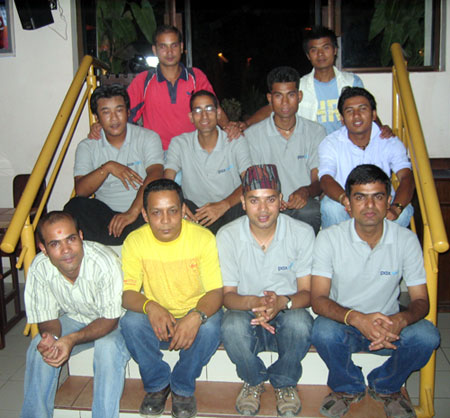 Guna Raj Pyakurel, "Congratulations and Happy Birthday! Everyone is much committed. Besides focusing on our regular activities, we need to concentrate on expanding our training and learning experience to the corporate sector as well. We should write proposal to these corporate organizations. Furthermore, we should introduce Toastmasters programme in school as well." He urges PEN members to write a proposal and submit in his office for a leadership development experience in near future.
Manohar Sapkota, "It is all because each member's effort, we could surpass one year period enthusiastically. Although we are progressing, we need to pass many years together. Definitely, our pace has been slowed down in recent weeks. It is due to our commitment in our job because it is the mean for our daily survival." He further assures that PEN will expand the activities in the year ahead. He thanked Soko-san and PEJ members for their active support.
Shreebatsa Basnyat, "I congratulated all the team members for completing one year. I agree on the remarks of Prem Shah that our pace has become slow. We are not able to expand our activities may be due to our involvement in other jobs. We have already crossed one year and I don't know whether it is right time or not but I highly recommend PEN board to formulate PEN's strategy in the near future. I am confident that PEN will surely do many programmes in the days ahead." He is quite impressed with the role played by Soko-san.
Sujan Koirala, "Congratulations to all my fellow members for successfully passing one year time. It was not that easy but we surpassed with great team effort." He is quite delighted with the remarks of each member. He gives a spot example of Guna Raj Pyakurel's effort on how PEN team work is functioning. He praises Guna Raj Pyakurel for bringing the Anniversary cake in spite of great difficulties but at the right time. He highlights the praiseworthy role played by Soko-san and Japanese counterparts. He is with an opinion in forming a visit management committee in order to make Japanese friends' visit attractive, meaningful and memorable.
He admits that the pace of PEN is little slower in the recent days. It is due to each member's personal or professional obligations, PEN could not broaden its activities as previously thought. He clarifies that our first commitment is undoubtedly for job because in the absence, we can neither survive nor do able to feed the families. In spite of this truth, we are able to manage considerable time and efforts in navigating PEN into the path of success. We are on the right step and direction and will proceed carefully and progressively. He claims that once Pax Earth is in sound economic condition, we can leave our job and search the future from itself. Let's try to achieve this goal and concentrate on Pax Earth. He is confident that one day we will able to see each of us working as a resource person/researcher in Pax Earth.
He admits for not being able to give much time as he used to give due to his study obligation. However, he assures that the projects (Kot Timal educational project) and events (Toastmasters, Leadership camps, etc.) we have been doing will get momentum in coming year. He also reveals about the proposal that has been asked by a college coordinator in organizing a leadership and team building camp for their students. He claims that his academic network has extensively increased after joining M.Phil. and will be beneficial for PEN to proceed ahead in future.
He reveals that membership will be awarded once the By Laws Committee completes the task of preparing Membership Regulation. Awarding the membership to eligible candidates will further enhance PEN strengths. He insists members to find a suitable room for PEN's secretariat.
The programme tries to seek formality within informality. The journey that has begun a year ago has many miles to walk, many hurdles to pass, many milestones to set, many successes to unfold and many summits to escalate….
Let's predict our future by inventing it…..
PEN, July 2009