Pax Earth, a youth-led NGO/NPO was founded by enthusiastic and determined youths of Nepal and Japan with an aim of contributing in education and environment in Nepal and Japan. Pax Earth was formally registered in Nepal in July 2008 while in Japan in October 2008. Being a youth-led NGO/NPO, it has some stakes on the development of youths. It is, thus, involved in youth life-skills development activities as well.
Pax refers to the Latin word "Peace". Hence, Pax Earth means "Peace on Earth". It aims at bringing peace on earth. We, members of Pax Earth, firmly believe that education, and safe and peaceful environment are inevitable for bringing peace on this earth and youths are the ambassador of peace.
The idea of founding an NGO/NPO emerged in 2007 while Soko Aoki and Sujan Koirala along with other friends were in a trip to Pokhara, Nepal. Previously, they have involved in many collaborative projects while they were Rover Scouts of their respective countries. The communication among the friends of two countries got momentum then onwards. As a result, Pax Earth was successfully registered in respective government offices in Nepal and Japan in 2008. In Nepal, Pax Earth was registered in District Development Committee, Chief District Office and Social Welfare Council and could obtain Permanent Account Number (PAN) from Department of Revenue of Nepal Government. For communication and reporting purpose we are using Pax Earth Nepal (PEN) and Pax Earth Japan (PEJ). Till July 2010, PEN and PEJ have 21 and 15 members respectively. Sujan Koirala and Soko Aoki, Ph.D. are respectively leading PEN and PEJ since its founding.
Many of the Pax Earth members were/are members of their respective National Scout Organisation. The members of PEJ and PEN are incorporating the knowledge, wisdom and skills learned from scouting method and academic learning and experience while implementing their activities. It is like a fusion between scouting learning and academic learning.
Some of the programs and projects already implemented:
1st Youth Leadership Development Camp (Sep. 2008); Field Visit and Educational Material Distribution (Dec. 2008); PEN meets PEJ (May/Jun 2009); PEJ meets PEN (Sep 2009); Kadinche Tour to Nepal (Feb 2010); Motosuko Lake Camping 2010 (May 2010); Youth Outdoor Exposure (May 2010); Nepal Bhutan Fair in Heimat Cafe Tokyo (May/June 2010); Educational Materials Distribution (Jun. 2010) and PEN meets PEJ Second Edition (August 2010) were the major activities/programmes carried out by Pax Earth till August 2010.
Pax Earth would be very happy to work for children and youths all over the world. We would be glad to collaborate with those organizations which aim at sustainable development of this planet. Let's join hands and extend all possible supports for the service of the mankind. Let's make this earth a better and safe place to live.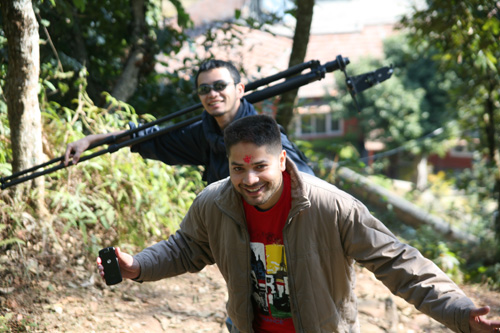 (Sujan & Soko at Pokhara, Nepal in March 2006)